Life has a different way of making you taste its different flavors. Simon is such an American actor who made his U-turn from ongoing adult movie career to being an actor of Hollywood. He is also known for his long strings of girlfriends including his date with Megan Markle, Duchess of Sussex.
American actor Simon Rex is best known for his hilarious performance in the three comedy movies entitled Scary Movie 1, 2 and 3. He is also recognized for his prolific performance as Jeff Campbell in the television series, What I Like About You. Simon, who is also known as the rapper Dirt Nasty, is a co-founder of the supergroup, Three Loco.
Garlic Breath Ruined His Date; Performed Gay Role
Simon once dated the American actress/model Meghan Markle. They met in the year 2004 while guest starring on American sitcom, Cuts and even went for a date. As per The Sun, Simon blames garlic for turning off his date with Duchess of Sussex, Meghan Markle. 
Recalling the romantic and awkward dinner, Simon said that he had garlic noodles on their date and when he started kissing Meghan, she pulled him back because of his garlic breath.
The Scary Movie 3 star said that she turned down his request for the second date because she might have discovered the dreaded past of his pornographic career. He also suggested his fans not to order garlic noodles during their date as it ruined his chances.
After that, Simon was in an on and off relationship with Paris Hilton. As per The Sun, Simon and The Simple Life actress, Paris Hilton was in an intense romantic relationship for three months and was seeing each other on and off for next four years.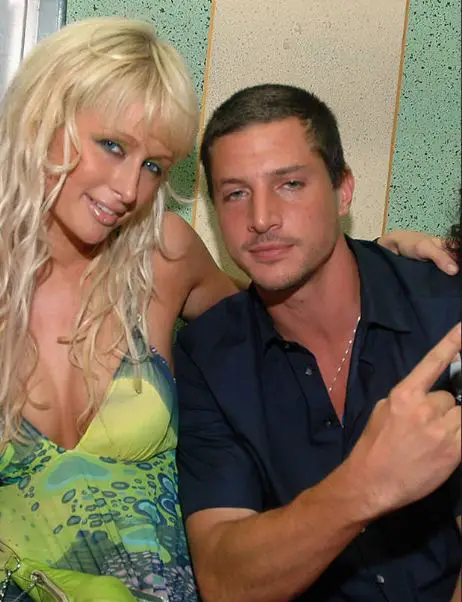 Simon poses with his then-girlfriend Paris Hilton (Photo: eonline.com)
Simon was among the close circle of Paris Hilton to attend her private party. In an interview with Mediaite in 2009, Simon said,
She knows exactly what she's doing. She's actually a pretty smart person. She's very cognizant of what she's doing, and she kind of plays that role, so people think she's some airhead but she's really not
The actor duo could not survive their relation and parted their ways in no time. However, his sexuality is also subject of curiosity. Simon has claimed to have won an award for the Best Gay Solo Video in 1997 for his adult video. His exposure in such genre of video raises the media speculation regarding him being a gay.
Simon Rex is the super extrovert guy and doesn't hesitate to flaunt his daily activities on social media. He is often seen flaunting pictures and videos on his Instagram account. He shared a semi-nude picture with Mark Ronson on 9 July 2018 on his Instagram account and said him to watch where he put that untalented hand. However, Simon is straight by sexuality.
Simon Rex is known for his short-term relationship with many women. He has dated Nicole Marie Lenz, Jamie Pressly, Robbie Brown and Jasmine Waltz in the past. However, he has not opened about his current girlfriend.
Don't Forget to Peek Here: Doria Ragland, Meghan Markle's Mom Wiki: Net Worth, Facts, Age
What Is Simon's Net Worth?
Simon Rex has accumulated the staggering net worth of $3 million. He has garnered his wealth from his acting stint in movies and television. Simon has also earned some portion of his fortunes from his pornographic career in his early career.
He started his adult film career at the early age of 19 in 1993 by appearing in two pornographic movies. Later, he performed in three more adult based movies at the age of 24.
Simon has portrayed his characters in movies like Scary Movie 3, Scary Movie 4 and Scary Movie 5. He also has starred in television shows like What I Like About You, MTV Vj and Felicity. The actor, who is currently at the age of 44, has also appeared in the famous music video of LMFAO's Sexy and I Know It. 
He is a comedian and has performed stand up- comedy in New York at various places including Boston Comedy Club. He trained in improvisation workshops including Gotham City. He has also worked as a satirical rapper Dirt Nasty in a rap group called Dyslexic Speedreaders alongside Micky Avalon and Andre legacy.
MTV Vj host lives a lavish life derived from his lucrative acting career. He purchased 1,594 sq. ft. home in $746k in March 2003.
See Also: Vitaly Zdorovetskiy Net Worth
Arrested For Credit Card Fraud
The comedian Simon was arrested at the age of seventeen for the credit card fraud. He and his then friend found a credit card on a lost wallet and tried to use it for their benefit.
They were arrested immediately and put on a probation community service. He performed the community service without any problems. They were not charged anything by the owner of the credit card holder at that time.
Short Bio
Simon was born on 20 July 1974 in San Francisco, California as Simon Rex Cutright. He was born to father, Paul Cutright, and mother, Zoe. Simon holds an American nationality and belongs to mixed ethnicity as his father is English and his mother is Ashkenazi Jewish. Simon stands tall at the height of 1.88 m (6ft. 2in.) The actor attended Alameda High School in Alameda, California.
He has hobbies of playing basketball, swimming, making music on the computer, going to clubs and bars, playing video games, and underwater basket weaving.