Simon Thomas is a well known British TV presenter and a former Blue Peter presenter. Rejected two times and selected for the third time, he finally made it to the Brtish children televison show, which he later hosted for six long years from 1999-2005. His life journey has taught a lesson to the people and inspired them not to give up quickly on the dreams they are chasing.
Simon also spent most of the time in the Sky Sports network covering Premier League Football from 2005 to 2018. The British TV presenter was the lead presenter in Sky Sports network for covering live Football Leagues for the 2010/2011 season.
Tragic Loss Of His Wife
Simon married Gemma Crosland on 6 August 2005. After four years, they welcomed their first child, a son Ethan on 29 September 2009.
The couple were married for 12 years before the tragic incident grieved Simon. His wife' passed away in November 2017 after three days of getting diagnosed with acute myeloid leukemia. The couple's son Ethan was just nine years old when the devastating incident shook the family.
Also Read: Alistair Appleton Gay, Partner, Family, Net Worth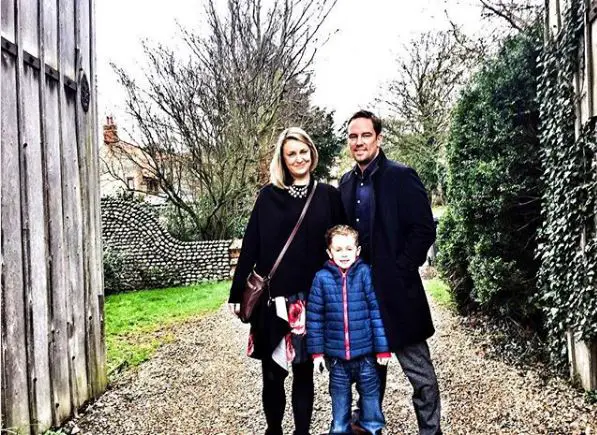 Simon with his late wife Gemma Crosland and son Ethan (December 2018) (Photo: Simon's Instagram)
After the death of his wife, Simon decided to resign from his role in Sky Sports network at the end of football season in April 2019 to spend more time with his son Ethan. The thoughts of his son Ethan helped Simon to build strength and purpose to carry on forward in his life.
Dating A New Girlfriend 
After a year of passing away of his wife, Simon revealed that he was dating Derrina Jebb. The 27-year old Derrina is the daughter of a church minister and works with the legal sides.
He and Derrina made their first public appearance at a Cheltenham festival in March 2019.
Simon refers to Derrina as an amazing woman who stood by him and his son when they were going through the darkest phase of life. Also, the TV presenter admits that he sometimes feels guilty thinking if it's too early to start dating.
After the unfortunate tragedy of his wife, Simon was close to taking his life. But the relationship with his son and current girlfriend helped him to get back in his life.
Don't Miss: Jason Matheson Salary, Partner, Married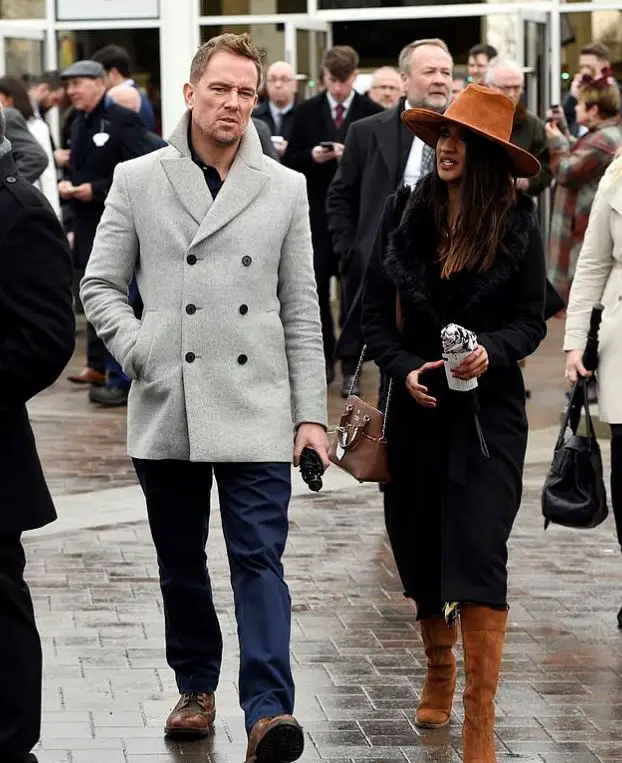 Simon and his girlfriend Derina Jebb(Source: dailymail.co.uk)
On the other hand, his girlfriend, Derrina, was trolled for dating Simon for money, but the couple dismantled the negativity in their life quickly. Derrina also responded in one of such comments that she earns earn her salary and how she takes the boys away on her expenses.
Simon seems to be doing fine with the right person in his life, heading towards the new adventures of life, healing, bonding, and loving.
Net Worth
Simon has led quite a successful career as a presenter, his time on the Sky Sports network and a fair share of time in Blue Peter has inevitably helped him garnished an attractive wealth and immense fame in his life. However, as of 2019, Simon's net worth is yet to be reviewed.
(Note: According to Payscale, the average salary of television presenter is estimated to be around $59,994 annually.)
Bio-Age, Family
Simon was born on 26 January 1973 in Norwich, England, to mother Gill Thomas and father, Andrew Thomas. He also has two sisters in the family, Rebecca and Hannah. His sister Hannah is a beauty therapist at Hannah's Garden Beauty.
Keep On Exploring: Sarah-Jane Crawford Husband, Parents, Net Worth
After the loss of his wife, his family suffered another devastating loss after his father-in-law passed away in January 2019, due to the same disease that caused the death of his wife, Gemma.
On his physical attributes, Simon stands at the height of 1.85 m (6 feet 0¾ inches) with a modest built and weight.