Summer Duncan is an American hairstylist well known for her relationship with a country singer and songwriter, Jon Pardi. Professionally, she is a successful entrepreneur who owns Tangled Salon & Spa in California.
Wondering to know more about Summer's personal life and facts? Delve in!
Summer Duncan & Jon Pardi Are Engaged To Get Married
Yes! Summer is officially taken!
Jon proposed Summer during one of his concerts at the 'Ryman Auditorium on 2nd  October 2019. They received a standing ovation from the fans presented in the concert after Summer responded with a big "Yes!!."
This Looks Interesting: Camille Schrier Wiki, Age, Education, Family Info Of Miss America 2020
The place was pretty special as it was the venue when they had their first date.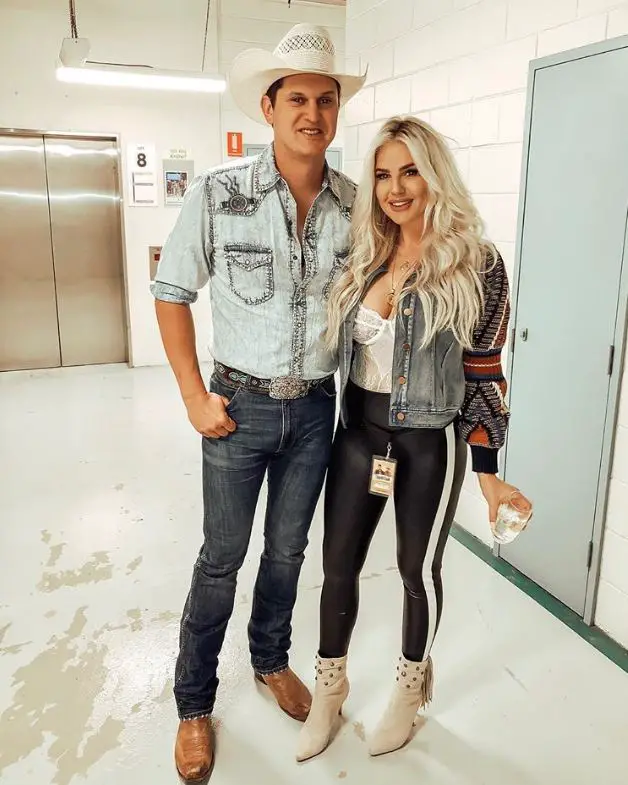 Summer Duncan with her fiancé Jon Pardi in April 2019 (Source: Summer's Instagram)
The couple started dating since 2017. The love-duo met for the first time at a country bar 'Grizzly Rose,' Jon's favorite bar. After their meeting, Jon invited Summer to join him on tour with Tim McGraw for another weekend.
Wedding In 2020
Summer and her fiancé Jon have set their wedding date for May 2020 in Montana amid the snowy peaks and cold weather. The couple has already picked a venue and is overlooking the Yellowstone National Park. They are expecting around 200 guests on their wedding day.
According to PEOPLE, Jon selected the destination because he doesn't like sweating. He had also quoted, "Guess what, a non-sweaty wedding, it's gonna be highs in the 60s. I don't like sweating".
Keep Exploring: Who Is Naomi Ackie? Meet The Actress Of Star Wars
Summer's Partner Jon Pardi 
Jon Pardi began writing songs at the age of 12. After graduating from high school, he moved to Nashville to focus on his music career. He was already part of a band when he was just 14 years old. 
Since then, Jon has impressed fans with his neo-traditional country songs. He released his first debut album, Write You a Song on 14 January 2014. Also, his 2016 single Dirt on My Boots secured #2 position in the US Country chart, a highest-charting single till the date. 
Furthermore, he is also quite known for his hits like Up All Night, Head Over Boots, She Ain't It, and Missin' You Crazy.
Wiki-Age, Bio
Summer celebrates her birthday on 23 May, although her exact birth year is yet to be explored. She is originally from Clovis, California, and is presently based in Nashville and Fresno. 
Don't Miss Out: Insight Lucy Mecklenburgh Weightloss Diet, Height, Boyfriend Details
Some Interesting Facts About Summer:
She also has a brother in the family.
 
Jon's mother Shellie Pardi-Harrington and Summer had been long-time friends. Shellie felt that Summer would be a perfect match for her son and played the cupid role to set things for the pair.
 
Summer and Jon made their first public appearance together at the 'Country Music Awards' in 2017 where Jon won the award in the 'New Artist of the Year' category.
 
The hairstylist owns the Tangled Salon & Spa in Fresno, California.
 
She often posts her hairstyle pictures on her Instagram page where she has more than 32K followers.
 
During her first date with Jon, she had brought a friend along as an escape plan if he turned out to be a creep.