Tanner Patrick is an American songwriter, singer, and multi-instrumentalist. He came into fame after starting a self-titled YouTube channel. His talents can be seen on his single music video Satellites and his debut album, The Waiting Home.
Let's know more about his age, bio, girlfriend, dating, birthday and songs.
Girlfriend Turned into Wife
What the world needs now is love, sweet love; it's the only thing that there's just too little of. And, pursuing the same, Tanner has also found his significant other, Kelsey Luciano- whom the artist had first met in 2016.
After being in a relationship for a year, the couple had got engaged on 20 September 2017. 
Know CJ Pearson's Info:-  Who Is CJ Pearson? Details On Parents, Family & Net Worth
The following year, the pair made the decision of spending their life together and got married on 21 October 2018.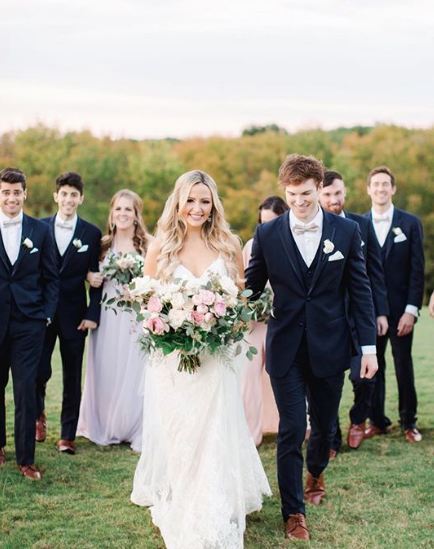 Tanner Patrick with wife Kelsey Luciano at their wedding on 21 October 2018 (Photo: Kelsey's Instagram)
At the wedding ceremony, Tanner wore a black tuxedo-clad with a bow tie. Likewise, his bride looked spectacular in a white gown.
Bio- Early Life, Songs, Tours
Tanner Patrick was born on 24 May 1991 in Los Angeles. However, at the age of four, Tanner moved to Dallas, Texas, with his family, where he was raised alongside his brother Grayson.
 He received all the support from his parents to be a singer and went to take piano lessons after a year of moving to Dallas.
 When Tanner was 10 years old, he received his first guitar as a Christmas gift and began to write and record music using a cassette recorder known as a Talkboy.
 Sadly, Patrick was diagnosed with Type 1 diabetes at the age of 17. 
However, he didn't give up on his dreams and formed the band Disco Curtis with his longtime friends: Garrett Perales and AJ Novak.
Unfortunately, in the summer of 2009, his lung spontaneously collapsed twice (first in July and again in September). Then, he was sent to a hospital and had to undergo a medical procedure, Pleurodesis. 
Interesting: David So Is Engaged With Girlfriend, His Relationship Details
Regardless of his poor health, Tanner didn't let go of the band. Just after a few days of his recovery, the band was back to recording and playing shows. 
A year later, the group made an independent tour and created a buzz on social networking sites. 
Similarly, the band joined the 2010 Vans Warped Tour, performed at Bamboozle West in California (2010), and played shows with Boys Like Girls and Forever The Sickest Kids.
On 10 September 2010, Tanner announced that other members of Disco Curtis were leaving the band to attend college. Thereafter, there is no further news about his band from his side.
Interesting Facts
Tanner stands at a height of 6 feet (1.82 meters).
His wife, Kelsey Luciano, is a Senior Account Executive at Moroch Partners.
Tanner was selected by Nigel Lythgoe Productions in 2012 to star in E!'s "Opening Act," where he shared the stage with country music superstar, Brad Paisley.
Tanner plays acoustic guitar, bass guitar, piano, and other instruments.