Since the age of six, Tate McRae has been gracing the entertainment industry with her career brilliancy and magical appearance. She is a gorgeous dancer, aspiring Canadian singer, actress, voice actress, YouTuber, and a social influencer.
But most prominently, she has magnetized the spotlight from her mesmerizing dance moves. She has even competed at So You Think You Can Dance: The Next Generation in 2016 and released several hit tracks, including One Day, Teenage Mind, and Kids Are Alright, and so on.
Her incredibly successful career has seen her winning several awards, including the Mini Best Dancer in NYC at the Dance Awards in 2013 and the first runner-up position at the 2014th New York Dance Alliance.
Tate McRae's Wiki (Age)
Born on 1 July 2003 in Calgary, Canada, Tate spent her early childhood in the Middle East for three years.
Although Tate is already professional on what she does, she still takes ballet, contemporaray, jazz, hip-hop, and ballroom dancing classes at the school of Alberta Ballet. Also, she trains with the YYC Dance Project. 
Read This: Luke Arnold Girlfriend, Family, Ethnicity
The Canadian beauty, Tate's appearance is also equally fascinating—she has the brightest smile and a tall height of 170 cm (5'7').
Tate McRae's Parents And Family
Tate father is a Lawyer, Todd Rosner, and her mother, Tanja Rosner, is a Dance Instructor. Apart from the proud daughter of her parents, she is also a proud younger sister of a hockey player, Tucker McRae.
Both the siblings have garnered a reputed name in their profession.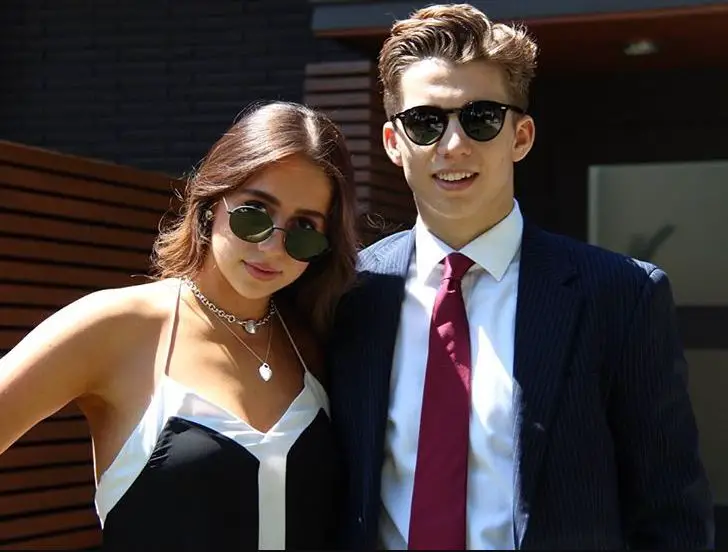 Tate McRae and her brother Tucker McRae during Tucker's graduation in June 2019. (Photo: Instagram)
Tate's family moved to the Middle East when she was a child and came back to Canada after three years. Her mom and dad used to take her alongside them, and as a result, she traveled long at an early age.
She believes that her most excellent childhood memory was to be able to go to other different places at such a young age.
Do Not Miss: Who Is Lindsey Russell? Her Age, Partner, Family, Net Worth
Career History
Tate McRae started dancing at only the age of six. However, it took her seven more years to start her music career and to post her original songs on her YouTube channel. On one side, she would compete in dance and win the title, and on another hand, she would release her songs.
Her first song was One Day, which immediately attracted audiences and got compelled her to release music properly. Since then, Tate has been showering fantastic songs and her dancing skills.
Along the journey, she won the Mini Best Dancer award in NYC Dance Award in 2013 and became the second runner up on the FOX TV series So You Think You Can Dance: The Next Generation in 2016.
Besides her dance, Tate's music also surfaced massive acclamations with hit tracks like Hung Up on You, Distant, Shoulder to Shoulder, Kids Are Alright, Tear Myself Apart, and many more.
Is Tate Dating?
Considering Tate's busy career schedule, it looks like she doesn't have time for a boyfriend as she still takes classes, participates in shows and writes and sings songs.
Never Miss: Martel Maxwell Wiki, Husband, Family, Children
Since she has never disclosed or given any apparent hint relating to her dating life, Tate is assumed to be single as of now but mingled to her career.
Net Worth Related
As a YouTuber, Tate is estimated to earn the YouTube revenue of about $1.7k to $26.9k per month. However, her work instance is not only limited as a YouTuber but also as an actress, dancer, songwriter, and singer.
Despite her active involvement in multiple professions, Tate's earnings except for her YouTube network is not disclosed. But, her income is believed to be considerable and worthwhile.