Even after the death of her spouse, Taya Kyle has stood to the grounds without fumbling in every step of her life. Along with staying strong throughout the difficult years the tragedy, the writer has also remained very supportive towards those women who share similar stories as her.
Taya Kyle is an American author and military veteran's family activist who is familiar as the widow of the famed Navy SEAL Chris Kyle. She is also a Fox News Contributor and can often be seen sharing her stories and providing a way out for the ones in need.
Career and Progression: 
Tara Kyle penned an autobiography named 'American Wife: A Memoir of Love, Service, Faith and Renewal' which released on May 5, 2015. She co-wrote the book with military and war author, Jim DeFelice which explains her life as a military wife and talks the way she dealt with the sudden death of her husband.
Moreover, she appeared as the judge of 'Miss America Pageant' in September 2015. After that, she featured in the season one of 'American Elements' which airs on Carbon TV. Being a Republican, she endorsed Rick Perry for the 2016 presidential election. She served as the treasurer for the 2016 campaign of Bill Waybourn for the Sheriff of Tarrant County, Texas.
She has also started the Chris Kyle Frog Foundation which aims to help the veterans of war who go through tough times once their time in the military ends. PTSD, Depression, Anxiety and Suicidal thoughts are the most common of problems that she tackles through her foundation. She aims to provide a better life for the ones that have served and protected her country.
How much is Taya's Net Worth?
The 44 years old writer, Taya has made numerous television appearances on a number of shows and co-authored a high earning and best selling book named 'American Wife: A Memoir of Love, Service, Faith, and Renewal'. She speaks at various social functions and contributes articles to Fox News. Similarly, she probably might have taken charge of her husband's net worth which was around $2 million dollars. Despite her silence, we speculate Taya enjoys splendid net worth possibly in the range of millions. The same could go for her salary as well. Although not confirmed, she is sure to enjoy an above average salary.
Experienced a Traumatic Loss of Husband:
Tara Kyle married the late United States Navy SEAL veteran, Chris Kyle on 16 March 2002. Taya and her late husband, who first met in a bar named Maloney in April 2001, share two children together, daughter, Mckenna and son, Colton.
Although their relationship seemed perfect while he was alive, the couple did experience tough days with Chris decision of fighting in Iraq. Sources claim that Taya had become an emotional wreck and threatened of leaving him if he didn't quit the Navy Seals during his last days
You Might Enjoy: Antonio Ballatore Wiki, Age, Wife, Parents
However, before the situation of probable divorce or happy days could come, their world rattled on February 2, 2013, when Chris Kyle and his friend, Chad were shot and killed in a shooting range by a former Marine named Eddie Ray Routh in Erath County, Texas. A tragic end to a heroic life. Chris's story of his heroics in the military was cemented in the 2014 film American Sniper. Kyle was considered to be the greatest sniper in American history with a confirmed kill of 160.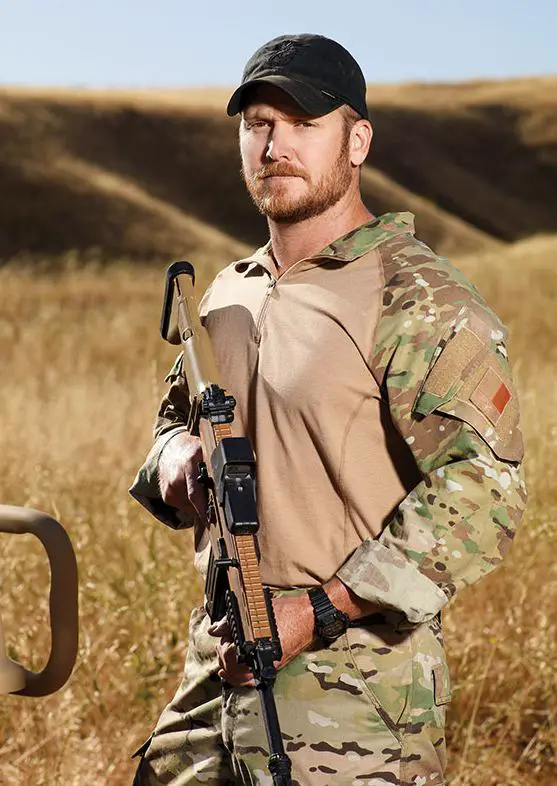 Tara Kyle's late husband Chris Kyle during his time in the military. (Photo: hollywoodreporter.com)
Following the death of Chris, Taya gave speeches regarding his contribution in the military at numerous venues including CNN network. As of today, she has been looking after the kids as a single parent and also fulfilling her professional duties by helping the veterans live a better life.
Does Taya have Plans of Remarriage?
After a few years from Chris's death, the tabloids bombarded her with the question of whether or not she would get remarried and enjoy perks of family life. However, Taya, in her interview with People in 2015, confessed that she wouldn't be dating anyone soon. The author claimed that it would seem like a betrayal to Chris if she started looking for someone else so early.
Taya still loves her late husband and shows her loves on his social media post. Most recently on 16 March 2019, the lady took her 17 years old wedding's photo and gushed about her wedding anniversary.
Interesting: Ryan Potter Gay, Girlfriend, Affair
Taya's Short Bio:
Taya Kyle Studebaker was born on September 4, 1974, in Portland, Oregon, US. She is a daughter of Kim and Kent Kyle. Her father Kyle is the mayor of Lake Oswego, Oregon. Taya belongs to white ethnicity and enjoys an incredible height which enhances her appearance.