TimTheTatman is a YouTuber and a Twitch star known for his gameplay videos of Counter-Strike, Call of Duty, and Fortnite. The videogamer defines his followers as 'Tatmanarmy' on Twitch. In between the streams, he often watches the Twitch channel of Summit1G and Sodapoppin. 
Welcomed Second Child With Wife
Twitch streamer TimTheTatman is receiving huge laud of applause from his fans and close friends. Congratulations to the Fortnite streamer who has welcomed his second child.
He and his wife Alexis welcomed their baby son named Brewer on 12 April 2019. Tim took his Instagram and showcased the picture of his cute bundle of joy. The proud father recalled that for the past couple of days, he had been emotional over welcoming his baby. The Twitch star expressed that he was excited to meet his son, Brewer.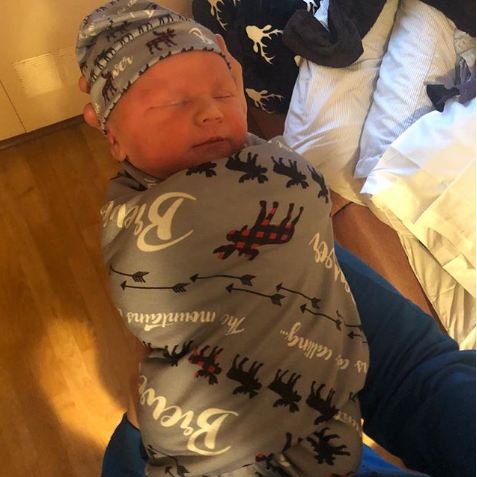 TimTheTatman welcomes his son Brewer on 12 April 2018 (Photo: Instagram)
The chronicles of his excitement were visible on his Instagram post and moreover, on his Twitch. On 15 April 2019, he looked at his bundle of joy carefully and introduced the newborn toddler to his Twitch viewers.
He first announced the happy news back on 20 September 2018 via the live stream, where his wife, Alexis handed him a box excitedly. When Tim opened the box, there was Harry Potter's theme of baby clothing. After the game streamer realized that he was going to become a father, his reaction was priceless. At that time, the Twitch streamer proudly announced that he and his wife were expecting their child Brewer on 7 April 2019.
Discover Also: Nicole Franzel Wedding, Boyfriend, Family
Married To Long-Time Girlfriend; Has Daughter With Wife
TimTheTatman, age 29, amid his professional streaming career is a happily married man who has a beautiful wife named Alexis. After dating Alexis for some time, the Twitch star purposed his lady love in December 2015. She accepted his proposal, and the Counter-Strike game-lover tweeted a picture flaunting Alexis' engagement ring on 20 December 2015. He shared the happy news and announced that his girlfriend said 'Yes.'
On 21 December 2015, the full-time streamer declared he was going to marry his sweetheart soon posting a video on his YouTube channel titled Thirteen Wolves. Nearly eight months after the announcement, TimTheTatman tied a knot with Alexis in August 2016 and uploaded their wedding photo on his Twitter on 13 August 2016. 
The 'Tatanarmy' relisher also tweeted a picture of their outing on 21 July 2017. The couple stopped for some shots during their trip and flaunted their smile. Tim wore a checked stipped T-Shirt whereas his brunette wife wore a black flowered petal V-neck with a round necklace.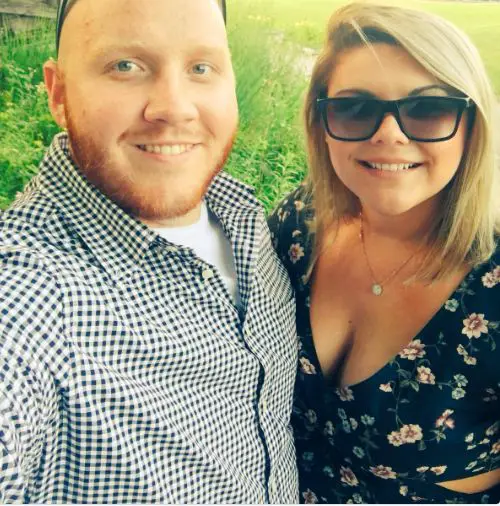 TimTheTatman and his wife, Alexis in a picture shared on 21 July 2017 (Photo: Twitter)
The couple was spotted on Vegas on 23 June 2018. They went to a restaurant and had their late night dinner date. With his wife Alexis, the videogamer has a daughter whose identity has remained a mystery. Apart from sharing the couple's picture on Twitter, he has also posted photos of Alexis with his father-in-law and mother-in-law.
See Also: Jessica Goch Wiki, Age, Job, Wedding | Ninja's Wife FACTS
Family Life: Mother Died; Broke Father's New Eclipse 
Tim was at the age of 15 when his mother had a sad demise in 2005. At his mother's death anniversary on 18 February 2016, he tweeted saying the time has helped him to overcome his mother's death but that day (his mother's final moment) is still stuck on him.
Nevertheless, the videogamer shares a good bond with his father whose dream car is a GTR. He expressed his family love to father and wished him 'Happy Father's Day on 21 July 2015 via Twitter. He also joked thanking his father for not killing him for hitting his new Eclipse with a rock. The Twitch star previously broked his father's new Eclipse just two days after he bought it.
How Does TimTheTatman Gather Net Worth?
TimTheTatman has gathered his net worth as a YouTuber and Twitch star. According to Socialblade, his self-titled YouTube channel racks estimated earnings of $1.8K to $28.4K monthly and $21.3K to $340.9K yearly. He left his job at the age of 24 and gathered revenues as a full-time streamer. His 2.2 million followers on Twitch self-titled channel further served to boost his net worth.
You Don't Want To Miss: Pokimane Thicc Wiki, Age, Boyfriend, Dating, Ethnicity
At the age of 13, Tim started to play Counter-Strike 1.6, and between 15 and 21, he played World of Warcraft. He joined YouTube on 23 January 2013 and began to share gameplay videos. His first YouTube video titled 'TimTheTatMan - GET HYPED CTF.' gathered over 14K views. He originally broadcasted 40 hours a week on Twitch but decided to pursue a career as a full-time streamer on 27 March 2014. Since then, he has posted videos regarding games like Counter Strike, Call of Duty, and Fortnite. His YouTube channel has racked over 505K subscribers.
Sets New Charitable Record On Twitch
The Youtuber, who has estimated earnings of $21.3K to $340.9K yearly, has managed to set a record break charity on Twitch. Tim broke the holding record in donations income in July 2018 in a single block of four hours.
He pushed to the counterbalance of each donation and had an in-game advantage as well as disadvantage. The Youtuber raised a whopping sum over $106,000 to fulfill the goals during the charitable event. He also fulfilled the purposes, and in the next streams, he has to push for the promised goals.
Short Bio
TimTheTatman was born on 8 April 1990 in the United States. The game-lover claims on his YouTube channel that he has been playing video games since the time he was in his mother's womb. At the age of 23, he joined YouTube and started to share Counter-Strike gameplay videos.
Tim stands at the height of 1.82m (6') and posses American nationality. As per wiki, he has tattooed two sleeves & a chest piece and is a big fan of Syracuse University athletics.