As morning shows the day, Tony Oller enrolled himself as a saxophonist since his sixth grade portraying the bright future in the music industry.
With several musical practices, he reached the peak of the music heights with his famous songs like Thank You, Classic, God Only Knows, and Bad Girls.
He is also an actor acknowledged for As the Bell Rings, Beneath the Darkness, and The Purge.
Tony Oller has been a familiar name in the field of movies and music. As a singer, he is known for Radar featuring Yultron, Follow Your Heart (You're Gonna Make It), Marry Those Eyes, and many others. 
Similarly, he has starred in entertainment projects, including movies and TV shows like Relationship Status, Gigantic, CSI: NY, and Field of Vision. 
Apart from that, Tony derives his net worth from his YouTube channel, as well. As per the sources, his channel, TonyOller, accumulates a substantial fortune ranging between $70 - $1.1K per year. 
Tony Oller Dating / Married To Girlfriend?
Throughout the years, Tony Oller has been through multiple relationships.
However, the current scenario of Tony's love life portrays nothing but a null memoir.
Back in 2007, Tony was dating actress Nicole Gale Anderson.
The talk of their relationship hiked after the lovely couple was spotted together during the basketball match at the time. 
Similarly, he dated Carlson Young in 2008. After making numerous public appearances and love dates, the couple departed from the romantic portal in 2009.
Moreover, the romantic excursion of Tony Oller trails the history of relationship with Emily Osment from 2009 to 2010. 
Later, in 2012, Tony moved onto another relationship and started dating his new girlfriend, Chloe Bennet.
Although the precise information of their relationship is unknown, Chloe made their romances public through a series of pictures on media. They dated for a year and eventually dismantled their love life.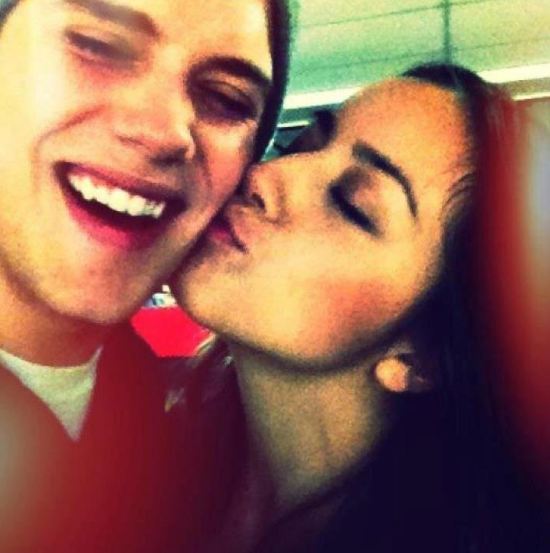 Tony Oller with his ex-girlfriend, Chloe Bennett, 9 August 2015 (Photo: Chloe Bennet Updates' Twitter) 
The prominent actor and singer was also entangled in rumors of dating Lucy Hale between 2014 and 2015.
Do Not Forget: Felix Mallard Bio, Girlfriend, Parents
The duo was seen being flirty on their social media and tweets. However, neither of the couples flashed the possible signs of their romantic relationship. 
Nevertheless, Tony is currently enjoying his single life with no traces of his love interests and girlfriend.
Also, he has been confidential about his possible future married life and romantic bonds. 
Short Bio
Tony Oller was born in Springfield, Illinois, the United States, on 25th February 1991.
He stands at the height of 6 feet (1.82 meters) with a balanced weight.
Talking about his attributes and appearance, Tony has black and white tattoos of a man peeking through a door that he got on the Eve of his 24th birthday. 
Tony Oller, age 28, was born to a mixed family with German, English, Irish, and Norwegian ethnic background.
He is the only son to his parents, Jeff Oller and Mary Anne Brown, so he does not have any siblings.