Tony Terraciano is an ascending young star, who has reserved a reputed position in Holywood with his series Chuggington, Blue Bloods and Badge Quest. Among them, his portrayal as Jack Reagan in the drama Blue Bloods is his most loved and preferred character in his overall acting career.
Besides, Terraciano has also done fantastic work by voicing the character of Wilson on the series Chuggington.
Tony Terraciano's Bio- Wiki, Education
Tony was born on 20 August 2000 in the United States. Growing up, he was admitted to Pelham Memorial High School in Westchester, New York. Along with his study, he started working in the media industry at the age of eight. He made his debut through the series Chuggington in 2008.
The Blue Bloods actor Tony stands at the tall height of 5' 11"; however, his body weight is unknown. 
Read More About Teenage Actor: Skylar Gaertner Bio, Age, Parents, Height, Movies
At present, Terraciano is appearing as an actor in Blue Bloods in 2019. The fan of Blue Bloods has seen Tony (Jack) grow alongside the growing episodes of the drama. With his role of joining the college in the series, he goes to college in the real-life as well. Therefore, he had to take a particular gap from the series to which his fans panicked wondering he might leave the show. 
Parents Details
Blue Bloods has been a life-changing drama for Tony. It is the drama that has flourished his career into most significant height. He has typecasted the nerd character as a son of Donnie Wahlberg and Amy Carlson alongside his brother Andrew in the drama. Donnie as Daniel and Amy as Linda has provided justice to their character as a mother and father to their onscreen sons.
However, in the series, the family's happy journey wasn't always a constant. They lost their mother, and Daniel lost his wife, Linda in the helicopter crash, which was the most devastating news for the Blue Bloods series lovers.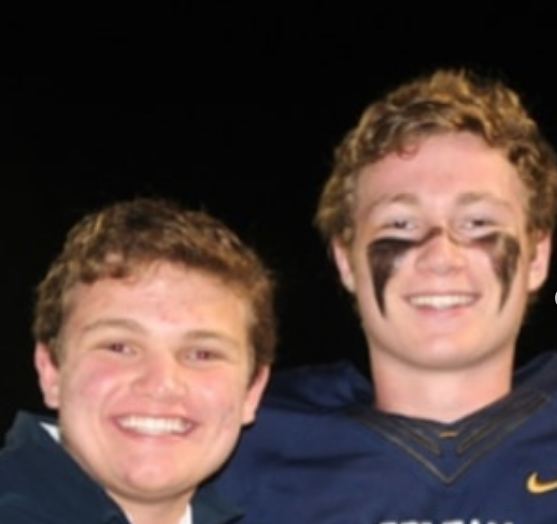 Andrew wished Tony, a Happy Birthday on 15 August 2018. (Source: Andrew's Instagram)
While their onscreen family has now parted, thankfully, their offscreen family is still together. Tony and Andrew are real-life brothers, who have two years age gaps making Tony the elder brother.
You may like: Bruno Major Wiki, Net Worth, Family, Facts
They reside with their father Anthony, mother and sister Molly in the town of Westchester County. Sister Molly and brother Andrew are twins, so both of them has turned 16 in February 2019. They started modeling when they were six months, and their mother started dragging them into the acting industry.
Dating Anyone Or Single?
Tony is still on his teenage and still young to be roaming around with a girl. However, some people of his age would have a girlfriend in these ages. Therefore, he is assumed to be patience and committed when it comes to a relationship. However, there is still a chance he could be hiding his private life from the media. 
Not to forget, since he is getting matured and turning 20 next year, he could be adding some spices in his life as well.
Tony's Net Worth
As Tony has been working since childhood, many of his fans wonder how much net worth does this young actor has. But unfortunately, his net worth is not publicly revealed, so out of curiosity, it can be assumed with the average salary paid to the actors; $49,988. Since Tony is not a new face to Hollywood, he could be earning more than the average wage of actors.
Also, read: Mason Crosby Contract, Net Worth, Wife, Family
Started acting since 2008, Terraciano has grown within the eyes of the media playing numbers of series with massive quantities of episodes. He has indulged in Nonna tell me a story: Lidia's Christmas Kitchen, Friends of the people and many more.