Skylar Gaertner is a young actor who first stepped in the Hollywood field when he was only four years old. Showing his incredible talent, he made his debut with a TV series Lipstick Jungle in 2008 with a typecasted role of Sam.
Since then, Skylar has played in multiple TV shows and movies which set him as one of the most talented and reputed child actors in Hollywood. Some of his acting credits include Law & Order, The Americans, Every Secret Thing, Daredevil, and Ozark.
Parents
Despite being such an influencing actor, Skylar rarely talks about his family details. He is not open when it comes to his family since he rarely posts anything regarding them. In rare terms of the event, he shared a picture on Instagram with his siblings in April of 2019 wishing them a 'Happy Siblings Day.'
You May Like: Tom Anderson Net Worth, Wife, House, 2019
Through this, it can be summed that he has two elder sisters in his family. However, he has yet to reveal about his parents and their information.
Although his biological parents are out of media, he seems quite close to his Ozark's onscreen parents. With them, he often shares pictures on his social network.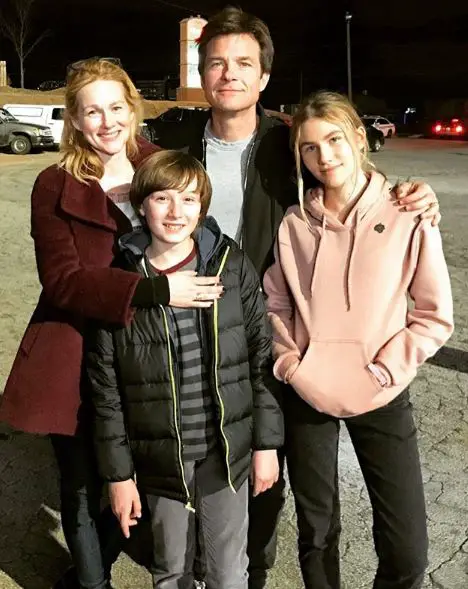 On-Screen Family: Skylar with the co-stars of 'Ozark' (Photo Source: Skylar's Instagram)
In the Netflix adaption of the web series Ozark, Skylar played as Jonah Byrde, the son of Marty Byrde and Wendy Byrde. Jonah is also the brother of Charlotte Byrde.
Read This: Hank Greenspan Wiki, Age, Parents, Siblings, Height
Net Worth/ Movies
Skyler being under the age of 16, could only contribute his five hours a day in acting. Since he is involved in the industry since 2008, he likely has earned significant net worth, which is yet to be available.
Starting his career with a TV series Lipstick Jungle, he played as Anthony in the TV show Law & Order: Special Victims Unit in 2008. However, after two hectic movies in a single year, he took a break for a while and bounce back in 2011 with a new TV series Umizoomi, Person of Interest, The Americans (2013).
After seven years of his acting career, he got the opportunity to act in the movies like Sleeping With Other People, I Smile Back, Fantastic Four and Daredevil.
His other contributions are The Ticket and Ozark. Ozark, which is supposed to be running on its season 3 as of 2019, however, won't be able to launch this year as filming of the series is not over yet.
Additionally, Skylar revealed to TMZ that he had auditioned for Fantasy Drama twice. The 15-years-old actor was glad that he didn't get the role because he wouldn't be in Ozark now.
Bio, Wiki, And Height
Born in 2004, Skylar is a well-known child actor who is a rising face in the entertainment industry. Apart from acting, he is engaged in studying and in athletes. He is also active in swimming, baseball, and soccer.
Being on the phase of teenage, Skyler is rocking his charming face with the cutest smile and the height of 1.63 m (5 feet 4 inch) tall. Since he is already well reputed for his acting career, he must be living a bossy life at his school as well in public.