Tori Brixx is one of those famous names who have taken the internet world by storm with her breathtaking beauty and appearance. At the age of 27, she has gathered the attention of people with her seductive pictures, which can make anyone awestruck. Though she faces criticism for her unconventional photos on social sites, she has succeeded to gain over millions of followers on Instagram. 
Tori And Boyfriend Attacked By Robbers
Tori Brixx is dating American rapper, Dimitri Leslie Roger, 25, professionally known as Rich the Kid. In early June 2018, Tori recalls the moment of gunpoint home invasion who attacked Dmitri and her. She also talked about his estranged wife who accuses her of the set-up during a home invasion. She became injured with some bruises and swellings underneath her right eye, whereas her boyfriend was heavily wounded. The American model got admitted to the hospital, and after her treatment, she was released on 15 June 2018. On her Instagram live stream, the American model talked about the incident and said,
This was some real sh*t. I hear my sister screaming in the back. They like, 'Bi**h don't move' and I got a long gun in my face.
Her boyfriend's estranged wife, Antonette Willis took her Instagram and blamed the whole attack incident on Tori. Antonette stated that she would beat Tori's ass whenever she sees her, as she was the one who set Dimitri up. However, her American rapper boyfriend denied Tori's involvement and said she had nothing to do with home invasion.
Read Also: Meagan Camper, Pete Wentz's Partner Wiki: Age, Baby, Family, Model, Net Worth
After the treatments, the American rapper and Tori moved away from her Los Angeles apartment in early July 2018. The duo was not safe in Tori's place as the culprits were still at loose. TMZ magazine also confirmed that the duo was still in a relationship and are residing safely in San Fernando Valley. 
Boyfriend States Tori Is Finer Than Rihanna
After spending time with his girlfriend on San Fernando Valley's crib, The Rich Forever Music record label artist Rich the Kid states that Tori is 'way finer' than the Umbrella singer, Rihanna on his Twitter handle on 25 July 2018. One of his Twitter fans posted a thread message saying the rapper's girlfriend was the finest woman walking on earth besides Rihanna. The Atlanta native corrected his fan's tweet and responded that Tori was far much better than Rihanna.
Nearly a month after the attack of the robbers that left him and his girlfriend injured, the recording artist is doing fine with Tori. He was hospitalized on 15 June 2018 and the police have released the statement regarding the home invasion.
According to the police department, several armed robbers entered Tori's home and threatened her to hand over the money. Her boyfriend attempted to confront the robbers but the rapper was beaten and stole some amount of money and jewelry.
Tori Brixx's Previous Relationship
Tori Brixx was previously in a relationship with a famous rapper, Katorah Marrero, 26, aka. Young M.A. During an interview with International Business Times in October 2017, Young confessed that the lesbian couple had been dating each other for a year. She said, 
"A lot of people didn't know we been dating for a minute. They thought when it all came out that that was just right then and there."
Young further shared that their relationship started after she found that Tori had posted a video of her single "OOOUUU." Both of them later met each other through a mutual friend.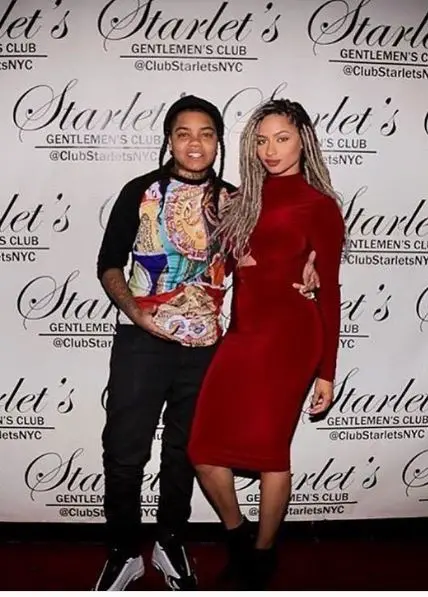 Young M.A with Tori Brixx at Starlet Gentlemen's club on November 10, 2016 (Photo: xxlmag.com)
Tori and her former boyfriend later made an appearance together in Starlet's Gentlemen's Club in NYC in November 2016. During the time, even their snapchat hinted about their passionate relationship; but sadly, the duo couldn't get along for long. 
And after their split from Young, Tori started seeing Rich The Kid who at that point was a married man. But after meeting Tori, Rich ended his marriage and initiated his relationship with Tori. They reportedly have been dating since 2018.
Tori Brixx Gives Birth!
Tori and Rich The Kid welcomed a son. Rich shared the happy news about the birth of a baby on his Instagram on 13 April 2019 where he expressed his happiness on delivery of her new baby. He even remarked the baby's birth as the biggest blessing.
He even shared a series of Instagram stories where he captured the moments that eventually led to his son's birth.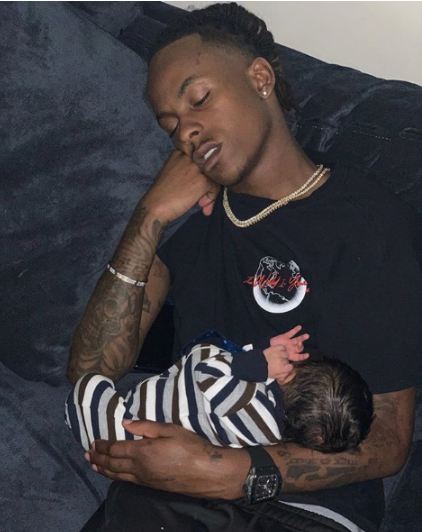 Rich The Kid seen holding his newborn son. (Photo: thejasminebrand.com)
News about Tori's pregnancy was shared last September 2018 when Rich shared a picture of Tori having an ultrasound. And as for the gender of the baby, Rich accidentally spilled the news while on air "Big Boy's Neighborhood" radio show.
The couple has now blessed with a baby boy but, as for the name and any further details of the baby boy, neither Rich nor Tori have posted anything regarding that. However, before the birth of baby, Rich once spoke that he would give his name to a baby as Dimitri the II, as per hotnewhiphop.com
What's Tori Brixx Net Worth?
Tori Brixx has accumulated her net worth as an LA-based model and actress. Her stint with various brands like Fashion Nova, Blac Chyna's Fashion line, The Maxim, Khloe's jeans line, has helped her to secure some fortunes. She has also collected revenues from her lipstick line. In 2016, the new management company of Amber Rose announced that Tori would be the first woman to be represented by them. Her new endorsement with the management company has helped her to gather some lucrative payrolls.
See Also: Hailey Gates Wiki, Bio, Age, Birthday, Model, Parents, Boyfriend, Dating
Tori started her modeling career from a photo shoot at facet studios, and soon her magic was spread among the audience. She has become much famous on the internet as well as in modeling. Apart from modeling, Tori is much famous on Instagram, where the American model has more than 3 million followers. Since the age of 24, Tori has been active in social networking sites. During November and December 2015, she got nearly 166K new followers per month and joined 1 million follower club.
Short Bio
Tori Brixx, who was born in 1990 in Texas, celebrates her birthday on August 16 of every year. Tori's birth sign is Leo. She posses American nationality, and her ethnicity is white. She stands at a tall height which complements her physique.
She currently resides in Los Angeles. As per wiki, Tori is fond of doing exercises and frequently posts the videos of her work out on her social account.