Young M.A is the American rapper known for her superhit debut single Ooouuu in 2016. She is known for her collaboration with Uncle Murda, Young Thug, and 21 Savage. She is a proud lesbian and is a former girlfriend of Instagram star Tori Brixx. The talented rapper, Young M.A is also a movie director who has directed an adult movie for Pornhub.
Young's Struggle With Sexuality; Mother's Acceptance
Young M.A opened up about her struggles with sexuality during the interview with Glamour in March 2017. She grew up as a tomboy during her childhood days. She played football and basketball with the boys and even wanted to be a boy. In the pursuit of seeking validation from other, she tried to act like a girl but felt lost.
Read Also: Swizz Beatz Wiki, Net Worth, Wife, Mother
Young finally learned to accept her skin and became comfortable with her body. She accepted to be a lesbian and started dating girls. However, she was little concerned about her mother's approval regarding her gender. She had an honest conversation with her mother and said that she had a girlfriend at that time. And her mother accepted for who she was.
Young M.A Dumped By Her Girlfriend
Young was shockingly dumped by her girlfriend, Tori Brixx after dating for a long time. Tori is an Instagram model who has amassed 3 million followers. She reportedly dumped Young M.A for a male rapper, Rich The Kidd.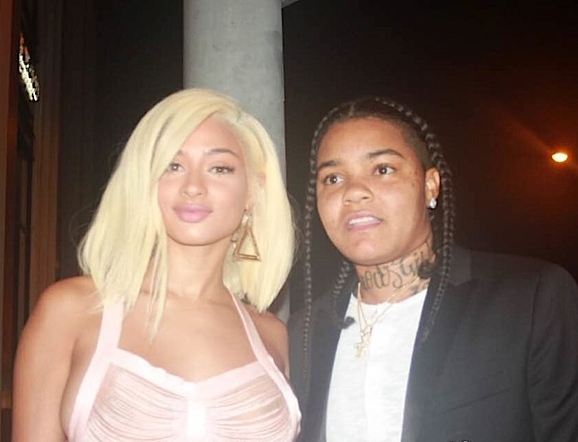 Young M. A attends Tori Brixx's birthday in West Hollywood posted in August 2017 (Photo: thejasminebrand.com)
Ooouuu singer Young was madly in love with Instagram sensation, Tori. Those days, her social media accounts were reflecting their love life vividly. On 3rd November 2016, Tori posted an Instagram picture hugging a huge teddy bear and captioned saying hello to Young. As per MTONews in May 2018, the former couple planned on getting married but they drifted apart into the different direction.
You Don't Want To Miss: RZA Wife, Net Worth, Albums- Everything About American Rapper
What Is Young M.A's Net Worth?
Young M.A has garnered a massive net worth of $2 million. She has assembled the majority of her wealth from her music career. She also collects her fortune from her self-entitled YouTube channel.
She started her self-entitled YouTube on 25 July 2013. Her channel has amassed more than 1.5 million subscribers. As per Socialblade, she earns $2K - $31.3K monthly and $23.5K - $375.7K yearly from her YouTube channel. She has also directed an adult movie for Pornhub entitled The Gift.
Young M.A earned her living by working at restaurants and department stores early in her life. She released her debut mixtape M.A The Mix Tape on 15th March 2015. Her songs like Body Bag, Girlfriend and Intro-YOUNG M.A were hit on Spotify, and her album received a bronze status from DatPiff. She released her second album Sleep Walking on 4th November 2015. MTV also has praised her mixtape saying thoughtful project.
The American rapper made her mark in the music industry from her debut single 'Ooouuu' released in 2016. It received more than 264 million views on YouTube. Her song 'Ooouuu' peaked #10 on the billboards of the Hot 100.
When she released her 2017 EP Herstory, the rapper talked in her 2017 FADER cover story and said that the musical artists were dropping their albums at a slower pace. Young M.A. was also not sure about her next album and became hopeful for her single 'PettyWap' to be the next hit. In July 2018, she released a video of 'Petty Wap' in which the rapper showcased a single clip of a luxurious pool party.
In September 2018, Young M.A. featured with KorLeone and released a video of 'Wahlinn.' She showed a celebration across the Manhattan waterfront on her new release and premiered the video for the NY Bangers-produced track after debuting in the Labors Day. The duo of M.A. and KorLeone enjoyed the jet ski in the Hudson River. She also announced her next album as Herstory in the Making, which is scheduled to release during the fall of 2018.
Short Bio
Young M.A was born in April 1992 in Brooklyn, New York. As per wiki, her real name is Kotorah Kasanova Marrero. Her father was sentenced to jail when she was only one year of age. She was raised by her mother, Latifa In Chesterfield, Virginia. She had an elder brother who was killed in gang violence in Pennsylvania.