Award-winning actress Victoria Hamilton is noted for her performance in movies and TV shows, including Mansfield Park (1999), A Day in the Death of Joe Egg (2002), Scoop (2006), and The Crown (2016). 
Alongside huge recognition, her acting career also brought several awards to Victoria, such as the 2000 London Critics Circle Theatre Award for her role in the TV movie As You Like. She also won the 1995 London Critics Circle Theatre Awards for her role in the play, The Master Builder. 
Victoria Hamilton's Bio
Born Victoria Sharp, Victoria Hamilton's date of birth is 5 April 1971. She belongs to Wimbledon, South London, England. Her father's name is Tim Sharp.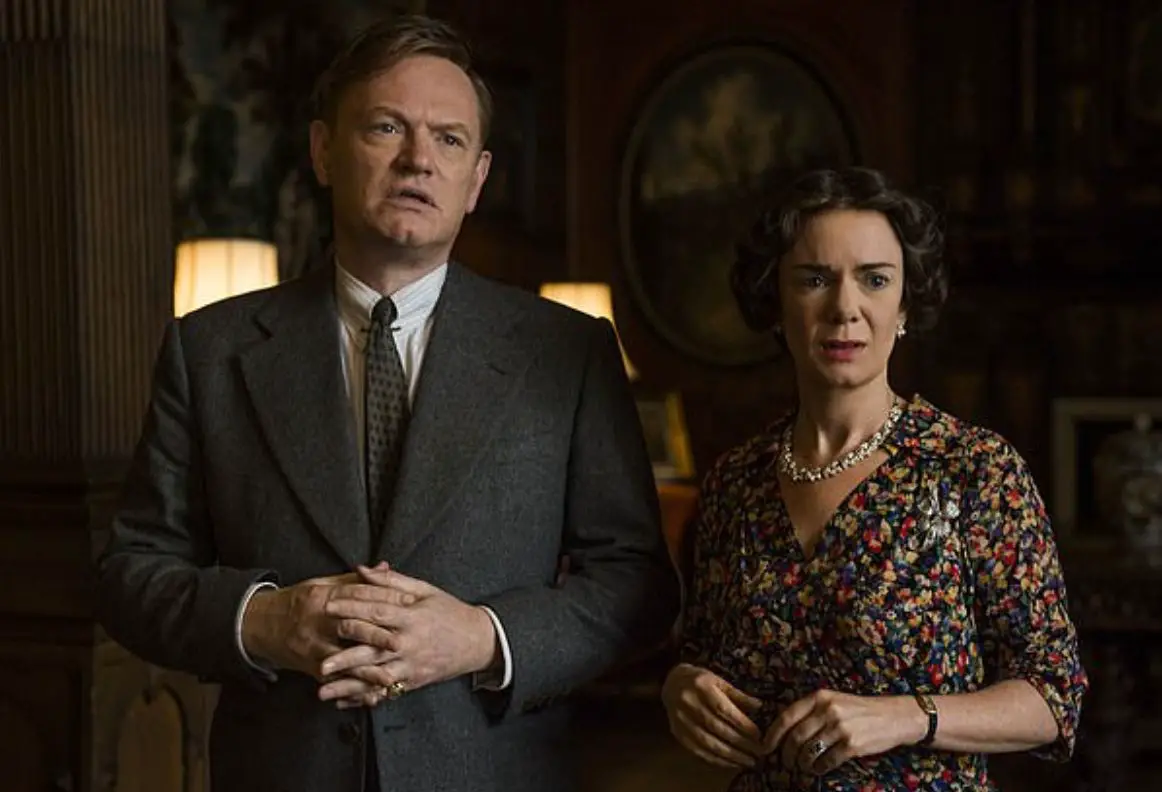 Actress Victoria Hamilton with actor Jared Harris from a scene of The Crown (Photo: dailymail.co.uk)
Growing up, she enrolled at St Hilary's School from 1974-1982. Later, she attended the London Academy of Dramatic Art for her college education and also took acting classes at the Royal Academy of Music and Dramatic Art. 
Married Life; Children
Victoria has been married to The Queen's (2006) actor Mark Bazeley since 22 January 2008. 
Learn Married Life Of This Mountain Climber: Marty Raney [Misty Raney's Father] Wiki, Age & Married Life
As of now, the pair shares two children; Tam and Hal. Tam is their eldest child, while Hal is the youngest in the family. 
Husband Mark Bazeley's Bio And Career
Mark's birthdate is 30 September 1970, and his birthplace is Wantage, Oxfordshire, England, UK. 
He is an actor known for appearing on both big and small screens. He portrayed the role of Alastair Campbell in the 2006 film, The Queen, and has also appeared on other movies like The Bourne Ultimatum (2007), The Damed United (2009), and The Special Relationship (2010). Similarly, his TV shows include Holby City (1999), New Tricks (2003), and Death in Paradise (2011). 
Another Prominent Movie Actor: Dean Sheremet Personal Life Update & Interesting Facts
Nevertheless, he is also known for voicing video games like Star War games, The Adventure of Tintin, and Dragon Age. 
Interesting Facts
Initially, Victoria was rejected by several prominent drama schools. It took her one full year to get accepted and her first stage performance was for Peter Hall's The Master Builder. 

She spent five years in classical theatres before entering the film line. 

Victoria's performance in the film, A Day in the Death of Joe Egg, got her nominated for a 2002 Laurence Olivier Theatre Award for "Best Actress of 2001" at the New Ambassador's Theatre, London.

Her husband, Mark, earned the Ian Charleson Award for his performance in the play, The Seagull, in 1997. 

Victoria was nominated for the Outstanding Performance by Ensemble Award at the Screen Actors Guild Awards in 2016. 

In 2017, she was nominated for the Best Actress in a Supporting Role in a Musical at the Olivier Awards. 

Victoria's zodiac sign is Aries.