Yoko Ono is a Japanese-American multifaceted personality, best known as artist, songwriter, musician and peace activist. She was also an influential practitioner of conceptual and performance art in the 1960s.
On top of that, Yoko became internationally famous as the wife and artistic partner of late musician John Lennon.
Wiki- Family, Age, And Early life 
Yoko Ono was born on 18 February 1933 in Tokyo, Japan, in a wealthy family. Her father, Eisuke Ono, was the successor of a 9th Century Emperor of Japan. Likewise, Yoko's mother, Isoko Yasuda Ono, was the granddaughter of Zenijiro Yasuda, the founder of Yasuda Bank.
Later, she was brought into San Francisco and New York due to her father's transfer.
Yoko's mother was a pianist, so; she had her first interaction with music at the age of four when she started taking piano classes.
Also Read: Who Is Jamie Brewer Husband? Details On Family, Height
Net Worth Of Yoko Ono
The estimated net worth of Yoko Ono is $600 million from her music career. In addition, she sold a Basquiat painting valued at $11 million in 2017. Still, she has a share of the Beatles royalties, which is over $3 million per year.
Yoko contributes some part of her earnings to charitable foundations. She and her late husband John had started funding for the charity work since the '70s.
Yoko Ono's Relationship With John Lennon
"When we lose someone special we love, we must learn not to live without them, but to live with the love they left behind." 
Yoko Ono is one of the illustrations to the saying. It's been 39 years since her husband John Lennon has passed away, but yet her love for him is eternal. On 8 December 2019, she paid tribute to her hubby via Twitter and wrote;
"The death of a loved one is a hollowing experience. After 39 years, Sean, Julian and I still miss him. Imagine all the people living life in peace."
Yoko met John Lennon for the very first time in 1966 at her art exhibition in London. From that exhibition, they became impressed by one another's personality. Eventually, they got married in 1969.
However, to be in a marital relationship wasn't easy for them due to their obsession among fans. They had to face a hindrance to their dream wedding. Yoko and John went to Southhampton at first to get married on Cross-Ferry channel. But, unfortunately, Yoko's didn't get a day visa to go across as she wasn't English.
After that, they decided to get married in Paris; but their bad luck; French authorities didn't grant permission to stay in France for a long tenure.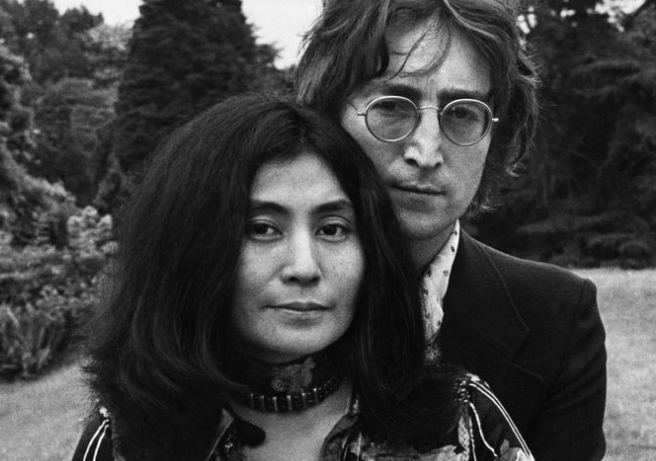 Yoko Ono with her husband, John Lenon (Photo: Irishmirror.ie)
Eventually, a few days later, Yoko and John managed the place named Gilbatar on the recommendation of a friend called Peter Brown and got married on 4th March 1969.
Within an hour of getting married, they flew back to Paris and stayed at the Plaza Athene. Being in four years of relationship bonding, the paired got blessed with a son Sean Lennon, born on October 9, 1975, in New York City.
Consider Reading This: Hannah Hart Is Engaged & Planning For Wedding In 2020
Sadly, Yoko's happiness didn't last for a long; her husband John was shot and killed in his Manhattan Apartment on 8 December 1980.
Post-Relationship
Before her relationship with John, Yoko Ono was married twice. Her first marriage was with her college love, Julliard student, Toshi Ichiyanag, in 1956, USA. Unfortunately, they got divorced in 1962. After the split with Toshi, she returned to Japan. There she suffered from clinical depressions and was admitted to a mental hospital.
However, Yoko managed to recover from a poor health condition. Later she tied a knot with Anthony Cox in the following year, 1962. Then after a year, they got blessed with a daughter Kyoko on Saturday, 3rd August 1963.
 Read This: Who Is Jamie Brewer Husband? Details On Family, Height
But her second marriage also didn't work out, and they separated with a divorce in 1969. After their departure, Cox won the custody of a daughter Kyoko in 1971 and remained to recluse from the limelight.
Interesting Facts
The meaning of Yoko name is 'Ocean child'

 Yoko's second husband film producer Tony Cox, allegedly kidnapped and hid their daughter, Kyoko, and joined a Christian cult, cutting off all communication from Ono. Ono did not see her daughter until Kyoko was 31-years-old.

 John Lennon was married to Cynthia Lennon and had a son Julian Lenon born on 8 April 1963.