Zawe Ashton is an English actress who is famous for her appearance in series like Fresh Meat and Not Safe For Work. She has also won the Ultimate Newcomer Award and the Creative Diversity Award for her role in Fresh Meat in 2010.
Ashton bio isn't limited to her profession as an actress; she is also an author and a poet, who won the 2000 London Poetry Slam Championship. Recently in April 2019, the 35-years-old celebrity launched her book, Character Breakdown.
Wiki- TV Shows
Zawe Ashton was born on 21 July 1984 in England with a real name Zawedde Ashton. She got engaged in acting since her very early age of six at Anna Scher Theatre School in Islington. Later, Ashton moved to Manchester University School of Theatre and achieved a degree in acting.
Eventually, she started pursuing her hobbies to a professional level. She got announced as one of the 55 faces of the Future in Nylon magazine's Young Hollywood issue. 
Moreover, Ashton's career got promoted with her fantastic acting skill in the series Fresh Meat, where she played the role of a Vod student. Standing at the height of the 5' 10", the British actress was even awarded as a Newcomer award for the series.
Apart from that, her few long-running TV shows include Case Histories, Fresh Meat,  and Not Safe For Work.
Dating Affairs- Married?
Actress, Zawe Ashton has remained secretive about her personal life, and her relationship information is out of the people's sight. But, in 2016, she was reportedly living in North London with her former boyfriend, whose identity got never disclosed in the media. However, he was supposedly a film distributor.
Talking about Zawe's present affairs, there exist few gossips and rumored relationship. People started speculating as to if there was cooking something between Zawe and her Betrayal co-star Tom Hiddleston when they got frequently seen together.
Explore More: Johnny Dang Wiki, Net Worth, Wife, Children
As per the report, they are often seen together hanging out in NYC. He even attended Zawe's program out of his busy schedule in April 2019, where she launched her book Character Breakdown. The two were seen cozying up so comfortably like they have been dating each other for a while.
Tom Hiddleston at Zawe's book launch program in April 2019. (Source: dailymail.com)
The couple has been spotted several times together on several occasions. Just a random fact, but this September 2019 count as their sixth month of togetherness. Likewise, their most recent sightings date back to the end of September this year. The two were spotted attending an outdoor auction in NewYork. Tom and Zawe seemed to be casually dressed, and Tom had his companion dog with him.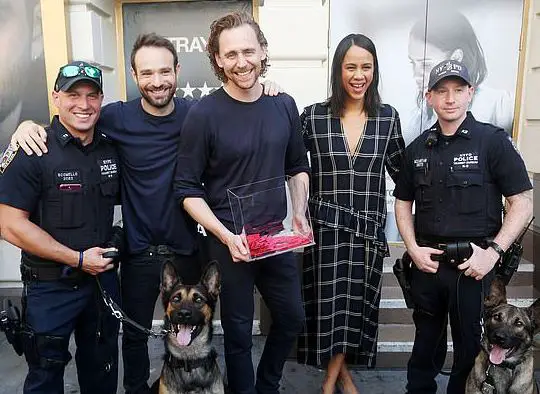 Zawe Ashton and Tom Hiddleston attending an auction in NY, Septemeber 2019(Photo: dailymail.co.uk)
Regardless of their closeness, Tom has always been quite mum about his matters, and when it comes to romantic relationships, well, good luck digging up the information
On the other hand, his relationship with pop-icon Taylor Swift has not left the media yet. During his short fling with Swift in 2016, the two traveled a lot together, and Tom even mentioned in one of his reporting that it was not a showmance. Fans do not know when or how the star-couple parted ways.
Zawe seems to have been resonating with Tom very well, though. In August, the pair were clicked together, attending a U.S Open. They have been igniting rumor fire since February this year. Some sources even dare to say that Tom has fallen hard for his Betrayal co-star. But, the pair have not officially announced their relationship.
While her dating life is sill complex, Zawe has bestowed her wishes to become a mother shortly. She added that Hollywood's mother shaming needed to stop and put a light on women's tight-lip to the situation.
Family
Zawe's mother Victoria was the daughter of Paulo Muwanga, who was a Ugandan politician, so their origin lies in Uganda. Her mother emigrated to England in her teenage, where she met her father Paul for the first time at Christmas. Both worked as a school teacher, later got married.
Zawe's parents gave birth to her and two younger siblings. It was non-other than her mother, Victoria, who encouraged her to pursue her career in acting. Apart from that, her late grandfather Paulo Muwanga, who died at the age of 97, served as both president and prime minister.
You May Like: Jenn Mann Husband, Boyfriend, Net Worth
Net Worth
An award-winning actress Zawe has built an excellent standard in Hollywood. Not only is she popular for her acting and shows but also well-praised as an author. She has recently launched her book Character Breakdown in 2019, April.
With her active contribution to a long list of TV shows and movies, she has established fame and prosperity upon her name. Although her net worth is not disclosed to the media, she is assumed to have pretty handsome incomes and earnings. The average salary of an actor is estimated to be about $49,988, but since Zawe is a reputed actress, she could be earning more than that.