American political activist Kevin Powell became known for his writings in the publications like The Washington Post, Rolling Stones, and Esquire. He is the author who has penned the books like My Own Private Ghetto and The Kevin Powell Reader.
The former hip hop journalist has also appeared in the show Oprah Talks to Men Who've Beaten Women and  MTV's, The Real World: New York. His other media appearances credits include the stint as a host for HBO and BET.
Married To Wife
Former hip hop journalist Kevin Powell is a married man. He and his wife Jinah Parker tied a knot on 10 June 2017 in a private ceremony in New York City. At their small wedding reception, they danced to BeeGees song Too Much Heaven.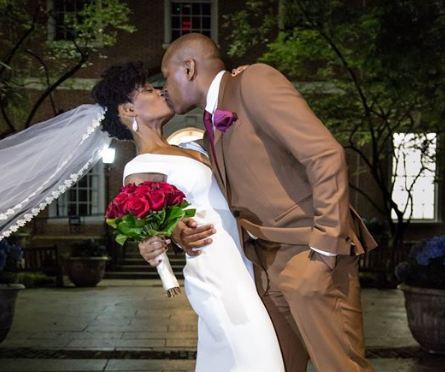 Kevin Powell and his wife Jinah Parker during their wedding day on 10 June 2017 (Photo: Facebook)
His wife Jinah is a dancer and choreographer, who signed with American Programming Bureau. They often attend public events and were a familiar face of 31st annual Hispanic Heritage Awards held at Washington, DC, in September of 2018.
The twosome met while working at a yoga studio in Brooklyn, and since then, they have been savoring their evergrowing romance.
Before Jinah, Kevin had a record of several failed relationship in the past. During the early 1990s', he physically abused his then-girlfriend, and after breaking up with her, he went to therapy. Back during his college years, he also assaulted women and shoved his then-girlfriend in a toilet door.
Net Worth
Kevin has the estimated net worth of $1 million from his career as an American political activist and entrepreneur. Powell ran for the United States Congress in New York's 10th congressional district but was unsuccessful for three times.
You May Like: Taissa Farmiga Boyfriend, Net Worth, Siblings
Apart from that, the Jersey guy has written for publications like Rolling Stone, Esquire, and The Washington Post. In the year 2019, Kevin got a donation worth $10,000 from an anonymous donor for his short documentary Brotha Man.
He and his wife Jinah Parker found themselves losing defamation suit of $210,000 in December of 2018. April Sellers, a Minessota based dancer, and choreographer claimed that Kevin and Jinah said that she was a racist. Although the couple issued an apology, April and her attorney Aaron Scott rejected their offer.
Bio(Age) & Family
Kevin Powell was born on the 24th of April in the year 1966 in Jersey City, New Jersey. He got raised by a single mother who hails from South Carolina in a low-income family. He doesn't know about his biological father, who abandoned his family and forced to raise Kevin in dire poverty.
Explore: Ted Vernon Wiki: Wife, Divorce, Children, Cars, Net Worth
Although his father owned a house in Jersey City, he chose not to co-parent Kevin. Despite his family hardship, the 53 years old freelance writer pursued his education at Rutgers University and later entered politics in New York.