Maria Elvira Salazar is a strong candidate for upcoming Florida's 27th Congressional District in the US House. The district is exceptionally Democratic-leaning, which depends on the voting system in presidential and state legislative elections. The election is happening on 3 November 2020. 
Before, her journey to politics, she was a reputed anchor of the MEGA TV night newscast and her own daily-prime political news show Maria Elvira Live. She has interviewed many high profiled and reputed personalities like the U.S. Presidents Bill Clinton and George W. Bush, including Mother Teresa. Not to forget, she is the five-time Emmy award winner and multiple international awards holder.
Maria Elvira Salazar Married's Life; Children
Maria got married to the home builder and designer Renzo Maietto in early 1999. They shared two beautiful daughters, Nicoleta and Martina, together, who now resides with her. Not only she shared happiness but also faced many obstacles and traumatic situations during her marrital journey.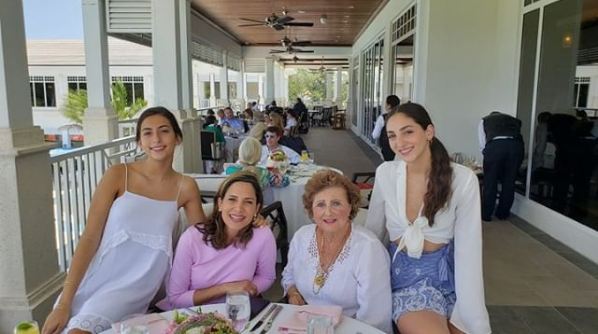 Maria, with her mother and two daughters in May 2019. (Source: Maria's Instagram)
Their decision to buy millions in real estate led them to take many loans from at least eight properties owner in the Miami-Dade County, Brickell, and in South Miami. But the decision took a wrong turn, and they were left economically collapsed in 2008. The arising problems and economic trauma slowly influenced their years of marital life, and finally, they set their way apart. In the summer of 2010, the couple got divorced.
However, the loans and financial issues are still not over the ex-pairs. Regardless of their divorce, he still supports Maria. In July 2018, he showed his supports for Maria run for Congress. He said that he is well known for her knowledge, faith, persistence, and moral character, and it would be good for their country.
Not to forget, Maria was previously married to someone else before Renzo, but her first husband's bio remains under concealed.
Maria Elvira's Wiki and Family
The aspiring US leader Maria was born on 1 November 1961 in Miami, Florida. As of now, her age is 57 years. Her parents are Cuban, who emigrated to the US in 1960 after the Cuban communist revolution. Unfortunately, his father,  Hector Salazar is no more alive now— he passed away after his battle to lung cancer, at the age of 45.
Read This: Lauren Socha Brother, Boyfriend, Children, Net Worth
Because her parents escaped to the US for freedom, she grew up listening to her parent's stories about the oppressive communist regime. The stories took an impact on her growth, and she destined to create a safe world from an early age. She started working with her studies and paid her study expenses for her Bachelor's and Masters's Degree. She graduated Bachelor in Communications from the University of Miami in 1983 and did a Master's Degree in Public Administration from Harvard University's John F. Kennedy School of Government in 1995.
Discover: Mandy Harvey Husband, Family, Net Worth
After education, she turned her journey towards a reputed net worth Telemundo as a journalist who took a life-changing point in her life. She worked as an anchor for CNN Espanol and later for the White House and Gulf War. Eventually, she joined Congress and has now become a strong candidate for Florida's 27th Congressional District election. With her strong work ethic and high capabilities, her winning chances are on the height 
How Much Is Maria's Net Worth?
Maria is pursuing her career in politics at present. Therefore, her net worth from the congressional party is yet to publicize. However, as a former Telemendo's host, Maria is expected to have earned the whopping net worth. She is estimated to earn the salary more than $50,216; an average salary provided to the host of Telemundo.
Learn About: Hope Beel Bio, Age, Husband, Net Worth
Since Maria was also a journalist, she could have garnered around $73,387 as of the average wage of Telemundo's journalist. Furthermore, she has also launched a book called Si Dios Contigo, quien contra ti? (a Spanish version) from where she could have earned significant fame and money.