Sean Duffy is an American politician, and a prosecutor acknowledged as a former member of Congress and a Republican Representative.
Also a reality show personality, he has starred in MTV series, The Real World and Real World/Road Rules Challenge: Battle of the Seasons.
He was an avid log roller and speed climber since the age of 13 and won two speed-climbing titles.
Resigned From Congress
Sean Duffy, the committed supporter of the US President Donald Trump, announced of leaving from Wisconsin congressional seat on 26th August 2019.
The former cast of MTV's The Real World stated that he would spend his upcoming time with his family.
He mentioned that his ninth child, who is due in October of 2019, will need even more 'love, time, and attention due to complications.'
Sean was recognized as a possible candidate for U.S. Senate or governor in 2022. 
Discover: Hank Greenspan Wiki, Age, Parents, Siblings, Height
However, he is also planning to give resign on 23 September 2019 from Congress with about $2.4 million in his campaign fund. Likewise, the Democratic Gov. Tony Evers will call out for the election of his vacant post. 
After the resignation, Sean is planning to savor his life with his family. 
Welcomed Baby No. 9!
Sean Duffy and his wife, Rachel Campos-Duffy, announced that their upcoming ninth child was due in October 2019.
Despite being committed to politics, Sean resigned from Congress to take a break from public service to looking after his wife and kids. 
Before two months of his resignation, Sean's wife, Rachel, had shared a video of a sonogram on 7th May 2019, revealing her pregnancy on Instagram. She added:
Buckingham Palace wasn't the only one with big baby news; we found out God isn't done with our family yet.
Sean and his wife also have eight children, namely; Evita Pilar, Xavier Jack, Lucia-Belen, John-Paul, Paloma Pilar, MariaVictoria Margarita, Margarita Pilar, and Patrick Miguel from their longterm married life.
It had been five months of the twentieth wedding anniversary of Sean Duffy and his wife, Rachel Campos-Duffy when they welcomed their ninth child in October 2019.
Sean became the father of nine children back on 1st October 2019.
Rachel disclosed the birth of their daughter named Valentina Stella Maris Duffy through the Instagram post. She wrote that the newly born girl was the sweetest and most perfect thing that they have ever seen.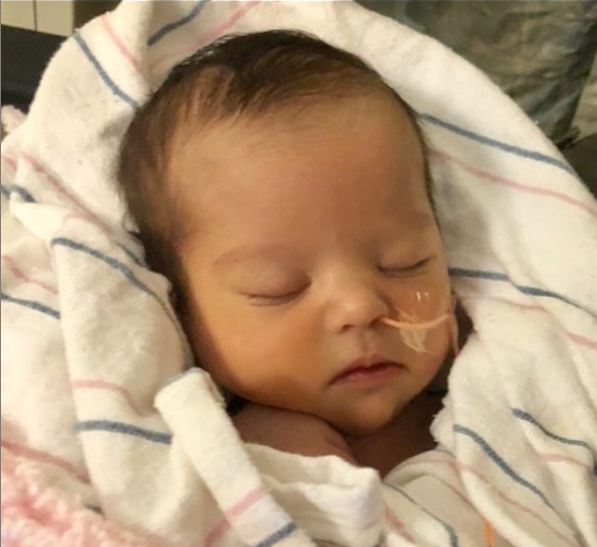 Sean Duffy and Rachel Campos-Duffy's ninth child, Valentina Stella Maris Duffy (Photo: Rachel's Instagram) 
Also, she shared the picture of her newly born daughter along with her siblings on Facebook, mentioning that Valentina was born one month before her due date. She is still in the NICU until she learns to eat on her own. 
Also Read: Kenneth Faried Net Worth, Salary, Girlfriend, Mom
Sean had resigned from his job representing Wisconsin's 7th Congressional District in September after he found his daughter would need open-heart surgery.
Valentina was born with a couple of holes in the heart and valves that need to be treated.
As per the Facebook post, she was born with an extra chromosome, Down Syndrome, and the treatment can long for 3-4 months. 
Besides, Rachel thanked all the people who prayed for her newly-born daughter throughout the months. 
Sean Duffy's Relationship History With His Wife
Sean Duffy first met his wife, Rachel Campos-Duffy, during MTV's reality series, The Real World.
Also, she is the Fox News Channel personality and a spokesperson for The Libre Initiative. 
Although the couple was in different seasons of the show, they managed to drift their love life ahead.
After a few periods of dating, the couple shared their wedding vows on 10th April 1999 and welcomed eight children. 
Also, throughout their two decades of married life, Sean's wife had two miscarriages.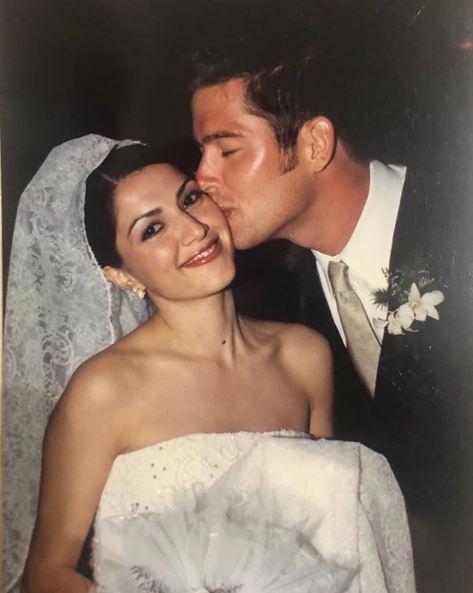 Sean Duffy and his wife, Rachel Campos during their marriage (Photo: Sean's Instagram) 
Currently, the lovebirds are savoring twenty years of romantic relationship along with their extended family and often share their intimate bond on social media.
Back on 10 April 2019, the happy duo celebrated their twentieth wedding anniversary and captured the moment with a wedding picture on Instagram. 
Career And Net Worth
Sean Duffy is an American politician and prosecutor, who has an estimated net worth $100 thousand. As of now, he is set to resign from his position on September 2019. 
As per his 2009 wealth disclosure, he was the most mediocre Congressman, who had student loan debts of $100,000, mortgage debts between $250,000 and $500,000, family loans worth $250,000, and $50,000 in credit card debt at the time.
As per the reports, he accumulated $94,000 in salary in 2009 as a country district attorney. 
You May Like This: Kyle Higashioka Parents, Wife, Net Worth, Height
Before entering into the political career, he appeared in MTV's reality series, The Real World: Boston and the 2002's Real World/Road Rules Challenge: Battle of the Seasons.
Bio, Education, & Family 
Born in 1971, Hayward, Wisconsin, the United States, Sean Duffy, celebrates his birthday on 3rd October.
He pursued his education from St. Mary's University and later garnered the degree of law from William Mitchell College of Law.
Although the information of his parents lies beyond the mystery, he frequently updates about his family life on social media regarding the family celebrations and events.
His great-great-grandfather was one of the state's early pioneers and a laborer for the Northwestern Lumber Company.