Andrew Luck is an American football player. More specifically, he was a quarterback who played for the 'Indianapolis Colts' in the 'National Football League (NFL). A prolific player, Andrew's performance on the field won him tons of accolades as well as massive acclaim from those who've followed him.
The Washington native has been showcasing his football skills since his high-school days. Being the son of a star quarterback, his father polished his skills on Andrew and in no time, Luck made headlines. Keep reading to find more details about his retirement!
Retired From Football! 
To everyone's surprise, Indianapolis Colts star quarterback Andrew Luck has announced his retirement from the sport for good!
The news came as a surprise to millions who regard Luck as one of the best in the game. In a Saturday night press conference on 24 August 2019, Andrew stated his injuries over the years had been taking a toll on him. Also, he added that it had taken the joy out of football prompting him to make a tough decision. Luck in the conference stated:
"This is not an easy decision. For the last four years or so I've been in this cycle of injury, pain, rehab, injury, pain, rehab. And it's been unceasing and unrelenting ... and the only way I see out is to no longer play football." 
Despite the injuries, Colts had been playing in the preseason.
Amid his retirement, Colts have agreed to let retiring quarterback Andrew Luck to keep his contractual earnings of $24.8 million worth. As per the NFL collective bargaining agreement rules, Colts could force Andrew to return millions of his contract; however, they've handled the situation. The players receiving the signing bonus were bound to pay back their prorated portion of the cash. 
Concerning the case, Andrew would have returned a prorated portion of his $32 million signing bonus, clocking in at $12.8 million. 
Andrew and Colts owner Jim Irsay came with an announcement that they would not be entangled in a messy payback. Also, the analysts believe that Andrew made the honorable decision by instead bowing out of season, and ultimately the game.
Career
A prolific player, Luck has been at the top of his game ever since his high school days. For the 2012 'NFL Draft,' he was considered as the number one pick. He was later, selected as the first overall by the Indianapolis Colts.' He upped his game in the 2012 season, where he scored the highest number of wins by a rookie quarterback in NFL history. And in December 2012, Luck broke the record of the highest number of passing yards in a season by a rookie.
As the years progressed, more and more prolific performances followed, making Luck a name to be remembered. However, injuries kept on hurting his career and seemingly left its mark on his career. In the early days of the 2015 season, he had to miss the first two games due to a shoulder injury. However, he did manage to play and squeeze in a few wins.
But to his dismay, during a winning game against the Denver Broncos,' he suffered a lacerated kidney and a partially torn abdominal muscle. His recovery took longer than expected and had to sit out the entire season.
Not to be disheartened, Luck returned for the 2016 season. But yet again, injuries played its part. The injury left its mark as he could not participate in any game during the 2017 season.
Net Worth
Over the years, Andrew Luck has managed to earn quite a hefty chunk of change. Once being the highest-paid player in the NFL, Luck has seen his worth grow. Summing the wealth until his retirement, as of 2019, he has garnered a net worth of $40 million.
When Luck first signed with the Indianapolis Colts as the number 1 draft pick, he reportedly was handed a $14.518 million signing bonus. Later, from June 2016 up until June 2017, Andrew earned a whopping $50 million from salary and endorsements from TD Ameritrade, DirecTV, Panini, and BodyArmor. Following that, in 2016, he signed a five year $123 million contract extension that included a $32 million signing bonus making him the highest-paid player in the NFL based on salary.
Married To Girlfriend?
Andrew and his girlfriend Nicole Pechanec has taken their relationship to the next level as they are now a married couple.
The pair got married in an intimate wedding ceremony Prague, the Czech Republic surrounded by close friends and family on March 2019. Not much is know about weddings, and they had a secretive marriage.
Like Andrew, his wife Nicole is also an athlete. She is a former gymnast, who competed in two NCAA finals as well as the World Games and the European Championship.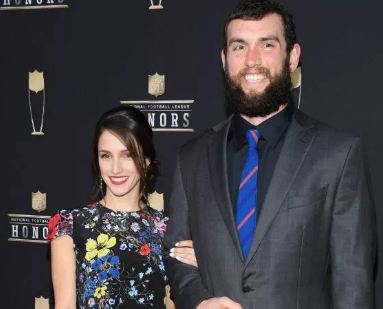 Andrew and his wife, Nicole. (Photo: fox59.com)
High school sweethearts-turned-spouse, Andrew met Nicole during his time at Stanford. Afterward, the romantic duo established their relationship and now have officially begun a new life as husband and wife.
Facts & Bio- Family
Andrew Luck came into this world on the 12th of September 1989 in Washington, DC to parents Oliver and Kathy Luck. Andrew grew up with four siblings in his family, with him being the oldest of the four. Mary Ellen, Emily, and Addison which complete the family of six.
His father Oliver was a star quarterback for the 'Houston Oilers' and 'West Virginia University.' Oliver announced that he would leave Indianapolis to become commissioner and CEO of the XFL.
Interesting: Dexter Jackson Net Worth, Wife, Family, Diet
Luck, who stands at the height of 6'4", holds American nationality and is of white ethnicity.