Curtis Pritchard is a professional ballroom, a Latin dancer, and a choreographer, who rose to the prominent after his jaw-dropping performances on the Dancing with the Stars Ireland. He further added more sparkle on his famed bio by competing on Love Island in 2019. 
Curtis's dance skill has not only helped him achieve fame but to the whole country. He represented the UK in several World and European Championships. He is considered as a Youth Champion in Ballroom and Latin dance. 
Who Is Curtis Pritchard Dating? Girlfriend!
The dancing beau, and the heartthrobs of several ladies, Curtis Pritchard is not single. The news might be hurtful to many ladies fans, but Curtis is extremely happy for his relationship with his new girlfriend, Maura Higgins, Love Island's contestant. 
The duo officially started dating in October 2019 after three months of leaving the villa, Love Island. Although they started dating since their stint on Love Island, they decided to make it official after a romantic proposal.
Interesting: Mikey Fusco Wiki, Girlfriend, Family, Height
Maura told, OK! Magazine that Curtis was quite nervous and was hardly speaking the words out of his mouth while expressing his feelings towards Maura in their dinner out in London. His nervousness and his open thoughts of their relationship reciprocate that Curtis is really into Maura.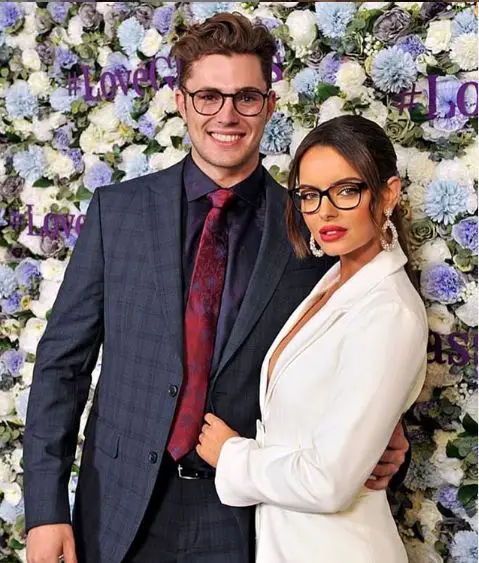 Curtis Pritchard shared a picture with his girlfriend, Maura Higgins, on 16 October 2019. (Photo: Instagram)
As for Maura, she will be on the Dancing On Ice in 2020. The show is supposed cursed as it breaks the romance off within a short period of the show. Referring to her participation in the so-called cursed show, Curtis said: 
It's only a curse if you believe in it. I'm sure Maura will be fine… finger crossed. 
The new lovebirds share trust and faith equally. In one of her interviews, Maura said a psychic claimed her that the pair would get engaged after six months of their relationship. Hopefully, their relationship flows as per the assumption of that specific psychic.
Post-Dating Affairs
Looking back at Curtis' past relationship, he was equally in love with all his exes like Maura. Before Maura, he dated Amy Hart at the beginning of the series Love Island. Then, he believed Amy was his perfect one, but eventually, they called it off along with the growing time. The exact date when the split is unknown.
Not to forget, Curtis was still eyeing Jourdan Raine while dating Amy. Before Amy and the Love Island, Curtis was in a relationship with Emily Barker, a professional on Dancing With The Stars, for two long years before their split in January 2019.
Gay-Related
Although Curtis holds an esteemed record of dating gorgeous girls in his life, with The Sun, he suggested anything could happen in the future, and he wouldn't mind having a same-sex relationship in the future. He further added:
I've been with women, and I'm with a woman now (Maura Higgins). You can never put a label on anything. Its a cliche to say, but love is blind. 
With his deep thoughts, Curtis is seemed to be no gender racist and wouldn't mind turning out to be gay in the future. But as of now, he is a straight guy enjoying his life with his new girlfriend. 
His girlfriend and beloved brother also seem to have no issue regarding Curtis' thoughts. Moreover, his brother defended Curtis from the ignorant comments made upon his sexuality via OK! Magazine in October 2019. 
Don't Miss: Gyth Rigdon Wiki, Married, Family, Net Worth
Curtis' Wiki, Height & Parents
The most gossiped beau from the Love Island, Curtis, is a native from Cheshire, England. He was born on 7 February 1996 as the youngest son of a former professional ballroom and Latin dancer Adrian Pritchard and his wife, Debi Pritchard.
His oldest brother AJ Pritchard is also a professional dancer and a choreographer who reached the semi-finals on Britain's Got Talent in 2013 audition. It was his father and his brother whose step he had followed while growing up.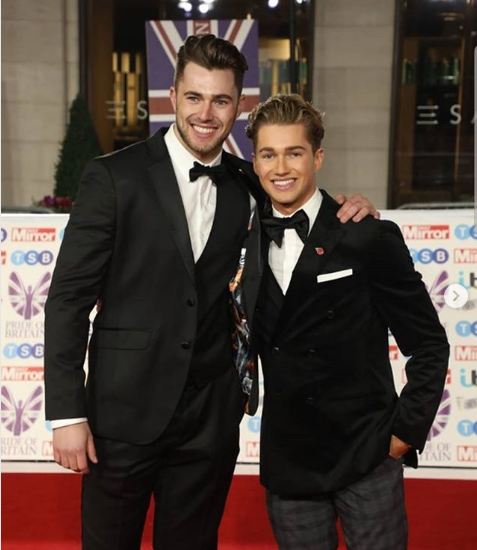 Curtis Pritchard with his brother AJ Pritchard on 6 November 2019. (Photo: Instagram)
Curtis shares a close bonding with his brother AJ who started dancing at the age of 12. Their brotherhood can be evident in their horrifying incident that took place on 27 December 2018 in Nakatcha nightclub.
The two brothers were hit severely, and Curtis was unconsciously knocked out by some random gang of eight. Regardless of being hit by eight of them, AJ dragged his brother of 1.91 m tall to the safe place of the club. The indecent had left their parents and their fans numb.
You May Like This: Lex Ishimoto Wiki, Girlfriend, Family, Ethnicity
Net Worth
According to the Reality TitBit July 2019, Curtis is speculated to have a net worth of £300,000 – £500,000, and further, his net worth is supposed to grow with his appearance in many projects and Love Island. Along with a massive net worth, he has also earned massive fans on his Instagram of 1.5 million.
Not to forget, he is also fortunate enough to enjoy the net worth of his elder brother AJ, which is worth $500,000.