What is the biggest thing you have done to avoid being compared to your sibling? Well, American boxer Jermall Charlo gave up his junior middleweight world title to move up to middleweight in 2017 so that he doesn't have to fight his boxer brother Jermell Charlo.
While moving up a weight group wasn't the safest bet of his career. The odds, however, turned out to be on his favour and he won both of his fights by knockout. Claiming an interim world title, he positioned himself as one of unified champion Gennady Golovkin's mandatory challengers.
Is The Boxer Dating Anyone?
Jermall, age 28, is in the boxing ring only for a while. But the training and dedication it takes him to get and remain there is a 365 days work. And on top of that, if you are training to be the world champion, there would be almost no time to spare towards your personal life. And it might also be the reason why Jermall is currently not dating anyone.
Learn About: Mike Lee Wife, Girlfriend, Net Worth | Professional Boxer Bio, Facts
Jermall being single, however, does not mean this charismatic boxer lack women willing to date him. Any women would be more than happy to be the wife of this world champion. And who knows, we might see Jermall entering the dating circle in the future. But for now, he seems to be enjoying his singlehood as of now.
Jermall And His Brother, Jermell, Won't Be Fighting Anytime Soon
Born only a minute apart, both Charlo brothers are the force to be reckoned with in the boxing ring. Both Charlo siblings are champions in their weight group.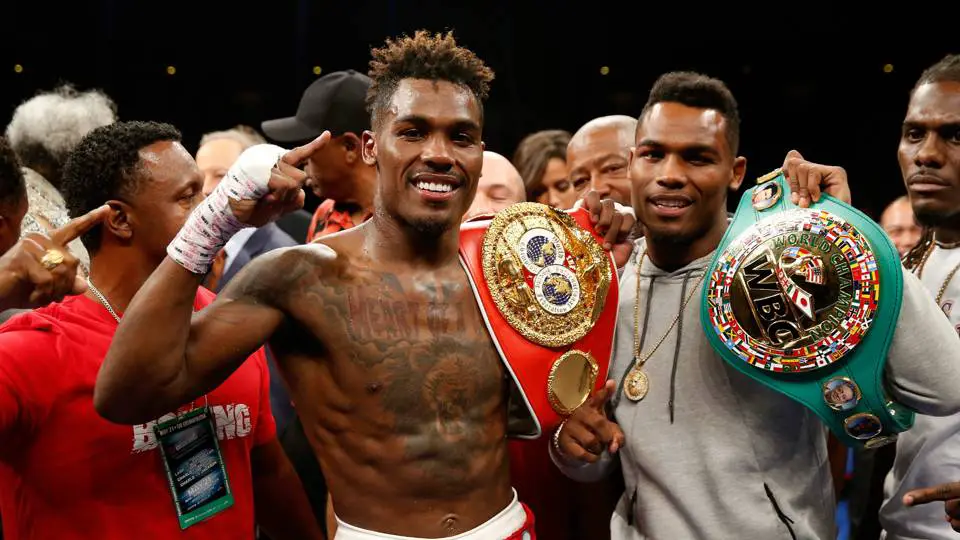 Jermall and Jermell Charlo showing off their championship belts (Photo: sportingnews.com)
Charol brothers, however, has made it clear that they won't fight each other. Jermall went up in middleweight so that he could avoid it. As for Jermell, he is contained with junior weight and does not intend on going up any time soon. 
See This: Koksal Baba Wiki, Age, Height, Family, Net Worth, Death Rumors
Net Worth Of Jermall Charlo
Boxers are known for earning a fortune after their every fight, and Jermall sure isn't any different. As per Forbes magazine article on Jan 3, 2017, Jermall has made $550,000 after his fight with the undefeated Julian Williams. After beating Williams, Jermall Charlo called out Canelo Alvarez for his next fight.
Find About Another Boxer: Florian Munteanu Wiki, Wife, Family, Height, Net Worth
That fight has not happened yet, but if it does, Jermall's earnings would be seven-figures. Jermall has earned knockout victories over boxers like Julian Williams, Cornelius Bundrage and Lenny Bottai. So, even though the exact net worth of Jermall is not revealed, we can be sure that the boxer has made a fortune living his life as a champion boxer.
Jermall's Wiki & Bio
Jermall Charlo was born in Huston, Texas on 19 May 1990. Jermall's height is 6 feet. He is an elder twin son of parents Kevin, and Terrie Charlo was also a boxer. He is one minute older than his identical twin brother, Jermell Charlo.
Jermall graduated from Alief Hastings High School in Houston, Texas and made his professional debut in 2008. He held the IBF light middleweight title from September 2015 to February 2017. Jermall has a record of (31-1, 15 KOs) victories.