Being bold certainly takes you to your dream. Allison Tolman was determined to pursue her career in the acting industry for which she not only enrolled herself in an acting class but also played a vital role in establishing the Second Thought Theatre. 
Allison is a receipt of the Critics' Choice Television Awards for Best Supporting Actress in a movie or mini-Series in 2014. She is also the nominee for Golden Globe Award (2015) and Emmy Award (2014). 
Is Allison Married To Boyfriend?
For more than ten years, Allison Tolman has been dating her boyfriend named Tim Mcclean.
Explore: Sierra Aylina McClain Wiki, Boyfriend, Parents, Net Worth
Concerning social media updates, Allison and her boyfriend, Tim, moved to Italy in 2014 for a TV festival while she was promoting Fargo. In their unique stay in the country of arts and designs, they spent seventy-two hours touring around Coliseum and other cities. 
It was until 23 March 207 that Allison had managed to conceal the information about her romantic fling with Tim.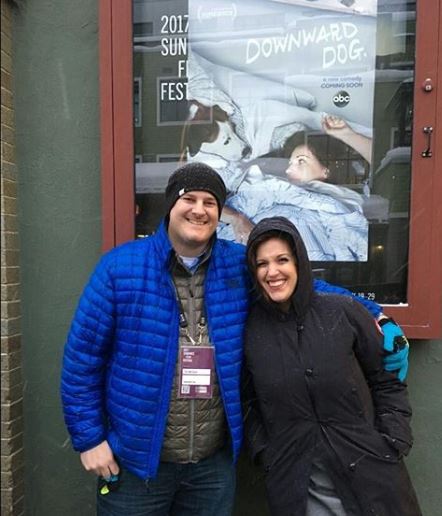 Allison Tolman with her boyfriend, Tim Mcclean (Photo: Allison's Instagram|15th February 2017)
After that, Allison did not hold back on sharing her hookup with Tim on social media. Back on 4 September 2017, she, along with her beau, watched the movie named Hamilton, which she disclosed through a tweet. 
As of 2019, Allison and Tim celebrated Valentines' Day together. Allison shared a picture of themselves on Instagram as they cozied up at the Park City on 14 February 2019. 
Currently, the couple seems to have embraced their romantical bond with immense love and understanding, although they do not look forward to sharing the wedding vows soon. Despite a full swing of love and affection, whether Allison takes the love of her life as her husband in the future get married is still uncovered. 
Net Worth
Allison Tolman has enrolled herself in the acting industry since her young age. At the age of 10, Allison started taking the acting classes at the Second City Training Center. Also, she was a founding member of the Second Thought Theatre. 
As an actress, she has starred in the 2008 television series, Sordid Lives: The Series as Tink. Also, she appeared in the TV series Fargo from 2014 to 2015, in episodes of the TV series Prison Break, The Mindy Project, and Mad Dogs. Besides her role in the series, she took her acting journey to the movies like Addicted to Fresno, The Gift, and Krampus. 
With a consistent acting career and progression, Allison has accumulated the estimated net worth of $3 million. 
Bio, Family
Allison Tolman was born on 18 November 1991, in Texas, the United States. The body measurements of 37-year-old actress include her height of 5 feet and 6 inches tall with a proper weight of 63 kg or 139 lbs.
Do Not Miss: Enrique Santos Wiki, Gay, Net Worth, Facts
Allison's parents, Davis Nichols Tolman and Valerie Clohessy, raised her along with her three siblings in the family. Her paternal grandparents are Charles Herrick Tolman and Natalie Jeanette Butler, and maternal grandparents are Richard M. Clohessy and Gloria Tomkins.