If you are a viewer of Bravo's late night interactive talk show Watch What Happens Live, you might recognize Andy Cohen as a first openly gay host of an American late-night talk show. The St.Louis, Missouri native was born on 2 June 1968 and follows the Jewish religion.
He is one of the prominent media personality with a net worth of $15 million. The Boston University graduate is an executive producer of the Real Housewives franchise and host of Andy Cohen live on SiriusXM channel 102.
Openly Gay Andy Cohen Has Become Father! Welcome, Benjamin Allen Cohen
Yes, you heard it right. One of the renowned openly gay New York Times best-selling author and radio show host, Andy Cohen has become a father. His expected bundle of joy finally arrived on 4 February 2019 via a surrogate. The proud Emmy-winning reality television producer welcomed his son named Benjamin Allen Cohen. 
Born at 6:35 PM (Pacific Time), the new-born toddler Benjamin weighed 9 lbs 2 ounces and was 20 inches long. He got his name from Andy's grandfather Ben Allen. Andy announced on his Instagram that after becoming a father, he is in love with his adorable baby and is speechless.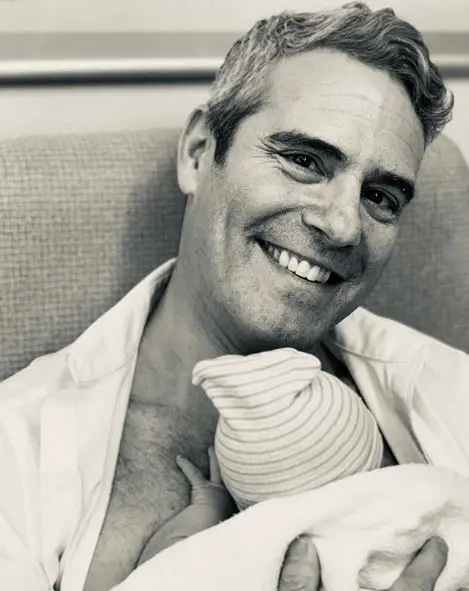 Andy Cohen welcomed his son, Benjamin Allen Cohen. via surrogate on 4 February 2019 (Photo: Instagram)
Shortly after announcing the big news, he got flooded with congratulations by his several celebrity friends. He became captivated by the massive applause from his friends who were at his baby shower during January 2019, and the likes of Busy Phillips, Laverne Cox, Anna Farris, and Karlie Kloss sent their loves to him
Back on 20 December 2018, Andy astonished the viewers of 'WWHL' announcing that he was welcoming a baby via surrogate. During the final live broadcast of 2018 in the show Watch What Happens Live With Andy Cohen, he stated:
Tonight, I want you to be the first to know that after many years of careful deliberation, a fair amount of prayers and the benefit of science, if all goes according to plan in six weeks time, I am going to become a father. Thanks to a wonderful surrogate who is carrying my future.
He made the baby announcement after welcoming O.G. Real Housewives stars like Teresa Guidice (her husband Joe Guidice is serving a prison sentence and is set to release in March 2019), NeNe Leaks (married with Gregg Leakes), Ramona Singer, Kyle Richards (husband of Mauricio Umansky), and Vicki Gunvalson.
Discover More: Simon Sinek Wiki, Married, Gay, Education, Net Worth
Andy, age 50, became emotional after the big announcement and received a massive round of applause from the entire audiences. He addressed his viewers and stated that they have supported him for almost ten years night after night and has been an incredible journey with all of them.
The television producer has accomplished the dream of his parenthood. Back in 2016, during his interview on the Allegedly podcast, he teased stating that 'being a father' was the only thing he hadn't accomplished in his life. At that time, when the hosts Theo Von and Matthew Cole Weiss asked him whether he wanted a baby boy or a baby girl, Andy simply replied that he wants a healthy baby.
Who Is His Baby Mama? Is Andy Married?
Congratulations are pouring over Andy who became a father on 4 February 2019. During the last week of December 2018, star-studded guests like John Hill, Sarah Jessica Parker, and Anderson Cooper opened about how Andy was handling the news of his expected child. 
In an interview with People, American actress Sarah said that she was overcome with joy and has been anticipating the safe birth of his first expected child. She also uttered that Andy who has been 'waiting forever to be called Papa' will be an excellent father. The Sex and the City actress continued:
I can't wait to meet and know his child and offer any help or guidance I can offer the new daddy. This has been a hard secret to keep and I was so thrilled to hear him share his very happy news last night. Now we are just counting the days.
When Andy's fans were eagerly waiting for him to utter about the baby mama, the sex of his child and whether he has plans to raise his child as a single parent, he exclusively revealed about the gender of his expected upcoming child on CNN's live New Year's Eve show on Monday evening. While talking to the co-host Anderson Cooper, he revealed,
"I remember last year standing here thinking, 'Will my baby be born this year?' So, this is the biggest year for me. It's a boy. It's a boy," he revealed to co-host Anderson Cooper. "It's a boy and I got to tell you something, I cannot wait to meet this boy."
At that time, Andy, who was very excited to meet his baby boy, further said,
"And, I got to tell you something, I can not wait to meet this boy. I think he's going to have a nice Semitic head of hair. I'm so excited I think about nothing else."
In December 2018 episode of WWHL, the 50-year-old stated that he previously slept with the same guy as Anderson Cooper.
Read Also: Kathy Sabine Wiki: Age, Married, Husband, Divorce, Family, Salary
Andy is a former partner and best friend of an openly gay American journalist, Anderson. The duo met on a blind date when Andy was at CBC and Anderson was a young reporter at ABC. The ex-flames had short-lived romance, but over the course, they have become the best friends.
Anderson assured that his former boyfriend Andy is going to become a 'perfect father' during his late-December interview with People. The first 'Gay Man' to advocate presidential election debate showed his excitement for a first openly gay host and said that he would fill questions towards Andy during New Year's Eve.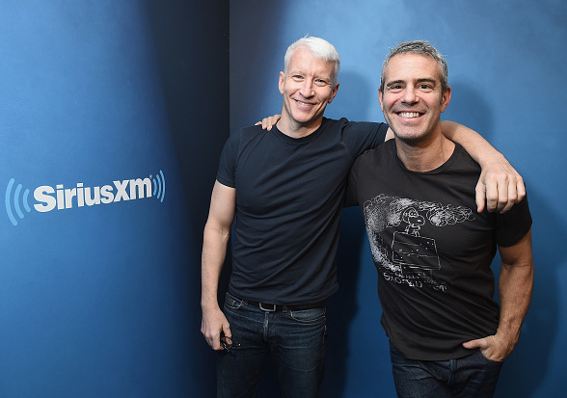 Andy Cohen with his former partner, Anderson Cooper, in the studio of SiriusXM (Photo: Getty Images)
The American radio host Andy, who came out as a gay during the late 1980s, has never been married during his entire adult life. Hence, there is no news regarding his husband. However, he had a failed romance with his ex-boyfriend Benjamin Maisani, and Clifton Dassuncao.
Before being single, Andy was dating with a doctoral student at the Harvard School of Public Health, Clifton Dassuncao. He and his ex-boyfriend, Clifton's affair, became public after they were seen publicly on the $150 million yachts of American businessman Barry Miller.
Don't Miss: Rachel Boesing QVC, Wiki, Age, Married, Husband, Ethnicity
The estranged couple marked their relationship from 2016 to March 2018. They met back in March 2015 when Andy and his former love interest, Anderson Cooper, attended the opening night of the AC2 Tour in Boston.