Antonella Nester, a lady that radiates good vibes, only turned her love for QVC and shopping into a career.
Nester is a TV star on a specialty network, QVC. She is best known for her wide smile and friendly personality that keeps the audience hooked to their television screens.
How Much Is Antonella's Net Worth?
Antonella garnered her net worth from her salary as a host on QVC TV. She always had a dream to be on TV home-shopping bastion QVC. Following her dream, she went for the show's audition, although she lacked experience and had no marketing skills. Rejected two times, Antonella did not lose hope. The third time she came out with confidence compelling the people around her to select her. After all these trials, she got her dream job.
Don't Miss: Iron Resurrection's Joe Martin Wiki, Age, Wife, Net Worth, Facts
She states that being a host is more like being a friend in the family room. She loves how she can make people happy just by being on the screens.
According to glassdoor.com, a host's average salary on QVC TV is around $21.5K to $32K per year. 
What is Antonella Nester Doing Now? 
Back in 2020, QVC let go of some of its hosts. Antonella was one of those hosts. She revealed that the reason behind her departure via a Facebook post. In the post, she mentioned that it was because of the re-airing of the recorded program in QVC2. 
Few weeks after her news of leaving QVC, Nester announced her plans of living on a boat with her husband through her social media. On November 12, 2020, Nester uploaded a video on her YouTube titled 'Goodbye home...selling our home', which featured the interiors and exteriors of their house and the process of selling their house and buying a boat. 
After Nester posted the video, her fans expressed their concerns regarding her decision, which she addressed during a video a month later. Nester mentioned that due to her and Chris's unemployment, they could not pay their house mortgage. 
However, Nester also stated that living on a boat was their retirement plan of 33 years, and they implemented the plan quicker as both of them were jobless during the same time. 
A Sweet Love Story of Antonella And Chris
Antonella is married to Chris and is blessed with three adorable children. She and Chris met in college and were best friends for three years. The crazy in love best friends turned into a forever couple.
Also Read: Erin Lim Wiki, Age, Husband, Boyfriend, Dating, Net Worth, Height
Antonella has many sweet stories to tell about her love story. In 2018 she shared a personal story with the QVC community. Nester revealed that she and her husband didn't make a decent earning when they were just married. 
Once the couple saved up for a few months, they decided to get the bracelet that Nester really liked. While buying that bracelet, her husband, who barely noticed jewelry noticed a watch that he liked. She said that when Chris saw the watch, it was the same face that she made when she saw the bracelet. The watch was the same price as the bracelet: $150. 
Since Chris never bought anything for himself, Nester decided not to buy the bracelet. She instead chose to pick the watch for her husband. But Chris insisted on getting the bracelet for which he saved money for an entire year. The couple argued for a while in front of the storekeeper, and Nester sneakily insisted on finalizing the watch instead of the bracelet. 
The storekeeper was moved by their love and offered to sell both the items for ½ the price, which enabled them to buy both the bracelet and the watch.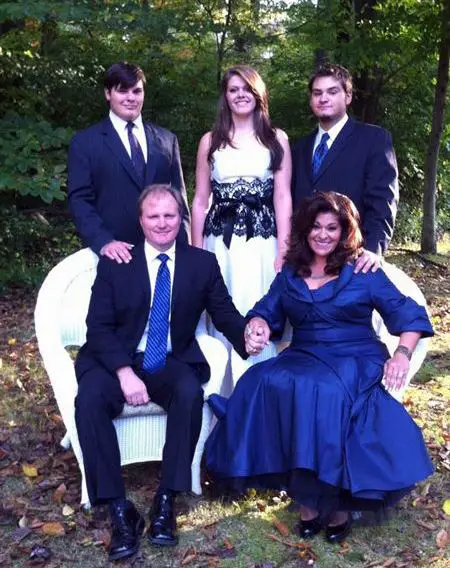 Antonella with her happy family (Photo: nesterr50.rssing.com)
Discover: Cori Broadus Wiki, Age, Height- All About Snoop Dogg's Daughter
Weight loss and Cancer 
Nester has always been vocal about her cancer journey with her fans. Initially, she had a nerve sheath tumor in her arm. After the specialists diagnosed the tumor as a dead cyst, Nester underwent surgery during December 2020, but the tumor's biopsy concluded it to be malignant lymphoma.
To make sure of her diagnosis, she then went to the Jefferson Cancer Institute. After a P.E.T. scan, she was diagnosed with Non-Hodgkins' lymphoma, an incurable but manageable type of blood cancer. Because of the disease, Antonella lost 40 pounds and felt constant lethargy even after proper diet and sleep. 
Her full-body scan also revealed two lumps under the breast, which was concluded as breast cancer after the biopsy. On February 4, 2021, Nester shared her discovery and experience with cancer in her Youtube video. 
Antonella constantly updates about her cancer journey on her YouTube channel with around 9.76K followers. 
Short Bio
Originally from New Cumberland, Antonella was born in 1964, and she celebrates her birthday on 12th January, as per wiki.
Nester loves spending time with her family and the festive season is her favorite. She has two sons Michael and Philip, and one daughter, Hope.