Though there is no doubt about his looks and charm, it raised some eyebrows when he became the face of ABC's popular show The Bachelor for the 22nd season. The fierce battle between former competitors, Arie Luyendyk Jr., came out victorious and will now give the model-like appearance a "go!" in the show. The auto-racing driver is set to topple every hit list in the show.
The New Bachelor in "The Bachelor"
Anyone in the Bachelor Nation shocked??? If you are, then you aren't alone because Arie Luyendyk was confirmed as the bachelor on 7th September 2017 "The Bachelor" for the 22nd season. The Dutch would have a challenging task in his hands as he has to select one single lady to get engaged from the swamp of hotties.
Arie is not a new man to the show as he already graced the show as the competitor in eight seasons of "The Bachelorette" which starred Emily Maynard where he tripled down by fellow competitor and friend Jef Holm.
Arie, who is looking to get an adorable wife on the show, took a slight dig at the show franchise on 23rd May 2016 when he tweeted that if he were gay, he would be in paradise.
The announcement of Arie came as an absolute shocker as Peter Kraus, who finished as a runner up in 13th Season of "The Bachelorette" with Rachel Lindsay, was highly credited to be the show's flag bearer. But after, being looked over, he said that he has no hard feelings and is looking to focus more on his passion for fitness.
He was Dating Courtney Robertson!
Arie was dating Courtney Robertson just a few months back. According to US weekly, the auto-racing sensation was still dating his ex-girlfriend, Courtney, in on and off-again relationship.
Courtney who swiped the engagement ring with Ben Flajnik in the 16th season of The Bachelor started dating Arie after her split with Ben. After Arie was announced as the next bachelor, she didn't hide any feelings about her ex-beau and said that his skills in the bedroom are beyond the top-notch.
Arie's Controversial Engagement
In a controversial turn of events, Arie managed to be one of the most hated men in The Bachelors' history.
During the end of season 22 finale of The Bachelor, it seemed certain that Arie had found the one and was set to get married. He first proposed to Becca Kufrin, and things looked all set and done.
But after a few weeks together, Arie blindsided Becca and called off their engagement. This left fans shocked to their very core. The reason however for his action, as per Arie was, he was in love with the shows runner-up Lauren Burnham. Arie went straight to Lauren after his break up with Becca. Lauren joined Arie on After The Final Rose ceremony on the show, where Arie got down on his knee and popped the question. Without any hesitation, Lauren said YES! and thus the pair were engaged.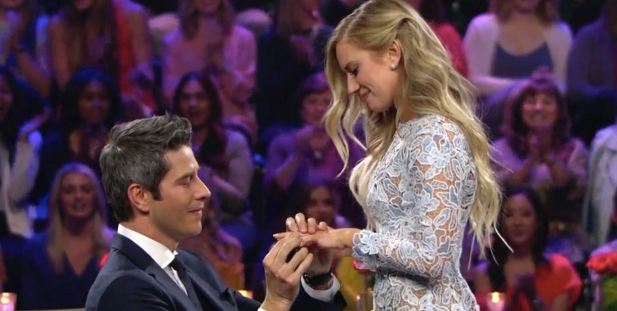 Arie proposes to Lauren. (Photo: insider.com)
From there on began there next step in life as on January 12, 2019, the pair exchanged wedding vows and were pronounced Husband and Wife in the beautiful setting of Maui, Hawaii. The couple seemed to be very excited about their wedding as even before the days leading up to the marriage as they already had set their nuptials date.
Interesting: Pam Grier Now, Net Worth, Children, Husband
Before their wedding, they were already thinking to extend their family as they were expecting their baby soon.
Welcomes Baby Girl!
Four months after their wedding, Arie and his wife Lauren have more to be thankful for.
On 29th of May, Arie and Lauren, who were expecting their baby in October, became parents as they welcomed their daughter Alessi Ren Luyendyk into the world. Both Arie and Lauren could not hold their excitement about Alessi's birth. So within hours of her birth, they both shared the happy news of their newly born baby at their respective Instagram accounts.
Arie shares a picture of him holding his newborn daughter. (Photo: Arie's Instagram | 29th May 2019)
You Might Enjoy: Taron Egerton Wiki, Wife, Girlfriend, Net Worth
Furthermore, Lauren has also shown her wish to be a mother for a second time. She, along with her husband Aries have decided on the number of babies they want to have. And it adds up to three. Having just been parents for the first time in May after the birth of their first daughter Alessi, they're looking to give it a go for the second time running.
Remarried With Wife?
Nine months after the pair first exchanged their vows and got married, Aries and Lauren have tied the wedding knots for a second time. They exchanged their vows in Los Angeles in a small white chapel on the 7th of September 2019. But for their second time, things were a little different. This time there was a new member present at their wedding. Their daughter, Alessi, joined the two as they exchanged vows for the second time.
It is unclear as to what prompted the two to get married for a second time, but both Aries and Lauren both seemed over the moon with their decision. Lauren took to her Instagram to share her happiness for getting married for twice with the same man. Not only her but her husband too expressed his joy via Instagram. As confirmed, their new friend and legend Montell Jordan officiated thier nuptials.
Aries's Career and Net Worth:
Like his father, Arie Luyendyk Jr. made a career in the racing arena. After he began racing kart in the 1990s, he moved to Club Formula Ford competition at the age of 16. After getting his hands into many Junior division races as a winner, he had 24 Top-5 finished to his name in Firestone Indy Lights series.
He tried his luck in Indy 500 in 2005, but after two failed attempts, he returned to Indy Lights circuit and won Indy Lights Championship in 2008. The 37-year old auto-race driver is now on a break as he is looking to getting married in "The Bachelor."
The Dutch speedster boasts a decent net worth of $4 million which he earns from his racing career. After recently begin named as the star of ABC's popular television show, his net worth would take a much-deserved acceleration.
Short Bio of Arie and Family:
The son of two-time winner of Indianapolis 500, Arie Luyendyk Jr. had racing blood since his birth. The auto racing driver was born on 18th September 1981 in Den Bosch and currently ages 37. He was born to father Arie Luyendyk who is auto-racing legend. The reality star possesses a fancy height of 6 feet and 2 inches and maintains a ripped body shape. The Dutchman belongs to Dutch ethnicity.