Bridget McCain rose to the prominence as a daughter of the late senator John McCain and Cindy. She holds a graduation degree from Arizona State University in Tempe, Arizona.
Wondering to know how the Bangladesh-borned kid strived with the US culture. Follow the article to find out more about the youngest addition of the senator family!
Personal Life- Family
Bridget was adopted from the Sisters of Charity Mother Teresa Children Orphanage in Bangladesh in 1991. At that time, she was suffering from cleft palate, and her, adoptive mother Cindy brought her to the US for the medical treatment. Her mother even argued with the Bangladesh officials for visa approval.
Her mother, Cindy, took Bridget and one other baby girl named Mickey to the US as both of them were in a serious condition— Bridget's cleft palate was very severe, whereas other girl had a severe heart condition.
It was her mom Cindy who decided for her adoption, and her father John McCain supported the decision. He knew about the Bridget when he went to receive Cindy at the airport and asked where she was going. Instantly, Cindy replied, saying that she was going to their home.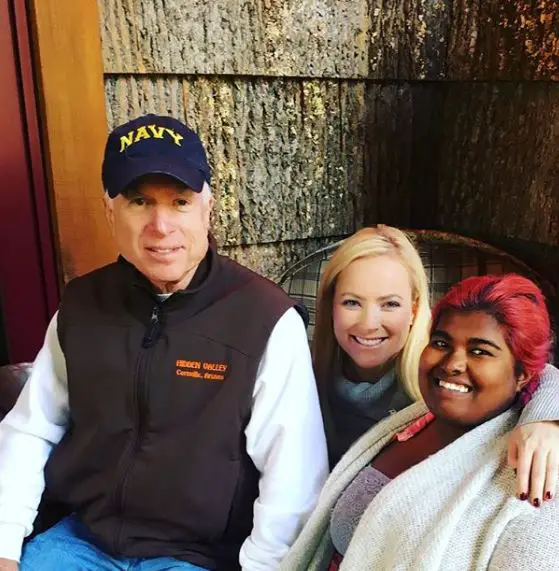 Bridget with sharing a laugh with her parents(Photo: Meghan's Instagram)
Another child, Mickey, who was brought to the US by Cindy, was adopted by the close friend of the McCain family.
In the family, Bridget has six other siblings, namely Doug, Andy, Sidney, Meghan, Jack, and Jimmy McClain. Her eldest sister Meghan McCain was an intern at Saturday Night Live. She even worked as a conservative commentator for Fox News until The View as a full-time co-host in October 2017.
Apart from her family talk, Bridget has not spoken anything relating to her romantic affairs. At the moments, she probably might be single.
Center of Political Scandal
Bridget was placed at the center of a political scandal when her father was up against George W Bush in 2000 for the Republican presidential nomination. Accusations were made against her father stating he had fathered Bridget who is his illegitimate black child. George Bush allies were considered the force behind this dirty trick.
According to The Nation, George W. Bush's strategist Karl Rove was the man behind the fame who came up with such despicable method to bring down the voting rate for Mr. McCain.
Her father even stated that thousands and thousands of calls were made to voters giving false information about the McCain's family having an illegitimate black child to shoot down his voting rate.
Unfortunately, Bridget's beloved dad, John is no more alive now. He passed away on 25 August 2018 at tha age of 81 after his struggle with brain cancer for 13 months.
You May Like: Dan Crenshaw Wiki, Wife, Net Worth
Career/Net Worth
Bridget is currently, 28 years old; however, details regarding her career and job remains secretive. Lucky is she, who is blessed with the family fortune that lots of people dreamed of.
Her grandparents started the company Hensley & Company; it's an Anheuser-Bush beer wholesaler and distributor company, which boasts an annual $300 million sales. As per the report, Bridget owns 3.4 percent of shares in the company as of now. But, their family campaign spokeswoman Jill Hazelbaker stated, Bridget, will own equal shares as her siblings in the near future.
Besides, she is also one of the heirs to her parents, mother's massive net worth $300 million. However, as of today, Bridget's net worth is still under review.
Wiki & Bio
Bridget was born on 21 July 1991 in Bangladesh. She is shy, which is why her social media accounts are set in a private, and she barely makes an appearance on public interviews or television.
On her education odyssey, Bridget attended Arizona State University in Tempe, Arizona in 2010. It was reported that she enrolled with interest in special education. However, her major and most of her educational expedition are still under review.
Bridget graduated from Valley Lutheran High School in Arizona before enrolling at Arizona State University. She studied speech and hearing science at the university.
Discover More: Humza Yousaf Wiki, Wife, Family, Net Worth
On her physical attributes, she is a few inches short in height compared to her mother Cindy who's 1.7meters (5ft 7 inch) tall.