Bruna Marquezine is a Brazillian actress and is known for her performances in Women in Love, America, and Snakes & Lizards. She is also recognized as the girlfriend of PSG forward Neymar Jr.
She is dating her star boyfriend on and off for more than six years. Bruna is also a sensational model and is famous on her Instagram profile with millions of subscribers.
Is She Dating Neymar Jr Again? Rumors About Being Engaged
Bruna, age 23, is back together with her Brazilian ace footballer boyfriend Neymar Jr after their third breakup. The couple reportedly met in pre-new year eve party of 2018 and started melting hearts again. She was cheering her boyfriend for the ongoing World Cup 2018 in Russia who were eyeing on record sixth title, and with defense leader like Thiago Silva and Neymar Jr. at wings, Brazil was definitely favorites to lift the trophy.
The Brazilian model posted her boyfriend's picture in the Brazilian jersey on 18 June 2018 and voiced her support. The couple is often seen in various social events during their six years of on and off relationship.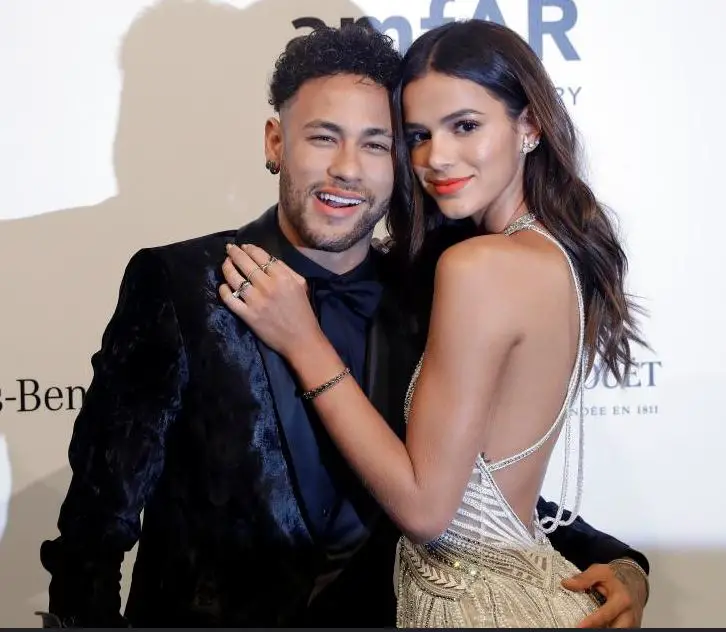 Bruna and Neymar attend the charity event in Brazil in April 2018 (Photo: thesun.co.uk)
She met her boyfriend at a carnival in 2012 and started dating. But, the couple broke up in 2013 but found their way back together before the 2014 World Cup in Brazil. Her boyfriend, Neymar was rumored to be in a relationship with Gabriella Lenzi in 2014. He was spotted posing for a selfie with the Brazilian model. But Neymar was in a blissful tie with Bruna at that time.
Explore More: Joey Galloway Wiki, Married, Wife, Girlfriend, Dating, Gay, Net Worth
Their roller coaster relationship could not sustain much longer before they again had a split in 2016. But at the end of 2016, they got the relationship back on track.
Reportedly Neymar Jr. planned on getting engaged to Bruna on his birthday in 2017 on a trip to Las Vegas. He even purchased a ring and rehearsed for the engagement, but unfortunately, his family members were against it. Then, the pair had a nasty split in June 2017 before he left Barcelona. Several reports claimed that the duo separated because former Barcelona talisman purposed her to marry him, but Bruna was focused on her career.
However, Bruno denied the rumors of Neymar purposing her. In an interview with Cosmo, she said,
'I wasn't asked to marry him and it wasn't because of his haircut. None of the websites got the right reason. Because, in fact, there doesn't need to be a reason.'
The Araguaia actress also makes her frequent appearance on her boyfriend's social media profiles. She was even posing in the steamy picture with her boyfriend Neymar Jr's Instagram account on 12 June 2018. Their cozy image received more than three million love reacts.
Her PSG star boyfriend hosted a birthday party for her on 31st July in his Brazilian mansion in Mangaratiba in Rio de Janeiro. The actress does not turn 23rd till Friday on 4 August, but the footballer has to leave for France for his league games with PSG. The couple was seen getting cozy and had a beautiful celebration. She even entertained their guests by twerking in front of guests. 
The talented actress mentions that her biggest dream is to be a mother. In one of the interviews in 2014, she revealed that she will continue working hard but will get married to her husband and become a mother of twins. So, she bids to pursue her career as an actress and have a settled family life. As of now, she is yet to share marriage vows.
As for Neymar, he has a son named Davi Lucca with his then-girlfriend, Caroline Dantas. Caroline even attended the birthday bash, which reflects Neymar has a good relationship with his exes. On 29 June 2018, Bruna's boyfriend, Neymar posed for a photo with his son Davi while they went for camping. Neymar often flaunts pictures of Bruna on his Instagram. On 4 August 2018, Neymar reflected his love for Bruna on her birthday. Neymar, who said that Bruna deserves happiness, joked that it was her birthday, but he received a gift in the form of Bruna.
Recently in October 2018, Bruna and his sweetheart, Neymar enjoyed a day out together in Disneyland Paris after Neymar's victory over OGC Nice. The pair spent their time at the popular resort to celebrate the start of the "Mickey 90 Mouse Party". Not only that, they captured a photo with the famous Disney character, Mickey Mouse and signed on his white glove writing "Happy anniversary."
Bruna often makes a trip to Paris and support his partner. After bagging a hattrick in PSG's win over Red Star Belgrade, Neymar possed with Bruna and the match ball on 3 October 2018.
Read here: Jesse Palmer Married, Wife, Girlfriend, Dating, Gay, Salary, Net Worth
How Does Bruna Derive Net Worth?
Bruna Marquezine has been deriving her net worth from her modeling and acting stint. She started mustering her wealth from her early age of five by appearing as Salette in the television series Mulheres Apaixonadas. She has summoned her fortune by portraying the role in more than two hundred episode in the series. 
The Brazilian beauty made her debut in a programme Gente Inocente at the time, presented by Marcio Garcia. She has also starred alongside Mariana Ximenes in a TV series Cobras & Lagartos. Some of her acting credits include Dues Salve o Rei, I Love Paraisopolis Breaking Through and Araguaia.
The Brazilian model also earns from her famous Instagram account where she has amassed an army of 30 million followers. She shares her exotic pictures and endorses various brands as well. The model featured on the cover of Bazaar magazine of Brazil. She posted her cover picture of the magazine on 1 June 2018.
The gorgeous actress was also seen on the front page of GQ magazine as well. With her popularity and dominance in the modeling world, she has also made a place on the cover page of Vogue magazine of Brazil. She posted her adorable picture on her Instagram account on 2 July 2008 and even captioned it by saying cover number 1. 
View another Brazillian actress: Greice Santo Wiki-Bio, Age, Married, Husband, Boyfriend, Height, Family
Short Bio
Bruna Marquezine was born on 4 August 1995 in Rio De Janeiro, Brazil as Bruna Reis Maia Marquezine. She has a star sign of Leo. She stands at the height of 1.78 meters (5' 10'').
As per wiki, she was born to parents Neide Maia and Telmo Marquezine alongside her sister Luana, who was born in 2002. On the recent Father's Day 2018, Bruna uploaded her childhood photo with her father in an Instagram and expressed his love toward dad in the caption. As per the caption, she took his dad as an inspiration, who encouraged her as being her daily example of integrity, humility, patience, kindness, and simplicity.