Courtney Robertson is the winner of the ABC reality television series The Bachelor's season 16. She made a win over the main star of The Bachelor: Season 16, Ben Flajnik. She is also the New York Times Best Selling Author of Didn't Come Here to Make Friends: Confession of a Reality Show Villain, which was published on 24 June 2014. 
Apart from that, Courtney is also a model and has been doing modeling since the age of eighteen; before winning the reality show The Bachelor. After winning the show, she further got the opportunity to proliferate her modeling career as she got signed by the Los Angeles modeling agency Ford Models.
Courtney Robertson Wiki: (Family, Ethnicity & Nationality)
Model and a reality star, Courtney was born on 5 July 1983 in Scottsdale, Arizona, the USA. Her father is a prominent former lawyer while her mother, Sherry Robertson's bio, remains under the radar. Courtney also has a sister, Rachel Robertson, who got married to a firefighter, Moe, in 2015. 
Read This Also: Colin Farrell Girlfriend: Who Is Irish Actor Dating Now?
Not much is known about Courtney's early age and her high school, but she started a modeling career since her early teenage. She had moved to Los Angles from Arizona to pursue her career, and when she was 18, she got selected for the Abercrombie & Fitch campaign.
After that, the door to the modeling career opened for Courtney, and she enjoyed her time in numerous runways, TV campaigns, and brands. Also, she appeared in many prominent magazines like the Vogue, Self, InStyle, and Fitness magazines. 
Who Is Courtney Robertson's Husband? Pregnant?
The Bachelor's alum Courtney Robertson, who once flourished a love life with Ben Flajnik, her cast member of The Bachelor, is set to get married soon.
However, before marriage, Courtney is about to give big happiness to all her admirers, including her boyfriend-turned-fiancé, Humberto Preciado, because Courtney is pregnant with their first baby son.
Learn More: Malia Zimmerman Wiki, Age, Husband, Fox News
She had announced her pregnancy, as well as her engagement news via Instagram on 23 December 2019.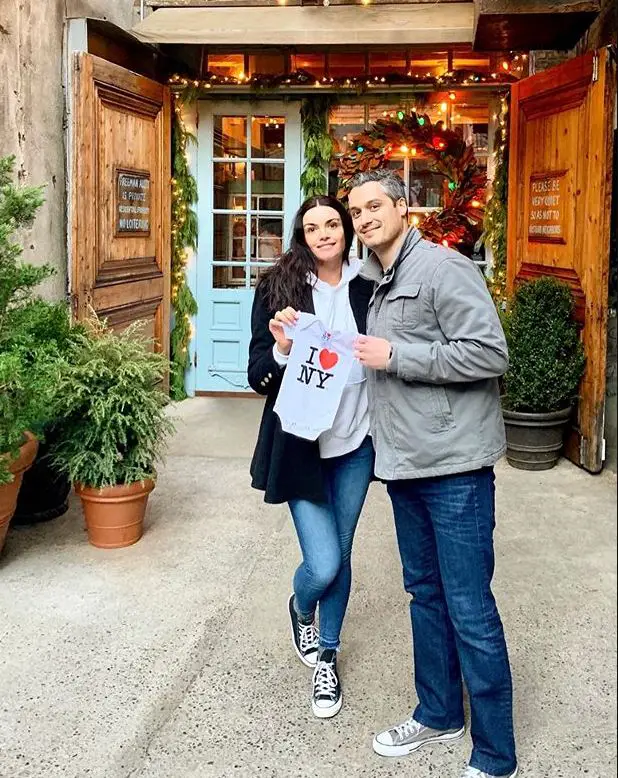 Courtney Robertson is pregnant and set to marry her boyfriend, Humberto Preciado. (Photo: Instagram)
Courtney and her partner Humberto have been together for only around eight months, but the duo looks like they have known each other for eternity.
 The pair are now reminiscing their new beginning alongside the awaiting of the new member into the family.
Courtney's Dating History
Courtney engaged to her boyfriend, Humberto Preciado, on 23 December 2019. However, this is not the first time she put a ring on her finer.
She was previously engaged to Ben during the 2012 reality show The Bachelor but had called it quit in 2012 due to their busy schedule. After Ben, in 2015, she moved on with an ordinary guy named Adam she met on tinder. But, yet again, the relationship couldn't sail longer, and she started hanging out with the 2017 contestant of The Bachelor's Arie Luyendyk Jr. in 2017. After long on and off the dating journey, Courtney and Arie got separated but remained a friend. 
Interesting: Latarsha Rose Wiki, Age, Birthday, Married, Husband, Boyfriend, Height
In gorgeous Courtney's long list of boyfriends, Courtney has dissed half of them in her 2014 book Didn't Come Here to Make Friends: Confession of a Reality Show Villain. In the book, she has dissed everyone she has dated before 2014. She interpreted Entourage's Adrian Grenier as a well-endowed and Jesse Metcalfe as a cheater. She met Jesse in 2004 and had found out he was a cheater when she found a pink lace panty in his bed. Also, she leaked 300 hunks, Gerard Butler, as a tease.
Courtney's Net Worth
Courtney Robertson has accumulated the net worth of $200 thousand as a model and winner of a reality show.
As the winner of the 16th season of the reality series, "The Bachelor," she must have garnered more salary than the top payment of The Bachelor contestant. Based on the mic.com, an estimated high salary of The Bachelor contestant is $250,000, and the average is $100,000.
Besides that, Courtney has also garnered the income working for the Ford Models, Fitness Magazine, and other ad campaigns.