Renowned host of the long-running comedy-variety program, Hey Hey It's Saturday, Daryl Somers faces a major threat towards his 50-years of presenter career.
 After the talks regarding Daryl co-hosting the Dancing with the Stars: All-Stars began to come out, several Somers racist and controversial moments from Hey Hey It's Saturday started resurfacing, because of which, he experienced heavy criticism from the media. 
Racist And Controversial Moments From Hey Hey It's Saturday
The comedy-variety program, Hey Hey It's Saturday aired several racist moments in the media. In one of the resurfaced videos, Somers darkened his skin with makeup and impersonated a Malaysian-born singer Kamahl while wearing a wig. Similarly, in the second segment of the video, a member from the show slathered the Malaysian-born singer's face with white chalk dust. Somers also joked about the lighting department wanting the singer to smile so they could see him. 
In another resurfaced video, Somers made a joke about a third-generation Chinese-Australian audience member while introducing her to the camera, When the woman mentioned she was originally from Sydney. Somers questioned her, saying- 
"You were born and bred in Sydney? I thought you were going to say your background is from overseas somewhere. So no one in the family speaks Chinese?" 
All of Daryl's controversial clips reemerged after he made a comment saying today's 'cancel culture' would shut Hey Hey It's Saturday down. While talking to The Daily Telegraph, Somers expressed that he wasn't too happy about how the public taste has shifted, but he does accept that the world was changing. He added- 
"A lot of comics can't work much because what would have been just tongue-in-cheek previously now can easily get them into trouble... I can't say I am enamoured with it, but it is a changing world in which we live and you just have to work around things." 
Daryl Somers Salary And Net Worth
Reportedly, Daryl Somers mustered a net worth of $500 thousand in 2016. The estimated net worth includes stocks, properties, and luxury goods, and a house. The 69-years-old Daryl summoned the massive net worth from his job as a host and musician. He garnered most of his net worth as a former host of Hey Hey It's Saturday.
Check Out: Chad Johnson Wife, Girlfriend, Kids, Net Worth | How Much is His Worth?
He also has released an album on the Sony BMG label titled 'Songlines' in 2015. Daryl was the presenter of the live performance program "Dancing with the Stars" from 2004 to 2007.
Who Is Daryl Somers Married To?
Daryl is married to Julie Da Costa, a former principal dancer and a director of the Australian Ballet; however, the actual date when the couple shared the wedding vows is unknown. The pair is often spotted together attending numerous events; in July 2018, he appeared in the Verse opening night his wife, Julie, at Bombini Buzz.
You might be interested in: Valentin Chmerkovskiy Married, Engaged, Girlfriend, Dating, Net Worth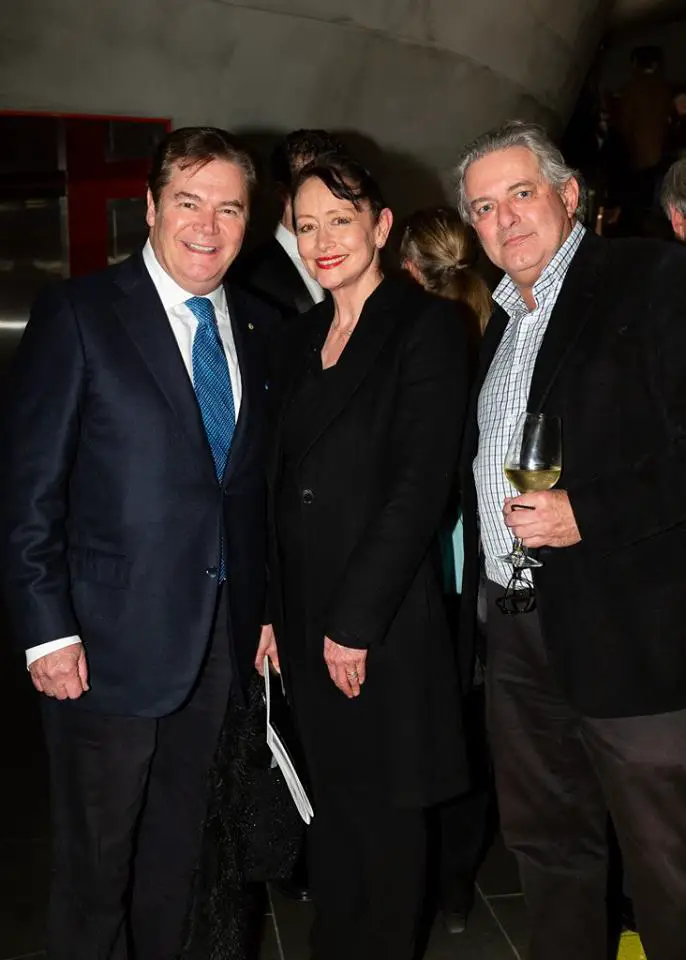 Daryl Somers poses for a photo with his wife, Julie Da Costa, at Verse after-party (Source: Facebook)
As of now, the Australian television personality maintains a loving relationship with his wife without any buzz of divorce in media. Although Daryl has been married to Julie for a long time, the pair has remained silent about mentioning their children to the press. 
You may like: Alan Bersten Wiki: Age, Gay, Partner, Wife, Dating, DWTS
Daryl Somers Wiki, Bio
Standing at the height of 5 feet 7 inches (1.7 meters), Daryl Somers was born Daryl Paul Somers on 6 August 1951 in Geelong, Victoria, Australia. He completed his graduation from the Christian Brothers College, St. Kilda, as per the wiki.