Demetrius Shipp Jr. is one of the most notable personalities, who rose to the prominence through his single movie All Eyez On Me. After the portrayal as the legendary notorious rapper Tupac, Demetrius's fame tasted the great heights.
Shipp uncanny resemblance to the late rapper and his astounding acting abilities opened a whole new world for Shipp. He has also debuted in the TV shows All American and Tales.
Children; Dating Girlfriend?
Fame comes along the lots of questions regarding his dating life. Apparently, Demetrius is a father of three beautiful children from his two different relationships from the past. But, he has not confirmed who the babies mama are. However, it has been claimed that two of them are from his estranged relationship with LaPorcha Holt.
In September 2017, Demetrius was ordered by a court to stay away from LaPorcha Holt, mother of two kids, after she accused Demetrius of physical abuse. She told that she suffered emotional distress rather than physically.
Read More: Frances Tiafoe Net Worth, Girlfriend, Parents, College
Being a father to two sons and a daughter, Shipp can be seen giving glimpses of his fatherhood with his kids on his social media accounts where they enjoy a good time together. His son Kaiden has turned the age of five on 19 July 2019, Mehki became five years on 22 February 2019 and a daughter turned nine in December 2018 respectively.
The surprising fact is Demetrius called a lady his babies mama and even had wished her in a Mother's Day. On 21 September 2018, he shared a picture for the first time with a mysterious lady wishing her a birthday. In the caption, he mentions her 'Babe.'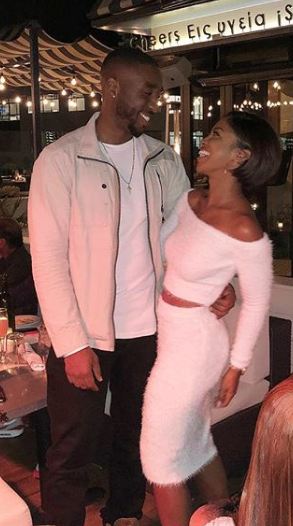 Demetrius with his girl pictured in 2018. (Photo: Demetrius's Instagram | 21 September 2018)
Also, during the Mother's Day 2019, he thanked a mysterious lady, who has been amazing to his kids. So, it's a state of confusion as to whether the couple are still together or not.
As of now, Demetrius is yet to get married and turned his lady into a wife.
Net Worth- 2019
When it comes to his net worth, it might be fair to say that Demetrius has managed to earn a lucrative amount in the past couple of years. His only acting role till date is his role as the legendary rapper Tupac in the biopic All Eyez On Me.
Prior to acting, Shipp worked at Target and Dish Network. But when his friend suggested him to audition for the role in All Eyez On Me, his life took a sharp turn for the better. As of now, Demetrius is a recognized face in the world of entertainment. As of 2019, he is set to appear in the movie Cut Throat City as Miracle and Same Difference as Marc.
Although the exact sum of his net worth remains a mystery, he might have a fortune in the range of thousands.
Bio- Parents, Father
Demetrius Shipp Jr was born on the 20th of November 1988 in the USA. He, who stands at the height of 5'9", holds American nationality and is of African-American ethnicity.
Shipp grew up with three sisters (Chiana, Ariel D. Shipp, and Miasheki) and is the oldest amongst them. In the family, his father, whose real name is Demetrius Shipp Sr. worked as a music producer. He credits his father for helping him prepare for the role of Tupac on the movie All Eyez On Me.
Interesting: Steve Bullock Wiki, Wife, Children, President 2020
Besides his father, Shipp Jr also maintains a very healthy relationship with his other members in the family. He adores his mother whose birthday falls on 23 December.