Dominic Littlewood is an English TV personality, broadcast journalist, and consumer affairs specialist. He is quite well-known for hosting Faking It, a British Channel 4 reality show in 2000 as well as Channel 5 and BBC programs like Saints and Scroungers and Fake Britain. 
Although Dominic has been fighting diabetes since the age of 10 and has encountered several deadly situations, he never wavered from his career path. Instead, he has grasped great heights in the TV industry, which has been an inspiration to many.
Family Background
Dominic was raised in Southend-on-Sea, Essex, England.
Born into a working-class family, he grew up with three siblings in the family. His late parents instilled him into a strong work ethic. His mother was a teacher, and his father was in the Royal Navy. His father had even worked in two jobs to support the family's needs.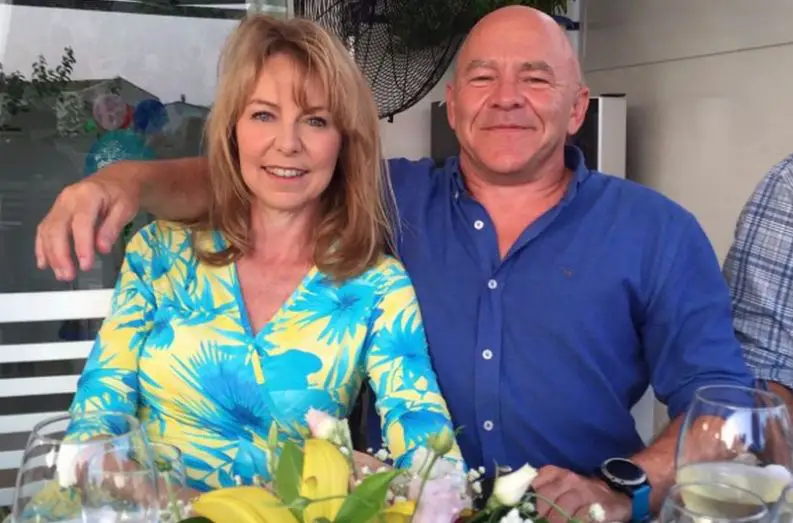 Dominic Littlewood with his sister Teresa(Source: mirror.co.uk)
Although his family faced financial issues, Dominic, along with his siblings, were brought up in a balanced, loving, and brilliant environment.
Read This: Anne Buydens, Kirk Douglas' Wife Bio: Net Worth, Age, Facts
Family Battle With Cancer 
Most of Dominic Littlewood's family members have struggled through cancer. Unfortunately, his mother passed away in 2000 following a long battle with Lupus and cancer. He also lost his father to cancer in his 60s. He was diagnosed with prostate cancer in 2012. Dominic had found out he had cancer in routine blood checks for his type 1 diabetes.
After finding the illness, the doctor told Dominic to warn his siblings and to get themselves checked out. He immediately informed his sister, as prostate and breast cancer are in their heredity. A couple of months later, his sister too found a lump. But she treated her by radiotherapy and got fine then. 
Dominic Littlewood's Married Status Now
The mirror.co.uk reported, Dominic was not married or had any children in October 2007. Since then, there have been no new updates regarding the personal life of the British TV personality.
So, Dominic's dating relationship is obscure, as of now.
You Don't Want To Miss: Chris Kempczinski, CEO of McDonald's Wiki: Salary, Net Worth, Family
Net Worth
The second-hand car salesman-turned-TV presenter Dominic has certainly attracted immense fame and wealth in his life. According to Celebritynetworth, Dominic's net worth is estimated to be around $5 million.
He got his first job with a traveling fair during his school holidays when he was just 14 years old. Later, he moved to car sales for a while before making a name for himself as a TV personality.
Along with his successful television career, he has been part of TV shows Right on the Mon£y (2017), One Day That Changed My Life(2019), Caught Red Handed (2019), and The One Show (2019).
Diabetes Patient
Dominic has lived over 43 years with type 1 diabetes, and it has been part of his daily routine since then. He was diagnosed with type 1 diabetes since he was ten years old.
He had several deadly encounters because of the disease. He had two major incidents that were close to death due to his type 1 diabetes. In 2003, when he visited his sister in Hong Kong where he suffered a severe hypoglycemic attack at night in his hotel room.
Wiki-Age, Bio
Dominic was born on 29 March 1956 in Southend-on-Sea, Essex, England. He stands at the height of 1.73m (5 feet 8 inches).
Explore More: Jake Cuenca Is Dating Filipino Actress Kylie Verzosa | Relationship Facts
Interesting Facts About Dominic:
Dominic broke his neck at the age of 24 after a beach accident when his friend flipped him on the air, and he landed on his head.
 
His co-host on BBC One's To Buy or Not to Buy, Kristian Digby, passed away in March 2010. Kristian was an openly gay presenter and director. He was assumed to have suffocated during auto-erotic asphyxiation(an act of intentionally cutting off the oxygen supply for sexual arousal).
 
His grandfather was a prisoner of war camp for four years. He was imprisoned in Singapore before getting transferred to Thailand to work on the Burma Railway.