Beauty enthusiast and fashionista Holly Boon is a YouTube star with 696K subscribers in her self titled YouTube channel. Her channel generally includes videos related to fashion, clothing hauls, inspirations, makeup tutorials, and vlogs. 
Also, she is equally popular in other social media- her Instagram has more than 520K followers, and her Twitter has over 43K followers. 
Holly Boon's Wiki, Bio, And Age
Holly Boon was born on 1 July 1994 in England. She has one sibling- a sister. 
She grew up loving dancing and acting. Thus, she studied dance, singing, acting, and performing arts at her college. Sadly, she had to quit her studies due to financial weakness in her family. 
Career Journey
Holly first worked part-time at Argos and Burger King during her college. Later she worked as a kid's party host, and after that, she served her full time at a call center. 
Beauty Enthusiast: Priscilla Ono Bio Reveals Age, Husband, Ethnicity, Makeup
She further also worked as an admin, marketing department, and flight claims. As flight claims, she had to read every airline when it got a delay and work on compensation. 
Dating Status
In her video titled BREAK-UPS & KNOWING YOUR WORTH!, posted on 14 April 2019, Holly revealed that she had been in two relationships. She further told she was so dependent on the first relationship that she lost herself and did not know how to function without the company of her ex-boyfriend. 
Hair Related
Holly is very conscious of her hair. She has made several videos for hair care as well as hairstyles. 
On 11 July 2018, she created a video called HOW I GET MY HAIR SO SHINY!. In the video, she talked about several products that make her hair healthy and shiny. 
Know About Another YouTube Star: YouTube Star Teni Panosian Wiki: Boyfriend Details & Family
She revealed LAUO Memory Mist kept the hair styled for long hours, and The Beauty Works ten in one Miracle Spray moistured, restructured antioxidant and anti-aging, and also provided volume to the hair. She further added the Dream Shine Spray on Humidity Shield from the Beauty Works, helped the flyaways or baby hair in place.
Similarly, another product LAUO rose and body oil, kept hair extensions nice and shiny. 
Has She Done Surgery?
Holly Boon has undergone through scissors.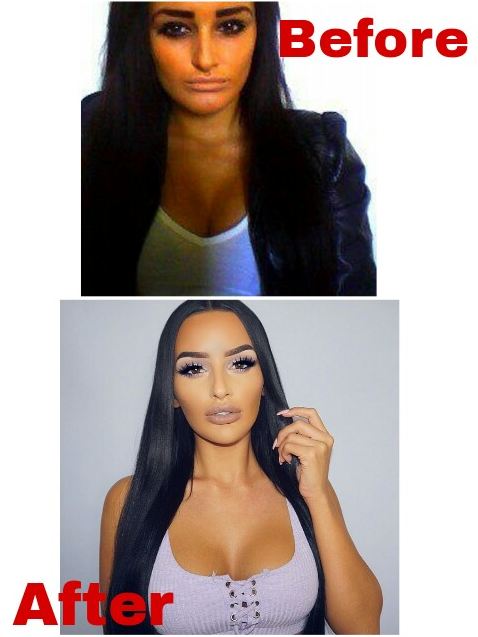 Holly Boon before and after surgery (Photo: reddit.com)
She revealed she had her boobs job in April 2015 in her video titled Q&A on 12 July 2015.
Three Interesting Facts You May Not Know About Holly
Holly has collaborated with many acclaimed brands. Also, she has worked with TOWIE's Pete Wicks project. 

She is often known for resembling the Kardashians. 

She is generous when it comes to promoting products of small independent brands. She once tweeted "If you're a small independent brand and you're struggling to get your products out there, hit me up"