Jacksepticeye is an Irish social media personality known for his comedic, Let's Play series on his YouTube channel. He has gathered more than 21 million subscribers on YouTube channel and over 5.6 million followers on Instagram. His videos have crossed almost 10.4 billion views as he is famous for his dynamic personality along with his video game commentating skills. He posts a video related to video games, and his vlogs are quite popular as well. 
As in 2018, Jacksepticeye is the eighth highest paid Youtuber start on the planet.
What's Net Worth Of Jackscepticeye?
Jacksepticeye has gathered the net worth of $16 million from his career as YouTube personality since 2007. He has reportedly earned more than $8 million revenue and bags an average of around $400,000 per month. According to Socialblade, his self-titled YouTube channel accumulates the estimated monthly earnings between $40.8K - $652.9K. His estimated yearly incomes range between $489.7K - $7.8M. 
Interesting: Kenneth San Jose Wiki, Age, Girlfriend, Parents
Jacksepticeye joined YouTube on 24 February 2007 and posted various gameplay videos and rocketed his subscribers from 2,500 to 15,000 just in four days after the famous YouTuber PewDiePie. He gathered more than 3.2 million subscribers in February 2015 with one billion video views. Later on, he signed PewDiePie's network, Revelmode in January 2016. However, Revelmode was shut down during mid-2017's by Disney following the anti-Semitic imagery controversies.
After Jacksepticeye left PewDiePie's network, he signed with Disney Digital Network and got featured on the program, D | XP on Disney XD in June 2017. He also produced exclusive content for Twitch in a multi-year deal with Disney Digital Network. 
Dating Digital Artist; Fans Referred His Girlfriend As 'Boyfriend Snatchers'
Sean William McLoughlin, pseudonym Jacksepticeye, started dating a Danish-native digital artist, Signe Hansen since 2015. His girlfriend Signe is also YouTube vlogger known as Wiishu. She has appeared in numerous YouTube videos with Jack. The couple together provides relationship goals to their fans from their vlogs.
The YouTuber shared his first picture with his digital artist girlfriend on 28 November 2015 on his Instagram. Sean labeled the caption as 'Someone moved in with me yesterday!'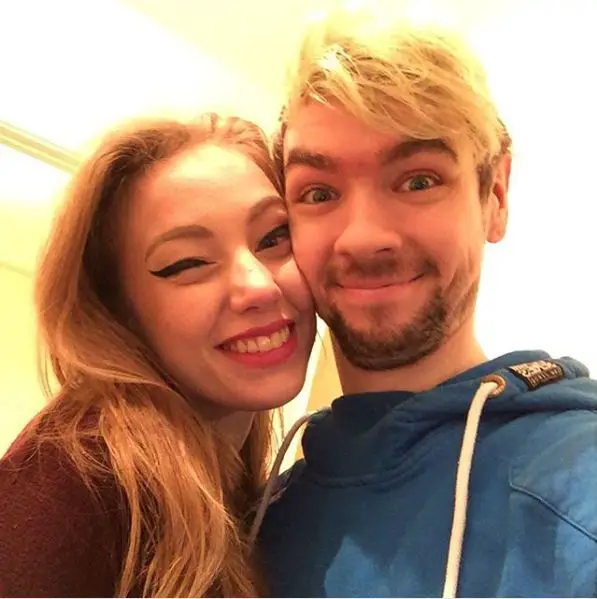 Jacksepticeye (real name Sean William McLoughlin) and his girlfriend Signe Hansen in a picture posted on 28 November 2015 (Photo: Instagram)
Sean and Signe met through Tumblr, where he asked permission to use one of Signe's pieces of arts thumbnail in his gaming videos. The duo often had a long chat, and their romance progressed at a rapid pace. Signe also used to love video games, and they became close with flourishment on their relationship.
Read More: Brother Polight Wiki, Age, Net Worth
Before Sean was dating Signe, he was in a relationship with a Korean girl whose identity remains a mystery. After he split with his ex-girlfriend, he began dating Signe. However, the digital artist did not gain positive reviews at first. She was labeled as 'boyfriend snatchers' by the fans of Sean. Despite their fan's initial disapproval, the couple remained together and resided in Athlone, Ireland. They later moved towards New Brighton, England. 
But, this love story met a tragic point after being in a relationship for almost three years. On October 9th of 2018, Sean tweeted a very heart touching statement regarding his relationship with his girlfriend, which stunned the world. He mentioned that he and Signe had parted their ways months ago, which was not an easy decision for both of them. He further added that he would respect their privacy and would not like to talk also on the issue. 
Signe on the other side did not open about the main reason for the split, but she also tweeted that she had been suffering from the emotional pain after the separation and thanked her fans for always supporting her. She further explained how she respects her ex-boyfriend and wishes the best for his future. 
However, as in 2019, Jacksepticeye already has moved on from his post-relationship and is flourishing the romantic love life with Dutch gaming personality named Girl Gamer Gab, whose real name is Evelien Smolders. Inspecting into their respective social media post, it seems like the pair are already ready to face media and gives glimpses of their romance.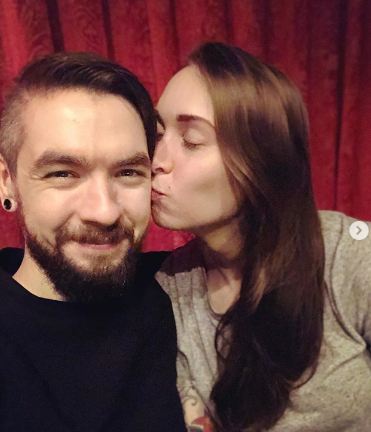 Jacksepticeye and his girlfriend Girl Gamer Gab (Photo: Instagram)
Jacksepticeye and his girlfriend who often goes for a lunch date with him affirmed on his Tweet on April 2019 that his sweetheart, Girl Gamer Gab is the best thing that's happened to him in a while.
As of now, Jacksepticeye is in a beautiful relationship with his lady; however, they are yet to get married.
Short Bio
Jacksepticeye a.k.a. Sean William McLoughlin was born on 7 February 1990 in Westmeath, Ireland. The YouTube star posses a height of 1.78 m (5' 10") and belongs to Irish nationality. Sean has also collaborated with the famous YouTubers like PewDiePie and Markiplier.
Also Read: Lauren Ash Boyfriend, Married, Parents
As siblings, he has two brothers and two sisters whose names are Allison, Susan, Malcolm, and Simon. He grew as the youngest among his siblings in Ireland. Later, Sean moved with his family to a cabin in the woods. He currently resides in Brighton, England, United Kingdom.