A former model and a foley artist Jazz Charton is acknowledged for her work in the Sound Department for Likeness in 2013. She garnered the prominence of the blissful relationship with a famous American actor, Kieran Culkin, who is acknowledged for his roles in Music of the Heart, Igby Goes Down, and Scott Pilgrim vs. the World.
Jazz moved to the United States with no dreams and finance. But later, she grooved her career in the modeling and the acting field. 
Jazz Welcomes Baby With Husband
Congratulations to JazzCharton and her husband Kieran Culkin. The pair have announced the birth of their first child. And now begins a new journey for Jazz and Kieran as parents.
Daughter Kinsey Sioux was born on the 13th of September 2019. Jazz too to her Instagram to share the news about the birth of her daughter. According to her, she welcomed her little bundle of joy at home after 25 hours of labor. The former model wrote:
And just like that our little Kinsey Sioux is home. After 25 hours of laboring at home, we arrived at the hospital too late for any pain meds as I was already dilated and ready to push (if I ever do this again I want ALL THE DRUGS, all of them!) and she was out within the hour during a full moon on Friday the 13th. Of course, our daughter was born on Friday the 13th.

Jazz with her newborn daughter on the 18th of September (Photo: Jazz's Instagram)
You May Like This: Molly Burke Wiki, Age, Husband, Boyfriend
News about Jazz being pregnant was first announced back in May of 2019 when she posted a sonogram of her then soon-to-be-born baby. Since then, she had been providing updates regarding her baby bump, showcasing the moments with her husband. 
Parenthood Towards First Child
Jazz Charton, age 30, who is married to her husband, Kieran Culkin for over a half-decade, announced that they were becoming parents of a baby very soon.
The overjoyed Jazz shared the happy news via Instagram on 14 May 2019 saying that they are expecting their first child. Jazz shared a sonogram picture of her to-be-born kid and mentioned that they had no idea how much they wanted that until that happened.
Also, the former model wrote that the soon-to-be parents are excited, terrified, ecstatic, and unprepared but they cannot wait to meet their little unexpected creation in September 2019.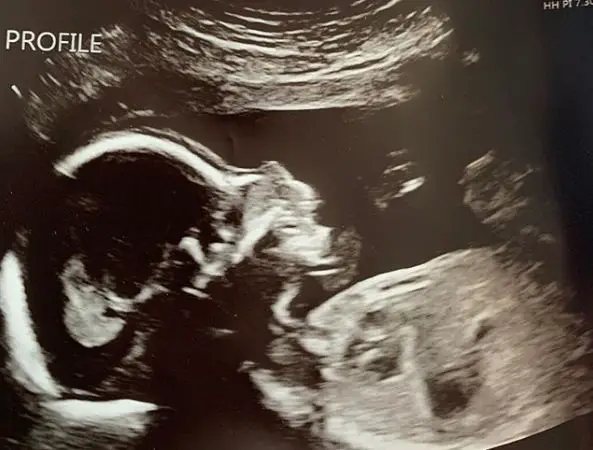 Sonogram of Jazz's child (Photo: Jazz's Instagram)
Although the couple disclosed their expectation of first kid, at that time, they concealed the baby's sex. They were set to welcome their children in September 2019.
Just a year ago, they stated that they were not planning to have kids.
Married Life With Kieran Culkin 
Jazz Charton relishes a blissful married life with her husband, Kieran Culkin, who is an American actor and a model. The couple initiated their love life in September 2011 and dated for over a couple of years before their nuptials.
After two years, they cherished their romantic life by sharing the wedding vows on 22 June 2013. 
Currently, Jazz and her husband Kieran are in the run of more than five years of married life. The duo often accompanies each other on several occasions and events. In January 2019, the couple walked down the Red Carpet event together where Jazz appeared with a floral black and white gown whereas Kieran donned on a black suit.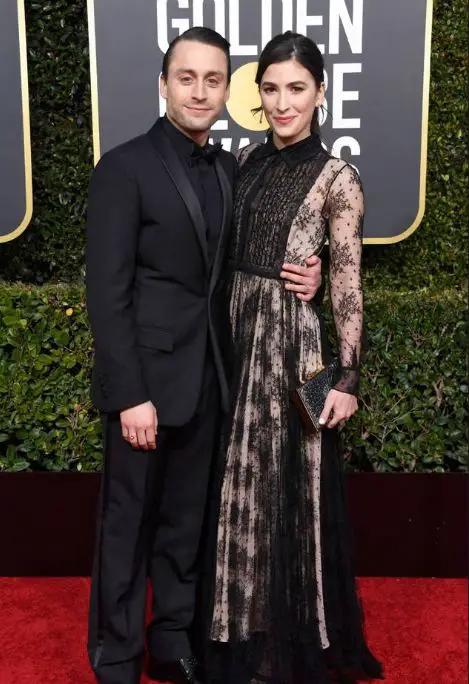 Jazz Charton with her husband, Kieran Culkin at Red Carpet Event in 2019 (Photo: eonline.com) 
Also Read: Eliza Taylor Boyfriend, Gay, Net Worth
Before Jazz, Kieran dated the Hollywood stars including Anna Paquin from 2005 to 2006 and Emma Stone from 2009 to 2011. Currently, Jazz savors a happy life with her husband.
How Much Is Jazz's Net Worth? 
Jazz Charton accumulates her net worth as a model and a foley artist. She had a job as a foley artist at the Sound Department of Likeness in 2013. As per Paysa, the median salary of the foley artist is $118,499 per year which shows that she has smashed considerable wealth and fortunes from her career. 
Besides that, her husband Kieran Culkin has an estimated net worth of $3 million which he garners from his professional career of acting. The Golden Globe Award-nominated actor has starred in the movies like Music of the Heart, Igby Goes Down, and Scott Pilgrim vs. the World. 
Short Bio 
Jazz Charton was born in 1988 in Great Britain, and she celebrates her birthday in May. Jazz, who moved to New York in 2010, possesses the white ethnicity and holds an American nationality. Her parents; Corrine Charton, a fashion model and father raised her in London during her childhood.
She stands shorter in comparison to her husband, who stands at a height of 1.7 meters (5 feet and 7 inches tall).