Jean Todt is popularly recognized as the French motorsport executive, who took off his career as a rally co-driver to the way of the success. He is also known as the President of the Fédération Internationale de l'Automobile (FIA).
Jean Todt is a hard working person and always was enthusiastic about cars and motor racing. And finally, he has reached the top of success. He also devotes himself to humanitarian and other causes.
Engaged To Malaysian Chinese Actress; Married Now?
Jean Todt has been in a blissful relationship with fiancée, Michelle Yeoh, a Malaysian Chinese Actress.
After a long relationship, Jean got engaged to his girlfriend Michelle Yeoh in 2005. The longtime engaged couple was increasing the excitement level of their well-wishers about their future wedding plan and made them curious when they will be getting married.
You May Like: Chris Burrous KTLA, Wiki, Age, Death Reason, Funeral, Family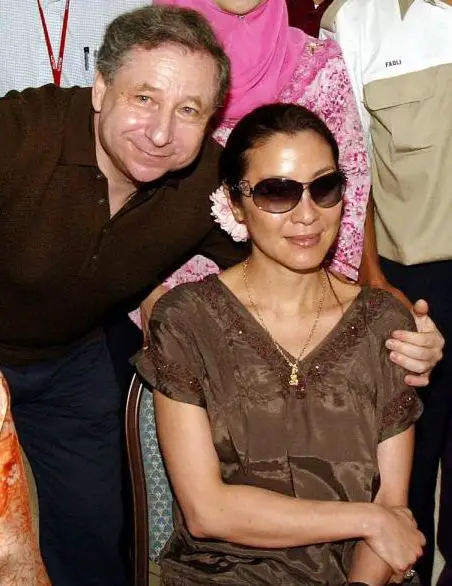 Jean Todt poses with his fiancée, Michelle Yeoh (Photo: asiaone.com)
Meanwhile, after the tabloids started assuming Jean as Michelle's spouse. She preferred to clarify the rumors in November 2014. As confirmed by The Star Magazine, she confirmed that she had not found an appropriate time to marry her fiancé, Jean. Also, she assured to notify her fans if she married her man in the coming days. 
The curiosity of Jean's wedding with his partner Michelle is still at the peak. But, it seems like the couple is happy with thier on-going relationship.
Explore More: Who is Tai Lopez? How Much is Tai Lopez Net Worth & Earnings?
While talking with an interviewer of On.cc in March 2017, the interviewer asked Michelle about her wedding plan with her sweetheart. However, Michelle replied that she was not ready to marry in 2017. She replied saying both she and her fiancé were having a hectic schedule and they even had not seen each other for four weeks.
Moreover, she made a conclusion that they had no time to get married in 2017. Neither she has thought to tied knot in 2018 nor starting family with children. It seems that the pair is not in a hurry to marry each other. 
Jean Todt's Salary And Net Worth
Todt net worth is estimated of $16 million in 2013. But his salary is still disclosed by the media. In 1981, he retired from competing as a co-driver and was appointed Director of Racing for Peugeot.
After a career as a rally co-driver, he worked in motorsports management, first with Peugeot Talbot Sport. Since 23 October 2009, he has been President of the Federation International de l'Automobile(FIA). Under his direction, Peugeot won 4 World Rally Championship and twice won the Le Mans 24 Hours.
He made a roving Ambassador for the Republic of San Marino in 2003. In December 2014, he was elected Chairman of the Board of Director of the Suu Foundation.
Read Also: Josh Altman Wiki, Wedding, Wife, Baby, House, Net Worth, Height
Todt is also the member of the ICM; his team principal has made a regular contribution to the Foundation for many years. The driver played the role of Schumix, a chariot driver and Todt was his race director.
Jean Todt's Wiki
Jean Todt was born on 25 February 1946 at the place Pierrefort, a southern Cantal village in the Auvergne region of France. He is the son of a Jewish doctor who fled Poland to France at the age of 17, as per the wiki. He stands at the height of 1.67 meters and weighs around 76 kg.