Media creates rumors, and it's up to celebrity how they take it whether they live with it or come forward to inform their beloved fans about it. Well, Jionni LaValle wasn't just going to sit and watch fans believe the false rumors created by the media. He instead opted to make an official statement and announce that he has a lovely relationship with his wife, Nicole 'Snooki' Polizzi and split rumors are just hoax. 
Denies Divorce Rumors!
How often do you see, a person making out to brush off rumors? Media and reports tend to make a big deal out of pure stuff, and the divorce rumor of Jionni was no different.
After news started reporting that Jionni and his baby mama, Nicole 'Snooki' Polizzi have decided to split, Jionni took Instagram on 9th January 2018 and denied the rumors and stated that they are doing great and became even stronger after raising their beautiful kids together.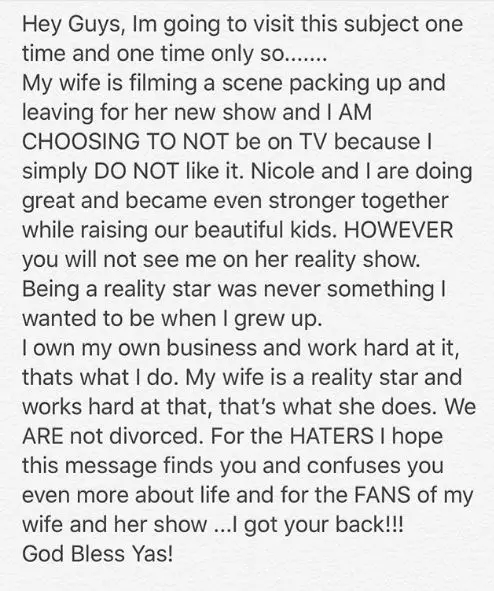 The post claiming that he has a healthy relationship on 9th January 2018 (Photo: Instagram)
In the post, Jionni also revealed that he has his own business and Snooki has her own and never wanted to become a reality star as his wife.
Engagement And Father Of Two Children! Expecting Next Child
Jionni met Snooki for the first time back in 2010 in Seaside Heights but didn't hit it off straight away. US Magazine reported that Snooki wasn't sure about Jionni as he was quiet and not the typical gorilla she was hoping for him to be.
See This: Savannah Soutas Age, Married, Husband, Daughter, Family
But after the couple got along nicely, they started dating each other. Close friend of Snooki even claim that her new beau was different than her ex-boyfriend who used her fame to get famous.
He got engaged with his baby mama in March 2012 and have been together ever since. After getting engaged, Jionni welcomed his first baby on 26th August 2012 who was then named Lorenzo Dominic LaValle.
After raising her first child, the couple celebrated the arrival of the second baby named Giovanna Marie Lavalle back in 26th September 2014.
The duo presents their love and affection towards their children on social media as well. The picture of the couple's children gets flaunted with the great representation of their parent's love and care. Their children also relished the beautiful news of their mother's pregnancy in 2018 as Nicole is pregnant and is expecting the third child soon with her husband.
She went for the pregnancy test after she went through a long day of drinking that led to a round of vomiting. But the report of her pregnancy test came negative when she went through the test at a drug store during 'Jersey Shore: Family Vacation.' 
Later, Nicole announced the news of her pregnancy on her Instagram on 22 November by posting the photo with her two children, Lorenzo Dominic LaValle, and Giovanna Marie Lavalle, holding a picture of a sonogram of their sibling and leveled it with the beautiful caption, What I'm thankful for this Thanksgiving.
It's A Boy!
A heap of excitement and joy, the gender of Jionni and Snookie's third child has been revealed. News about her pregnancy was announced in November of last year and in the following month, the pair revealed the gender of the baby, confirming it to be a boy. And the married couple has also already chosen a name for their newest member. They chose to name him Angelo.
The reveal of their soon-to-be baby's gender was also done a wonderful occasion. Surrounded by close friend and family, Nicole's six-year-old son hit a baseball revealing the color of the smoke to be blue which indicated the baby's gender as being male. As for the reveal of the baby's name to the world, Nicole posted a picture of her holding a teddy bear with the name Angelo written on its body.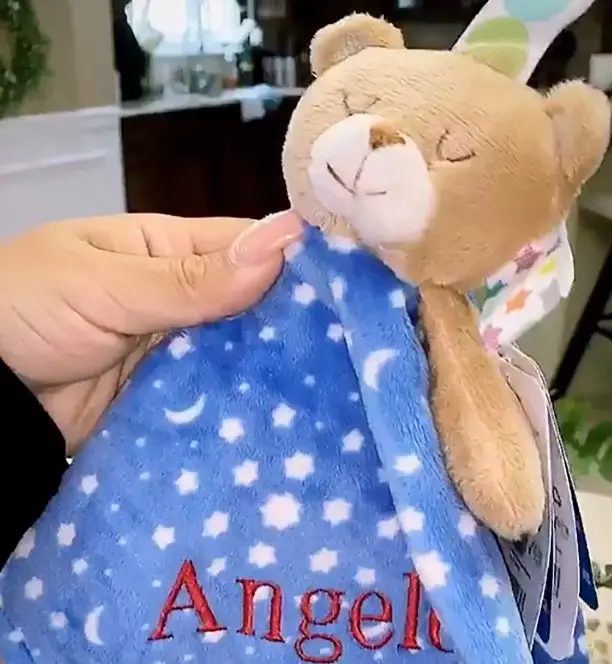 Nicole reveals the name of her soon to be born baby boy. (Photo: people.com)
It seems both Jionni and Nicole are very much excited about the arrival of their baby boy. As confirmed by PEOPLE, the baby boy is expected to arrive in June 2019.
Welcomed Third Baby 
The Jersey Shore star Nicole Polizzi aka Snooki and her husband, Jionni LaValle are now blessed with a bundle of joy.
After several months of a pregnancy announcement, Nicole has welcomed her third baby, Angelo James LaValle on 30 May 2019 with her husband. As confirmed by PEOPLE, Nicole weighed 7 pounds, 8 ounces at the time of the birth.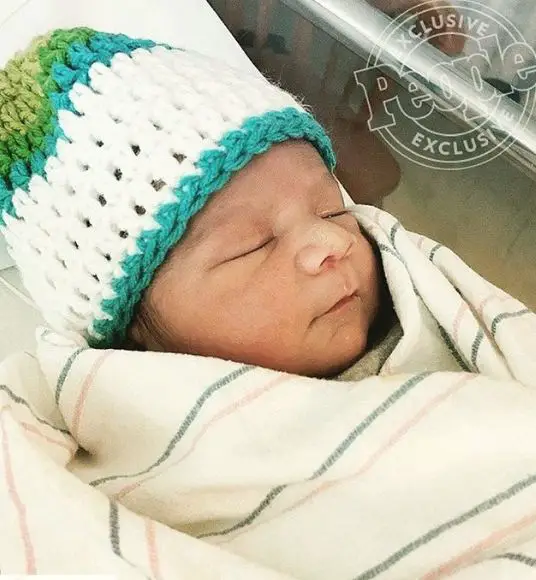 Nicole Polizzi aka Snooki's third child, Angelo (Photo: Jionni's Instagram) 
The couple initially announced that they were expecting their third child in 2017. She revealed her pregnancy with the picture of a sonogram on media on Thanksgiving.
Previously she had stated that she did not want any girls and if it would be girl she will be upset. However, she became fortunate by welcoming Angelo this year.
Furthermore, she stated that she and her family were eagerly waiting for this beautiful moment. 
Currently, the mother of three children resides happily with her husband, Jionni LaValle and new-born baby, Angelo James LaValle.
Extravagant Wedding Ceremony
Then just two months after being the father of two children, the couple planned for a lavish wedding ceremony which was Gatsby themed ceremony in East Hanover, New Jersey.
Do Not Forget: Amber Sherlock Wiki, Married, Husband, Pregnant, Baby, Height, Sister
The couple shared the vows and got married on 29th November 2014 in front of 500 guests and their two toddlers. She then shared the pictures of the wedding ceremony much to the delight of their fans.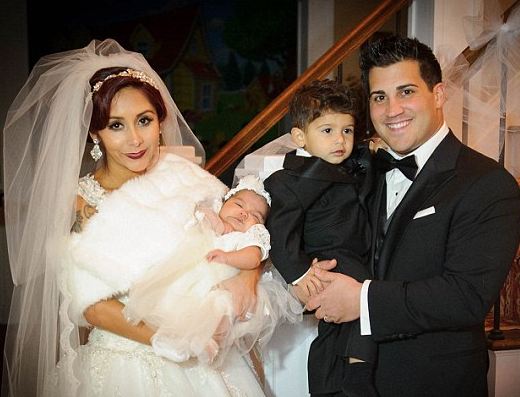 Wedding day for Jionni on 29th November 2014 (Photo: Dailymail)
The adorable picture features the newlywed couple and their children in the arms. Scintillating, isn't it?
Career And Professional Life
Jionni currently owns an ATM business and has several ATMs to his name. But he wanted to become a teacher and coached wrestling for high school. When he met his lady love, he had a job as a gym teacher for Centenary College.
Furthermore, he also owns NJ Fatman which is a T-Shirt Company. Even though he has mentioned that he doesn't want to become a reality star like his baby mama, but he did appear in the reality show called 'Snooki & JWoww' with his wife and children.
How Much Is Jionni's Net Worth?
His ATM business and T-Shirt Company has paid him well and has summoned a decent net worth throughout his career. As per Celebritynetworth.com, he has accumulated a net worth of $200 Thousand.
Discover More: Mark Shuttleworth Wife, Girlfriend, Family, Salary, Net Worth
Short Bio
The New Jersey guy was born an American in East Hanover, New Jersey, United States on 20th March 1987 which makes his age 32. The hunk stands at an average height of 5 feet and 5 inches and manages to keep a ribbed body shape. His wiki is secretive about his parents although he was born to mother Janis and father Joe. In his Family, he has two brothers named Joe and James and a sister named Janiella