Jodie Woods is an Instagram star with 565k followers; however, she gained all the name and fame from her older sister Jordyn Woods, who is also an Instagram star with 10.9 million followers. Jordyn gained fame and reputation as a close friend of the Kardashian family, especially as the best friend of the reality star and the youngest billionaire, Kylie Jenner.
What makes Jodie different from her sisters is that she is only 14 years old and already an Internet sensation.
Jodie Woods Wiki (Age)- Date Of Birth
Jodie's date of birth is 6 January 2005. She was born in California to Elizabeth Woods and late John Woods. Her parents were separated long before. However, the real grief was then when the family lost John Woods forever on 18 January 2017 due to cancer.
As of now, her mother, Elizabeth Woods, works as a photographer and a manager of Jodie and her sister Jordyn. She also takes care of her other two children, Jodie's older siblings named John Woods III, Joshua Woods. 
Interesting: Kristen McAtee Wiki: Age, Dating Life, Family, Net Worth
Jodie grew up alongside the guidance of her mother and sister. The influence impacted her so much that she started looking exactly similar to her sister. What more? She even resembles the younger Jordyn Woods. Even Jordyn admitted her sister's puberty and shared a picture alongside her sister with a caption: 
Thank you, mom & dad. I didn't know that when I asked for a baby is 13 years ago my mom would birth another me.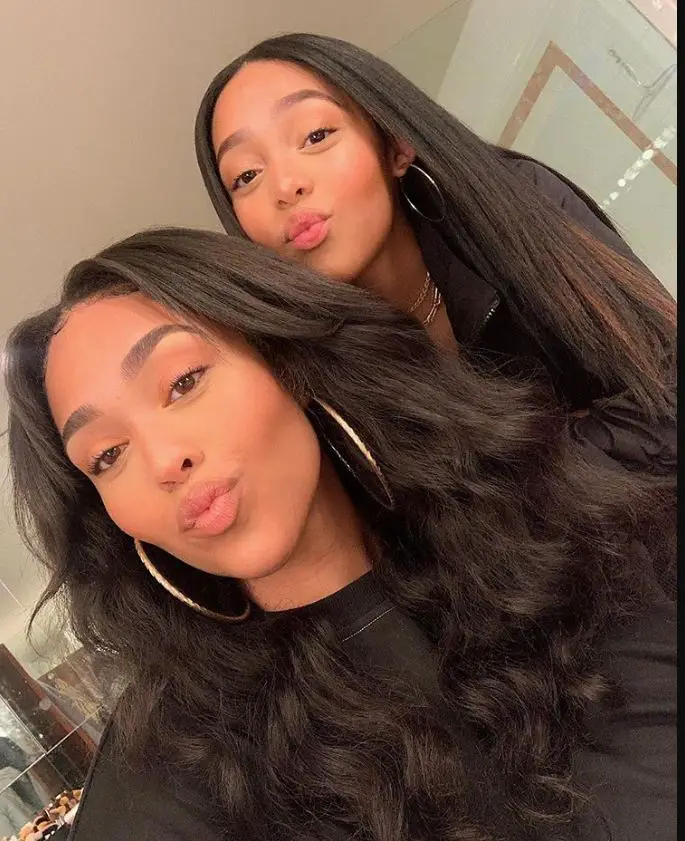 Jordyn Woods shared a picture with her younger sister Jodie stating that the two look alike. (Photo: Instagram)
Though they possess a similar face, Jodie doesn't share the same height as her sister, who stands 1.75 meters (5 feet 9 inches) tall.
Life Of Jordyn Woods' Sister
As a younger sister of Jordyn Woods, an American model, influencer, social media sensation, and a former best friend of Kylie Jenner, Jodie Woods caught the attention of her sister as well as the Jenner's fan since they started sharing pictures with Jodie. Jodie had started Instagram since 19 January 2018, and it didn't even take her a year to amassed more than 400k followers.
Explore: Nikkie De Jager Wiki: Dating Life, Boyfriend, Brother, Net Worth
However, the life of Jodie was not always Sunday. Just like the weight of attention and acclamation she received from her star sister's popularity, she also received an equal number of hatred, threats, and trolls from her sister's single mistake.
Her sister was caught making a scene with Tristan Thompson, who was a boyfriend of Kylie's sister Khloe Kardashian in February 2019. The incident instantly changed Jordan and her family's life alongside cutting friendship with Kylie.
You'll Enjoy Reading: Zozibini Tunzi [Miss Universe 2019] Wiki, Family Background, Net Worth
Interesting Facts
Jodie Woods's mother, Elizabeth runs and monitors her Instagram. Jodie's late father, John was a cameraman and a Tv sound engineer, who had a record of working in the shows like The Fresh Prince of Bel-Air.
 

Jodie's sister Jordyn has a net worth of about $6 million. She is prominent for appearing in a couple of episodes in the most famous reality Tc series life of Kylie in 2017. 
 

Jordyn and Kylie were introduced by actor Jaden Smith, the son of Will Smith before they had started high school. 
 

Jodie is not dating anyone at present. However, she was once linked with P Diddy's eldest son, Quincy after they were photographed together in 2019. The allegation was later dismissed by her mother stating that they are like a brother and sisters.