American actor Jonah Hill spent most of his young adult life listening to people saying that he was fat, gross, and unattractive, but now, he is an inspiration. You might be amazed by the story of Jonah, who now have well-physique but his past traces the massive weight loss. 
Going through fluctuating body measurements in the entertainment industry is common, but Jonah did something that eyes cannot believe through his several workouts and dieting process.
Jonah Hill's Weight Loss
Throughout his life, The Beach Bum star, Jonah Hill gained and lost weight several times. He started to work out for his weight loss schedule since 2011. As being an aspiring actor, his roles often were dependent upon his massive weight.
Back in 2011, he had the most significant body transformation during the set of Moneyball, where he slimmed his 17 stone 8lb frame body. His role in the movie alongside Brad Pitt led him to the nomination for the best supporting actor. 
Also, he sought out the physical fitness advice from the 21 Jump Street co-star, Channing Tatum. His first step of weight loss came with his initiation of ten push-ups in a daily row. However, he gained three stone for the movie.
Similarly, his strong motivation to mitigate unwanted fats from his body, he focused on his nutrition and eating habits. As per the sources, he began adding more sushi in his diet, which is relatively a low-calorie food. Sushi also has lots of omega-3 fatty acids that contribute to a healthy metabolism.
At the peak weight, Jonah weighed eighteen stone; but, currently, the 35-year-old actor weighs 192 lbs or 87 kg.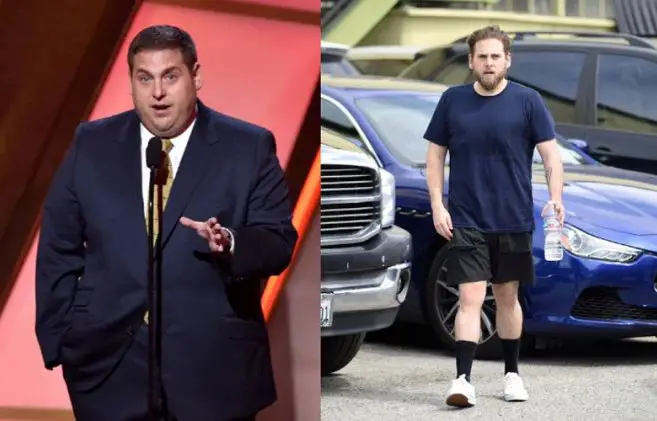 Jonah Hill: Before and After (Photo: mensjournal.com)
Also Read: Mariana Atencio Wedding, Children, Net Worth
Also, he now does his physical exercises under the supervision of his trainer and gym center. For Jonah, the idea being healthier came with his maturity. He thought of being a responsible adult, along with good health in 2011. As of now; he works for the proper shaping of his body under the strict diet regimen.
Workouts And Diets 
The 35-year-old actor began doing ten push-ups a day and eventually worked his way up to doing 100 push-ups a day. Also, he is engaged in other physical activities, including jabbing, shadow boxing, and gym. He has been frequently spotted working with a trainer on a few combo moves inside a New York City gym.
Similarly, he started Brazilian jiu-jitsu from May 2019 and has earned the first stripe.
Discover More: Quad Webb-Lunceford Wiki, Husband, Net Worth
Concerning the diet, Jonah focuses on taking more Japanese food with low-fat products. Also, he makes lots of veggies, grain products, and fruits enrich with lean proteins and other nutrients. Besides, Jonah works under the self-made note that includes his meals of yogurt, salad, chicken.