An American journalist, political analyst, and writer with renowned newspaper and magazine, Juan Antonio Williams has been through many ups and downs in his long career. Emmy Award recipient Juan has made his mark in literature world as well where he has written Eyes on the Prize: American's Civil Rights Years 1954-1965 and This Far by Faith.
Career And Progression
Emmy Award recipient graduated from Haverford College with the baccalaureate in Philosophy in 1976. He did schooling from Oakwood Friends School in New York where he became clerk of the student body and captain of baseball and basketball. Juan started his career at The Washington Post where he has worked as an editorial writer, op-ed columnist for more than 23 years.
See Also: CNN's Rachel Crane Wiki, Age, Birthday, Wedding, Parents
Juan who is registered Democrat joined National Public Radio in 2000 as a host of Talk of the Nation. The Democrat also served as the senior national correspondent for NPR before begin fired in October 2010. NPR stated that his remarks were inconsistent with our editorial standard and undermined his credibility as a news analyst.
Since 1997, he was a contributor to Fox News Channel, after his contract was terminated by NPR; He regularly appears on The O'Reilly Factor and also served as guest host in O'Reilly absence.
The Emmy Award winner has written books like, Eyes on the Prize: American's Civil Rights Year 1954-1965, This Far by Faith, Biography of Thurgood Marshall and Enough are some of his excellent writings.
In September 2018, the American journalist published a book titled 'What The Hell Do We Have To Lose?.' The book which has six chapters covered the history of Civil Rights and highlighted American president Donald Trump's administration in brief.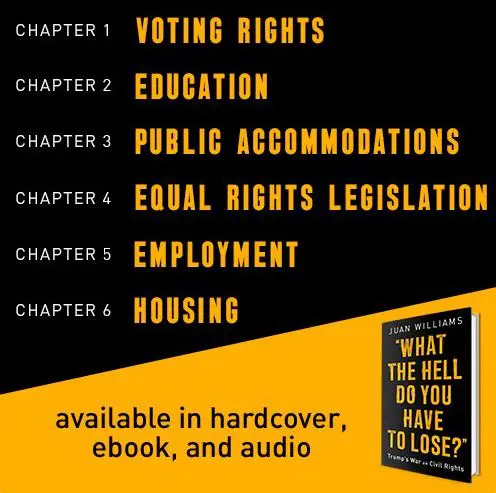 Juan Antonio Williams released his book 'What The Hell Do We Have To Lose?' in September 2018 (Photo: Twitter) 
All About Trump's Elder Sister: Elizabeth Trump Grau Wiki: Age, Net Worth, Family, Now
Juan shows the Trump administration policies that pose a threat to civil rights in America from his new book.
How Much Is Juan's Net Worth?
Emmy Award recipient and Best National Book winner Juan has been working since past 25 years. Fox News offered a huge salary rise to Juan which he was handed a three-year worth $2 million dollars.
So his reported net worth also reaches $2 million dollars, but he also earns considerably through his books and is also a writer in reputed Newspaper like The Washington Post, The New York Times and The Wall Street Journal.
How Is Married Life Doing For Juan?
Juan is happily married to wife Susan Delise since July of 1978 completing almost four decades of marriage. His family includes one daughter Rae and two sons. Both his sons Antonio and Raphael, have a political career with both being a Republican on the contrary to their father's political view.
You Don't Want To Miss: Maggie Haberman Wiki, Wedding, Husband, Net Worth, Bio, Trump
Now, Juan has even more happy family tree when he became the grandfather of two girls Pepper and Wesley.
After his marriage, the Best National Book winner hasn't been linked with anyone in the reports, so People assume that he is a happy man who likes spending times with his children in his free time.
Family Migrated To America
Juan was born to his immigrant parents Akin Jules Williams and Sharon Williams. His mother Sharon left Panama in 1958 after late Panamanian Politician Arnulfo Arias narrowed down the education system that affected him and his two siblings. In his family, the journalist has a sister and a brother. 
Read Also: Kezia Dugdale Wiki: Partner, Husband, Parents, Net Worth
His father Akin took his family of four to a cargo banana boat for New York and immigrated to the United States. His strong mother, who was nearly at the age of 50 at that time, did not let her children suffer from violence and poverty that was lurking in their hometown of Colon.
Short Bio Of Juan
Juan Antonio Williams was born on 10th April 1954 in Colon Panama to parents Akin Jules Williams and Sharon Williams. The journalist who is currently aged 63 has a decent posture and stands at the height of 5 feet 7 inches. Juan has American Nationality but belongs to African-American Ethnicity.