Model and social media star Justine Biticon got the limelight overnight after she got eliminated from America's Next Top Model(ANTM) in 2015. After her elimination from the show in second episodes, she had tweeted a photo of herself alongside a paused screen of her tearing up, which went viral.
After then, Justine never had to look back—she landed on campaign with Nike Women and got signed with Ford Models in 2017. Besides her massive success in the modeling industry, she is one of the vocal representatives of Latinx and Asian communities. 
Wiki-Age, Height
Justine was born as Justine Mae Biticon on 9 June 1998 in Los Angeles, California. She thought about embracing modeling career around the age of 16 when her high school friend complimented her height and suggested to try modeling. Eventually, she started getting offers and doing freelancing projects before turning up in the ANTM.
Justine completed her high school education by the age of 18. On her physical attributes, she stands at the height of 1.78m (5 feet 10 inches).
Keep Reading: Luke Arnold Girlfriend, Family, Ethnicity
Family- Parents
Justine Biticon's mother, whose birthday falls on 21 November, moved to America and raised her three kids (Justine and her two siblings) by herself. Among Justine's siblings, her brother is gay, as confirmed on her tweet. Besides that, as apparent in social media, she prefers to describe her parents as a legend.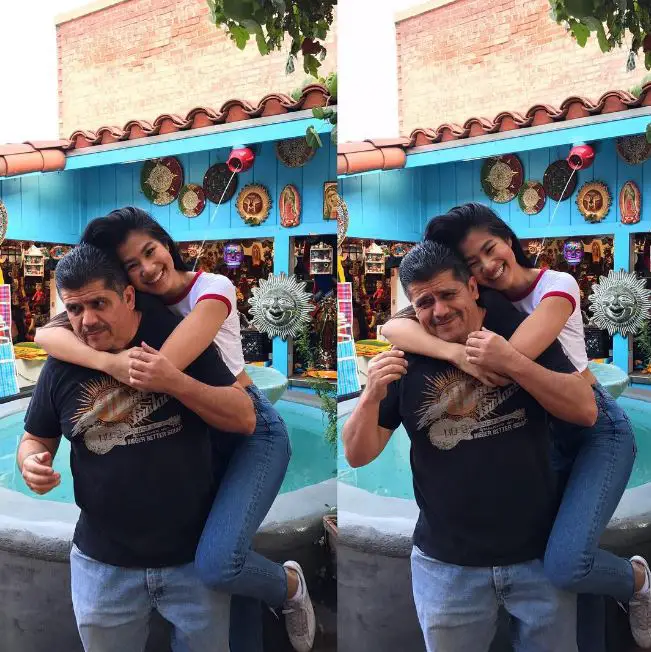 Justine Biticon with her father(December 2017) (Source: Justine's Instagram)
Everyone in her family, including mom and dad, is now supportive to Justine's career in modeling. However, in the beginning, the case wasn't the same. Having enthusiasm for modeling, Justine wanted to compete in the reality TV show America's Next Top Model. But, her parents never wanted her to go on the show.
You Don't Want To Miss: Karina Seabrook Wiki, Age, Parents, Is She Dating Now?
Ethnicity
Los Angeles native Justine possesses the ethnicity which traces its roots back to Mexican and Filipino ancestry. Justine has always been rebellious since her childhood; she used to hate being Filipina.
On the other hand, she wasn't Mexican enough, so it was hard for Justine to accept both sides of her culture. But, now, she believes both of her ethnic backgrounds as a part of her life and feels proud of what she is now.
How Much Is Her Net Worth?
Justine has led quite a fruitful path in her modeling career.
Though she got eliminated from America's Next Top Model, she modeled for brands like Anna Swimwear and Nike, which has undoubtedly helped her to grab the feats she thrives on today. On the expedition on her modeling career, she has also participated in the reality TV show Feast Mansion(2018).
Explore This: Mads Lewis Wiki, Boyfriend, Siblings, How Old Is She?
Her career as a model has, without a doubt, has garnished her immense stardom and relative wealth. However, as of 2019, Justine's net worth is yet to be reviewed. 

Note: According to Indeed.com, the average salary of a model in the United States is estimated to around $23.18 per hour. The lowest payout is about $7.25 per hour, and the highest is approximately $76.00.