Mads Lewis is an internet star and actress who is known to makeup videos and challenges on her social media platforms. With that, she has been able to accumulate over 1.4 million fan followings on her Instagram page and more than 432K+ subscribers on her self-titled Youtube channel from creative content.
Besides her social media stature, Mads has also showcased her charismatic acting skills in the film industry. She made her debut role from comedy Alexander IRL in 2017 and played Birdie in popular web series Chicken Girls(2017).
In her successful career, her talent has been recognized by the top brand, like Adidas. Mads has done advertisements for Adidas on her social platforms.
Who Is Mad's Boyfriend?
After her split with Instagram star Charles Gitnick in early September 2019, her relationship status had been quite obscure for a while.
But, now, there have been rumors of her dating a mysterious guy named Garrison. Mads was even homecoming date of Garrison in the homecoming party on 29 September 2019.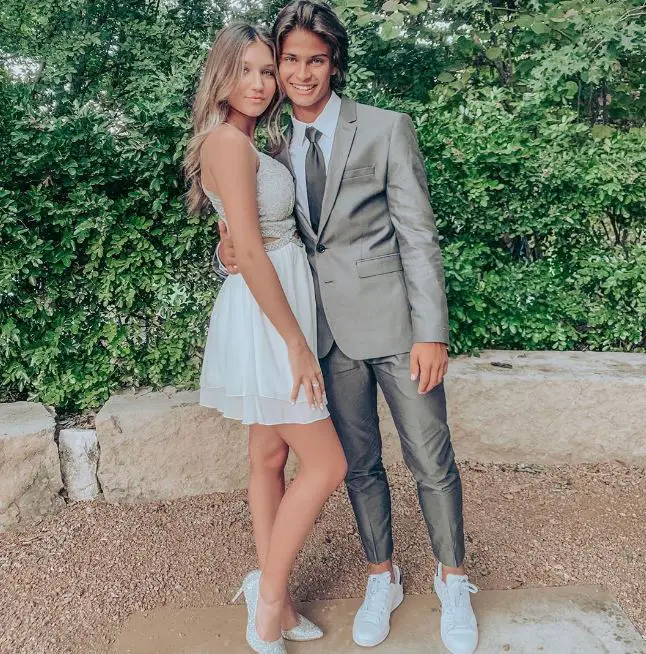 Mad's her homecoming date Garrison (29 September 2019) (Source: Instagram)
Although there aren't many details on this mysterious man, Garrison is also an internet personality with over 60K followers on his Instagram page garrisonhatley.
Despite the spiraling rumors, Mads has not given any specifications to these speculations. Even though Mad's new romantic interest is a hot topic these days, it is yet to be officially confirmed by the social media star whether she is dating Garrison or not.
Before that, Mad's briefly dated Charles Gitnick. They had started seeing each-other from July 2018.
Unfortunately, after more than a year of a relationship in September 2019, Mad and Charles decided to walk down a different path in their life. 
Don't Miss: What Happened To Supreme Patty? Bio Unveils Net Worth, Family
Who's Charles Gitnick?
Mad's ex-boyfriend Charles is a social media star and artist widely recognized for his 3D anti-gun arts. His work has been internationally exhibited in countries like Colombia, Switzerland, and many more.
Charles has over 705K followers on his Instagram page and over 91K subscribers on his self titled Youtube channel.
Dating History
Mads Lewis had had a long dating history before she began dating Charles. 
She previously dated a guy named Marco back in 2015. According to Healthyceleb, She admitted that she saw Marco on Instagram and started stalking him. After then, she briefly dated a fellow social media star, dancer, and singer Carso Lueders. The duo were even spotted together during the shooting of the web-series Chicken Girls in 2017.
Besides that, Mads was rumored to be dating Muscial.ly star Case Walker; and actor and dancer Caden Conrique in 2017.
Keep Reading: Mahogany LOX Wiki, Parents, Net Worth, Dating
Parents & Siblings
Daughter of a fashion designer mother, Tiffany Lewis, and construction worker father, Steve Lewis. Mads Lewis was born as a triplet along with her sister Riley Lewis and brother Dakota Lewis.
Her siblings also have quite a presence on social platforms like her. Mad's sister is an actress and social media star who has garnished over 570K+ followers on her Instagram page. Riley is also known for a popular web series, Chicken Girls, a series that deals with teenage issues near to the age of love.
Likewise, Mads' brother also has earned more than 80K followers on his own Instagram account dakotalewis.
Explore This: Baby Ariel Net Worth, Brother, Boyfriend, Who Is She Dating?
Wiki- How Old Is She?
Mads, whose real name is Madison Rose Lewis, was born on 24 December 2002 in Arizona, USA. She was homeschooled.
Talking about her body measurements, Mads has a height of 1.68m (5 feet 6 inches) with a slim build and weighs approximately around 56kg. She has naturally dark brown hair and beautiful green eyes. On her distinctive body aspect, she has features like a pierced nose on the right side and a beautiful smile.