Popular for the role of Penelope Garcia in the crime drama Tv series Criminal Minds, actress and playwright Kirsten Vangsness has carved her name on the top lists of Hollywood artists. However, Criminal Minds is not only the series she has made it to the success but also its spin-off, Criminal Minds: Suspect Behavior and Criminal Minds: Beyond Borders has overwhelmed the heart of audiences.
Additionally, Kirsten's other film credits are In My Sleep, The Chicago 8, and Kill Me, Deadly. Also, she is a playwright, who has co-written three episodes of drama Criminal Minds and a writer of the Los Angeles Times.
Kristen Vangsness' Wiki
TV actress, Kristen Vangsness's real name is Kirsten Simone Vangsness. She was born on 7 July 1972 in Pasadena, CA, to Barbara Mary and Errol Leroy Vangsness.
She spent her early toddler age at Pasadena but grew up in Cerritos, California. There, she went to Cerritos High School and Cypress College. Later, she graduated from California State University of Fullerton in 1995. 
Influencing: Bruce Flatt, CEO of Brookfield Asset Management: Wiki, Net Worth, Family
Kristen first made her acting debut in 1998 with a short film called 'Sometimes Santa's Gotta Get Whacked,' where she had the role of a Tooth Fairy. Just like her enthusiasm for acting, she is also a huge animal lover, and cats are her obsession. 
Weightloss Journey
Kirsten Vangsness had shaken everyone with her drastic weight loss in 2014. Her tweet in the same year jokingly claimed it was all because she read books and listened to a podcast by Stephens Renee.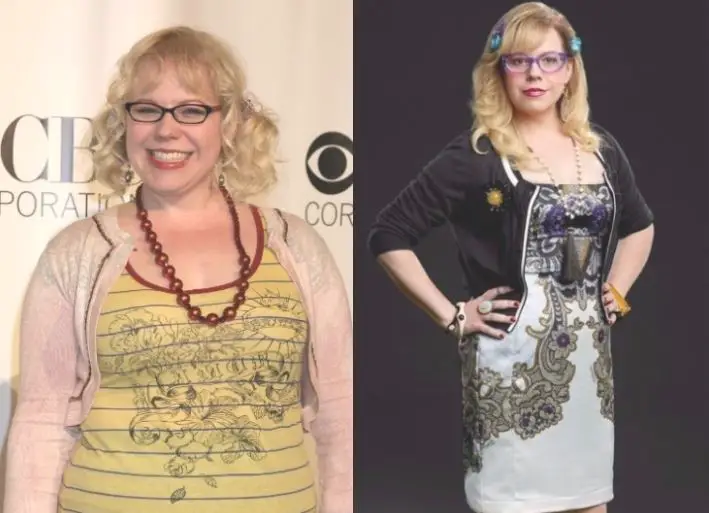 Kirsten Vangsness before and after weight loss. (Photo: articlesvalley.com)
However, deep inside, all know she had gone through a tough time—she decided to undergo the weight loss by working out and eating nothing but healthy.
Gay, Queer
Kirsten came out as queer in 2006 as she brought a woman partner at the 2006 People's Choice Awards. Although she later revealed that the woman was pre-planned, the conclusion was still the same- Kirsten describer herself as "a queer."
Do Not Miss: Bob Dudley, CEO of BP: Salary, Net Worth And Family Life
However, while talking with PEOPLE in 2015, Kirsten confirmed that she used to think herself of being gay. She said;
"I guess I never understood the term of being bisexual because once I let myself come out ten or 12 years ago, I was like, 'Oh, okay I'm gay,' and I was perfectly okay with that, but then I was like, 'Wait, nothing changed in me,'" she said. "I don't feel any different."
Also, she was in a relationship with a woman, a former Fox's 24 assistant Melanie Goldstein.
Is Kirsten Vangsness Married Or Still Dating?
Kristen has an uncanny experience when it's about her love life. She has gotten engaged with a man and woman.
Initially, she was engaged to the former assistant editor of Fox's 24, Melanie Goldstein, in 2009. Though they had thought to get married, the duo couldn't tie the knot due to the absence of same-sex marriage law. Unfortunately, they ended up their relationship in 2013 and separated without unrevealed reasons.
More Interesting: Craig Menear, CEO of The Home Depot Wiki: Salary, Net Worth, Family
After then, her interest in men led her to fall in love with actor/writer Keith Hanson. Eventually, they got engaged in November 2015.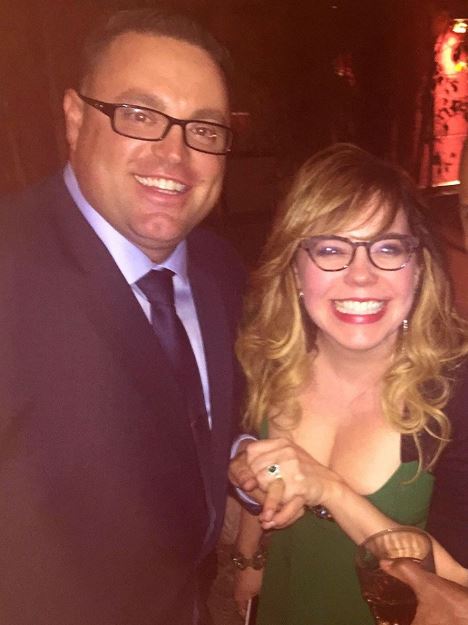 The engagement picture of Kirsten Vangsness and her fiancé Keith Hanson. (Photo: Facebook)
However, none of her relationships has turned into a married relationship. It's been four years since she and Keith got engaged, but there is no news of their marriage.