Internet superstar Kristopher London is best known for his hilarious and challenging videos on his self-entitled YouTube channel. He is a former basketball player who had to give up his career due to his medical issues. He is also known as the boyfriend of Instagram model Bri Martinez with whom he is dating for more than a year.
How Does Kristopher Summon Net Worth?
Kristopher has been earning the prominent part of his net worth from his YouTube Channel since 2012. He also derives his fortunes through his various advertisements and endorsements in his popular Instagram Channel.
You May Like: TheOdd1sOut Wiki, Face, Girlfriend, Dating, Parents, Siblings, Real Name
He started his YouTube career on 10th August 2012 with his self-entitled channel named Kristopher London. His comic and challenging videos has lured more than 1.5 million subscribers. As per socialblade, he earns a salary up to $26.7k monthly and $320.4k annually from his channel. He has also worked in association with fellow YouTuber Timothy DeLaGhetto.
Met Girlfriend Through Twitter; Shares Compatible Height
Twitter became the bridge to connect Kristopher London with his lover. The YouTuber is in a romantic relationship with his Instagram sensation girlfriend Bri Martinez, 24. The lovebirds have been sharing the love with each other for more than a year.
In one of the YouTube videos, Kristopher told that he met his girlfriend at twitter. They gushed about their tall height in the YouTube video and revealed that Kristopher height is 2.08m (6' 10') while his partner is of 1.80m (5' 11').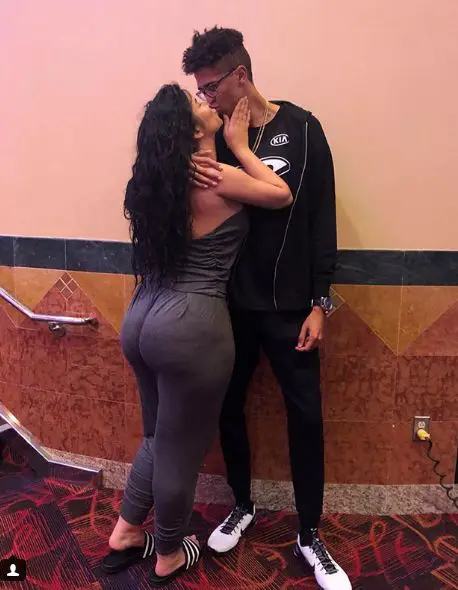 Kristopher wishes his girlfriend Bri Martinez on 5 March 2018 (Photo: Kristopher's Instagram)
He is not hesitant to share his love with his girlfriend on social media. On 6 December 2017, he flaunted a picture on Instagram swimming with his gorgeous partner. He even mentioned that they had completed their one year of togetherness. He wished his girlfriend on her birthday with a picture on 5 March 2018. He captioned,
Happy Birthday to my Queen! Thank you for always supporting me and putting up with my boring ass! I love you so much! This will be your year your hard work will take you places you've always dreamed of! #24 
The YouTube sensation has been recently appearing in various games with his girlfriend. His lover flaunted the couple's picture in a basketball court on 1 July 2018. She also attended the Hype event in San Fransisco, California on 19 August 2018.
Read Also: Joey Salads Wiki, Age, Girlfriend, Gay, Height, Net Worth
She even showered her gratitude to all the audience who showed up for the event. The couple has been shadows of each other for a substantial period. They also attended the wedding of their friends Maile & Kevin in July 2018. 
Back in July 2018, the Kristopher and Bri Martinez were celebrating together. As per the post of Kristopher, Bri is only the person who enables him to conquer the world. He also stated, Bri is so special to her and would appreciate if others respect their privacy. He seemed like he was fed up with the Internet which blew out his privacy with Bri Martinez.
Kristopher Graduate Sister; Appears On His Vlogs
The Instagram star has a sister named Olivia. She has followed her brother's footsteps and started her self-entitled YouTube channel Olivia Michala on 8 December 2014. She occasionally appears on her brother's social media profiles.
Kristopher tweeted his sister's hilarious picture with a doggy snapchat filter on 28 Jan 2017. He shares an intimate brother-sister bond with his sister. She graduated with a bachelor's degree on 13 May 2018. Olivia has also appeared on Kristopher's various YouTube videos like Who Knows LSK Best? GIRLFRIEND vs. SISTER! I Made Her Cry, and AWKWARD NEVER HAVE I EVER w/ my sister.
Kristopher's father always wanted him to be a basketball player and always pushed him to find his best. His dad even talked to many coaches and colleges for his basketball career, but with niggling injury and concussions, he couldn't make a career in basketball.
Lost Basketball Career; Deteriorating Medical Issues 
Kristopher, age 25, was a passionate basketball player from his early days in college. With boiling blood filled with adrenaline, he wanted to make a professional basketball career. Unfortunately, he had a series of injuries, and medical issues drifted his dreams far away. His first encounter with injury was when playing in his high school junior year. He was playing for AU tournament at that time. He hurt his left leg badly while trying for a dunk shot. With a torn knee, he could barely walk and had to undergo surgery.
The misfortune didn't end there. The internet star met broke his nose during his summer league game. Later that year, he met a car accident along with his college friends. Again during his senior year, he had an accident in New York. Some guy dashed his car from the behind, and he had a concussion as well. With deteriorating medical issues, he was still holding to his passion for basketball. While he was playing for AU tournament, he had a big fight with his rivals and broke his hand.
With a fragile physique and multiple concussions, his passion of basketball dried off, and he began the hate the basketball. He finally called his time in basketball and started his YouTube career. The basketball player, Kristopher London is not hesitant to risk his life for his passion for competing in the game field. Recently, he faced an injury and tweeted about it on 18 August 2018.
Kristopher said that he injured his shoulder badly during his practice match on 17 August 2018. He further added that his doctor has suggested him to get an MRI Scan and avoid playing a game for some time. Kristopher shared his tragedy being unable to play for his team.
See More: Lisa Nichols Wiki, Age, Husband, Son, Weight Loss, Net Worth
However, the young star has made his way to play NBA, 2019, (Video Game) against the Los Angeles Lakers in July 2018. The YouTube star got chance to play the game one month before its release. Kristopher and his pal, Jesser got together against the Los Angeles Lakers players, Josh Hart and Kyle Kuzma. They played the video game and scanned their faces in it as well. 
Short Bio
Born in 1993 in London, England, Kristopher London celebrates his birthday on 3 April every year. His real name is Kristopher Obaseki. As per wiki, he holds an English nationality and belongs to mixed ethnicity. He has a star sign of Aries. He has one sister, Olivia as the sibling.