When LeeAnne Locken's estranged relationship with her reality participant, Cary Deuber became intense, Bravo's The Real Housewives of Dallas became a worth-watch show. Since both the foes have not gone on records to reconcile their differences, the season 3 of RHOD will surely be intriguing.
American reality star LeeAnne is mostly known as the recurring participants of Bravo's hit TV show, The Real Housewives of Dallas. The top 10 participants of the 1989 Miss USA pageant has already been featured in the two seasons and is also a prominent part of the third installment.
Issue With Co-Participant, Cary Deuber: Has Cary Forgiven Her?
The 51-year-old reality has already shared a sour relationship with The Real Housewives of Dallas star, Cary Deuber. LeeAnne had previously threated to strangle Cary on the second season of RHOD in 2017.
LeeAnne even accused Cary's husband had been physically involved with other men. Although LeeAnne begged for a sincere apology, Cary is not in a mood for the acceptance. The housewives met at a coffee date in an episode of RHOD in August 2018, where LeeAnne genuinely expressed apology after stating,
You and I have so many mutual friends, it's like, how can we not at least have some sort of decency."
To which Cary responded that she is not at a point where she wants to be friends with her. Cary also revealed that she is still hurt and is nervous to see LeeAnne.
Know About: Zane Hijazi Wiki, Age, Height, Girlfriend, Dating, Partner, Ethnicity
Well, The RHOD has already aired from 15 August 2018, and the fans will have to wait for few more episodes to see the relationship dynamics between the two.
Fiancé Of Two Years; Married Now?
LeeAnne's met 30-year-law enforcement veteran Rich Emberlin when Rich used to work for the Dallas Police Department. Rich sent her a Facebook friend request, but LeeAnne was not sure about dating him since she already had a bad experience dating an older guy.
Back in 2015, LeeAnne wished birthday greetings for her then-boyfriend, Rich on her social handle on 27 October 2015.
After being in a relationship for almost eight years, the pair finally got engaged in October 2016 at Texas State Fair in Dallas. LeeAnne discovered her engagement ring behind a red balloon in a balloon pop game set up by Rich.
LeeAnne and her sweetheart celebrated their nine years of togetherness in an Instagram photo shared by LeeAnne in February 2018.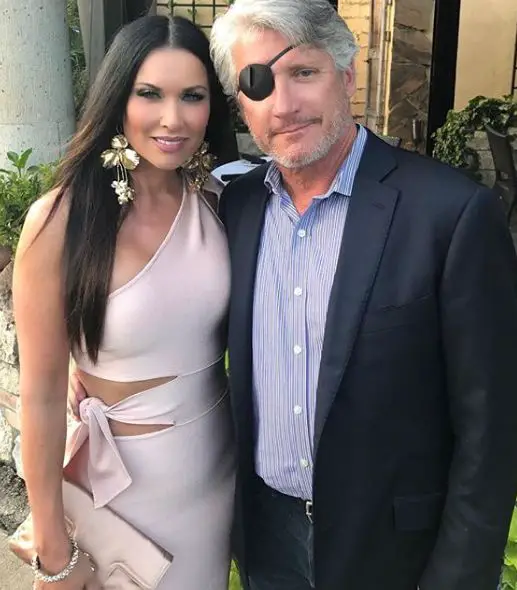 LeeAnne Locken with her fiancé, Rich Emberlin on 2 February 2018 (Photo: Instagram)
In the picture, LeeAnne said that she couldn't wait to spend the rest of her life with Rich. While the wedding plans are on a full swing, LeeAnne on her 2017 interview for Bravo TV revealed searching for some local designers for her nuptial dress.
After more than two years of engagement, the Real Housewives of Dallas star, LeeAnne Locken finally has dared to take her step to the aisle with her fiancé Rich.
The engaged couple shared the wedding vows on 27th April 2019. In the marriage ceremony, LeeAnne wore a custom white gown by Texas-based designer Nardos Imam of NARDOS Design whereas her husband was donned in a black tux by Don Morphy Prive Clothiers.
LeeAnne Locken disclosed about her extravagant wedlock via an Instagram post where she shared a cozy shot with her hubby on 27 April 2019 captioning as Happy Wedding Day. Also, she mentioned that she wedded with her best friend and a real soul mate that followed a series of congratulations and blessings.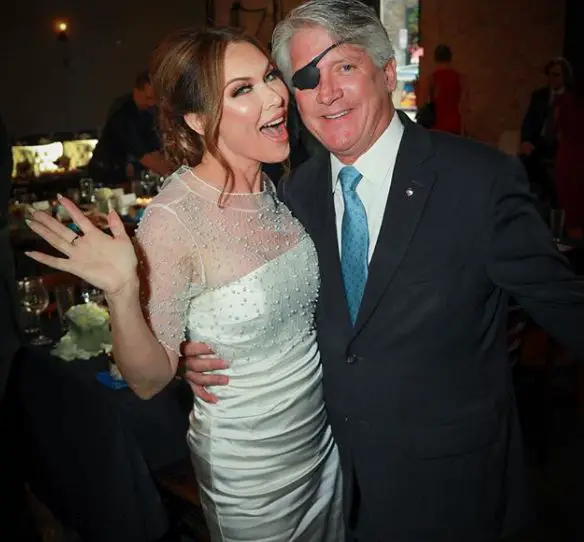 LeeAnne Locken with her husband, Rich Emberlin during their wedding (Photo: LeeAnne Locken's Instagram) 
LeeAnne Locken charmed her hubby's romantic life as his third love interest. She stated that the month, April had always been precious to her and her marriage signifies her rebirth.
Before the wedding ceremony, LeeAnne appeared on her bridal shower organized by her costar of Real Housewives of Dallas, Kameron Wescott along with Rich Emberlin. She shared that she could not wait a week for her marital tie with her soulmate and asserted Rich as a love of her life. 
Currently, the newly wedded couple relishes their life happily. 
Also Read: ASMR Darling Wiki, Age, Real Name, Boyfriend, Dating
How Much Is LeeAnne Locken's Net Worth?
According to Romper, LeeAnne has gathered the net worth of $1.5 million from her reality show TV appearance. She added a significant wealth after being part of the inaugural season of Bravo's TV show, The Real Housewives of Dallas back in 2016. In the third season of RHOD, D'Andra Simmons, Kameron Westcott, Stephanie Hollman, Carey Deuber and Brandi Redmond are set to lite fire. RHOD season three premiered on 15 August 2018 on Bravo TV.
She also garnered her other paychecks from her acting job from her 1987 debut horror comedy film; My Best Friend Is A Vampire. Later she made a remunerative income, playing the role of Jenny in the 2012 short independent movie titled Watershed.
LeeAnne's Bad Health, Weight Shaming In RHOD?
LeeAnne had some health issues. The reality star in her late 2017 interview for the People's Magazine revealed that she had been contracted with a sensitive flesh-eating bacteria. She also further added that the health scare was the worst phase of her entire life that took her three months to heal.
One of the contestant, D'Andra Simmons on her 2017 interview for Realitytea magazine revealed that some of her fellow participants shammed her about her weight and even threatened to use that as a storyline on camera. D'Andra, who didn't explain about the name of the participant, admitted that she had struggled the entire life of her weight loss issues and her biggest fear was somebody making fun of her weight.
Do Not Miss:  Cindy Barshop Wiki: Age, Husband, Family, Net Worth, Bravo TV
Short Bio
The Reality star, age 51, was born on 7 June 1967 in Pasadena, Texas as per wiki. She stands at a height of 1.73 m (5' 8") and belongs to a Caucasian ethnic group. Her birth sign is Gemini. Her grandparents raised LeAnne in Houston.
LeAnne has completed her education from the University of Houston. She then moved to Chicago to pursue her career in Modeling and later to Los Angeles for her television work.