You might have heard about Maximillion Cooper if you are familiar with the Gumball 3000 car race. He is the founder, producer, and director of the race. In his race, the competitors have to race 3000 miles internationally on the public road and complete the race within seven days. The routes are set variant each year and participants usually turn up with exotic and expensive cars for the week-long race.
Maximillion's company also puts concert and owns an apparel brand line, which has collaborated with remarkable brands like Nike, Intel, and Sony Playstations.
Net Worth
The founder of Gumball 3000 car race got an idea to establish his endeavor of racing competitions after him, and a couple of friends wanted to drive their luxurious cars across Europe on the 3000-mile journey. His races included the wealthy society, where participants had to use their vehicle for the competition followed up by different parties and events in the evening.
Maximillion launched his first company in 1999, the success of the first rally attracted high profiled personnel and celebrities for the second rally in 2000. The race has been attracting viewers and high profiles participants ever since. The stars like Snoop Dogg, Xzibit, Adrien Brody, Tyson Beckford, David Guetta, and Tony Hawk have been the attendees for the rally.
Despite the rally success, his company has established a successful The Gumball 3000 apparel brand. Their brand has collaborated with Nike, Intel, Sony Playstations, Hasbro, MTV, Google, Fiat and output products like watches, video games, energy drink, footwear, toys, and cars. The company is currently functioning in 30 countries and over 3000 stores across the globe. 
The Gumball 3000 founder has lead pretty successful business endeavors which have definitely brought him immense fame and wealth. As of now, the net worth of this globally acclaimed entrepreneur is estimated to be around $ 80 Million.
Married, Wife, & Children
The Gumball 3000 founder got married to his first wife, Julie Brangstrup, co-founder of the Gumball series in the early 2000s. Together, they became parents of four.
Their first daughter Lotus Cooper was born in 2002. A year later. He and his wife were blessed with a second daughter, Jagger Cooper. Besides, the family of four welcomed two more members in family; a son, Cash Cooper (born in 2006) and youngest member, Mini Cooper (born in 2008).
You May Like: Karen Civil Husband, Net Worth, Age
However, the things didn't work-out for a couple, and the pair separated from each other in 2010. Despite their split, neither of the pair gave any specific reason for divorce. But, Maximillion made sure that it was not due to extra-marital affairs.
After divorce with Julie, Maximillion found love in girlfriend-turned-wife, American singer, rapper, songwriter, and actress Eve Jihan. They started dating in 2010 in the rally where Eve participated for the clothing brand Puma and got engaged on 25 December 2013.
Five months later, Maximillion and  Eve shared the wedding vows on 14 June 2014. While speaking with PEOPLE, his wife told that they were in a long-distance relationship and were waiting for the right time to walk down the aisle.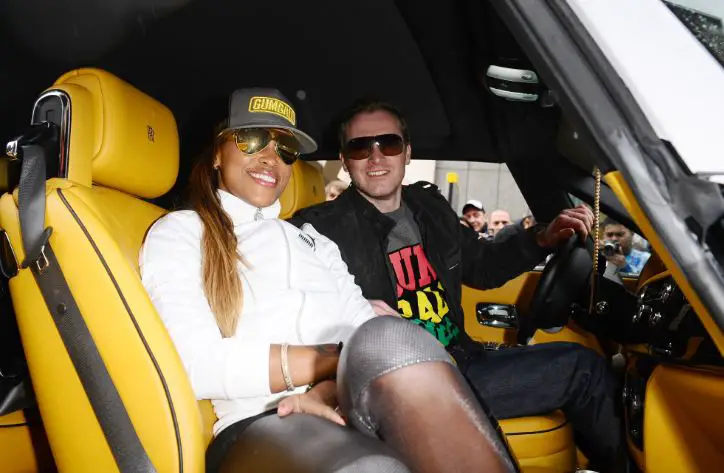 Maximillion Cooper with smiling with his wife Eve Jihan Jeffers (Photo: Essence)
Maximillion and his wife Eve have now celebrated five years of marriage, and they are flourishing their romantic life. However, the pair doesn't share any children together.
Maximillion's wife, Eve, struggled with infertility after the marriage. She opened about her struggles on an episode of The Talk. The couple was not able to conceive a child, and Eve started blaming herself for the fault.
Similar Content: Da Brat Gay, Lesbian, Dating, Age, Net Worth
Wiki, Age
The Gumball 3000 founder was born on 7 June 1972, in Stone, United Kingdom. In Maximillion Cooper's family, his father Johnnie Cooper, whose birthday falls on 26 September, is a British sculptor & painter whereas his mother is a former musician. His dad is currently 68 years old.
Also read: Patrick Whitesell Wiki, Net Worth, Family Background
Talking about Maximillion physical attributes, he is slightly taller than his wife Eve, whose height is 1.70(5ft 7 inch). However, detail about his weight is obscure.
Cooper graduated with a degree in fashion design from the London's Central St Martin College of Arts in 1993.