What could be a better feeling than holding your little one in the arms? Regardless of age, religion, and circumstances, one thing that every woman on earth wishes to experience is the perks of motherhood. And the appropriate example of it is Mia Boardman who despite being a teenager chose to give birth to a child and shined in her career for the same reason.
Career and Net Worth:
Mia wanted to pursue a career in singing, but destiny had other plans for her, and she ended up being a popular teenage mother. Becoming a mother became a great turning point for her as she went on to participate in the UK'S 'Teen Moms.
She received immense fame as a reality star from the show where she participated while she was nine months pregnant. Speaking about her experience on 'Teen Moms' with Yahoo, Mia shared,
 "I used to be a massive fan of the US one when I was younger. I think that was one of the main reasons I wanted to be on the UK version but also being able to do something new and tell my story. Everyone has their stereotypes of teen moms don't they? You always see "teen moms" portrayed negatively everywhere. I wanted to go on the show and be like I'm a teen mom and I don't think it's a bad thing at all."
Mia shared the screen of Teen Mom UK with Chloe Patton, Naomi Konickova, Amber Butler, and Megan Salmon-Ferrari. She is also popular on her Instagram where she has amassed around 110K followers. Apart from that, though the exact detail of her net worth isn't provided, it can be suspected she is in a sound financial position.
What About her Relationship with Manley?
Mia Boardman was previously dating Manley Geddes, who also happens to be the father of her child. Mia and her ex-boyfriend continued their on and off relationship for quite a while and even appeared together in 'Teen Moms.'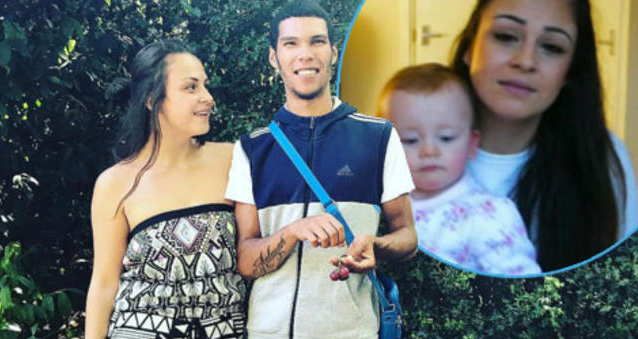 Caption: Mia with her former boyfriend, Manley.
Source: MTV UK
News had it that the couple stayed together before the time of Mia's pregnancy but now has entirely drifted apart after facing series of problems as young parents. Mia gave birth to her daughter, Marliya Geddes on April 19, 2016, and became a proud teen mother.
Besides, Manley also has a daughter, Alayah with his ex-girlfriend, Erin.
Mia's Split with her Boyfriend!
The relationship of Mia and Manley started well, but soon became messed up with endless arguments. The former duo also had heated debates on the show; 'Teen Mom UK' which their friends assumed was settled after they went on a surprise trip.
Yes, the family of three went on a trip to Trampoline Park in August 2017 to solve the differences, but it didn't work well, but instead, their debate further increased when they reached their flat.
Short Bio and Wiki:
Mia was born on September 19, 1996, in Southampton, England. She belongs to white ethnicity and is a proud British national. Currently, her age is 21 years, and the birth sign is Virgo. She is a teen mom of her one-year-old daughter Marliya, and besides that, nothing is known about her family life.