If you become the cast of top-rated reality series, fans expect you to mask your identity and do everything to please and entertain the viewers in front of the TV set. But Monique Samuels made her valiant debut on the second season of RHOP (The Real Housewives of Potomac) to be herself and nothing else. The mother of two is married to former football legend, Chris Samuels, and has been together for seven years. 
Grand Wedding To Husband, Chris!
To explore new opportunities and some flare in her life, she moved to the capital of the United States, where she met Chris Samuels through mutual friends. But, they didn't date right away as both individuals were in a separate relationship at that time.  
After being friends for years, she and Chris finally started dating each other and knew they had to be together forever. After going out for years with then-boyfriend, the couple decided to tie the knot, and they did it in style.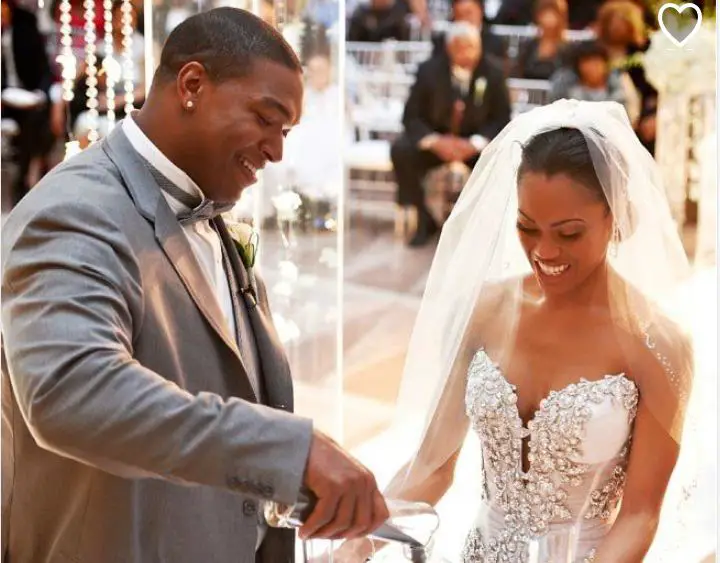 Monique and husband Chris during their wedding day on 3 March 2012 (Photo: The Knot)
The wedding, which took place in Washington, had a contemporary setting, and it was simply elegant. The grand wedding had all the attributes to become the best wedding of the year 2012.
The couple is now parents to two adorable children, a son named Christopher, a.k.a. Chris Jr., four, and a toddler daughter named Milani. Currently, their family leads a peaceful and healthy life.
Interesting: Audrey Whitby Bio, Boyfriend, Affair
Monique Suffered Miscarriage; Gave Birth To A Baby Boy
Being pregnant and giving birth is a beautiful experience for any woman out there. But there are risks and difficulties that one could endure during such a time. The fear of having a miscarriage is always in the back of every newly pregnant women's mind.
Tragically, Monique, in April 2018, revealed to the world that she had suffered a miscarriage. Such a loss is a great deal of pain for any mother to bear. But despite such pain, Monique, through the support of her family, friends, and her fans, pushed on and came out stronger, bolder, and more mature.
In June 2018, Monique announced the news that left all her fans and followers gushing with joy. The TV personality announced that she was pregnant with her third child. On 26 November, Monique welcomed a baby boy with her husband Chris Samuels, whom they named Chase Omari Samuels.
However, sadly, Monique revealed that her son had been born with an inguinal hernia. And at just four months old, the baby boy had to undergo surgery. Monique and Chris's son has now been recovered, and they are rejoicing as a family of five.
Discover More: Morgan Brennan Wiki: Age, Married, Husband, Baby, CNBC, Salary, Bio
Career As RHOP Star:
The attendee of the University of Alabama is all set to complete her business degree. Before attending the University of Alabama, she attended Duquesne University on the academic scholarship. She also runs several business ventures and manages financial aspects of her husband, Chris Samuels.
She manages CRS Real Estate, Chris Samuels Foundation, and Chris Samuels Foundation. The sharp business mind then raced on to a new venture when she became the latest member of 'Real Housewives of Potomac.' She starred in the show since the second season, which premiered on 2nd April 2017 and is already that fierce cast.
See This: Taylor Kitsch Married, Wife, Girlfriend, Dating, Gay, Interview, Net Worth
Thoughts About Casts:
In an interview with Bravo TV, she said that she is just going to be herself in the series while talking about other casts. Talking about Gizelle Bryant, she labeled her consistent liar. But she complimented Ashley Darby for keeping things real.
In the same interview, she thanked cast member Karen Huger for stepping up and Robyn Dixon for remaining silent in the matter. While talking about Charrisse Jackson Jordan, she said that Charrisse knows her the best.
Read This: Brendan Greene Wiki, Age, Net Worth | Lead Designer Facts Revealed
Alleged Fight With Candice Dillard
There is so much scoop happening in Bravo's The Real Housewives of Potomac right now. It looks like RHCP star Monique Samuels is somehow facing legal troubles, after her alleged fight with Candice Dillard.
The incident happened on the 16th of October 2019. According to various sources, those two were at a dinner party with other RHCP cast members when the physical violence occurred. Monique allegedly grabbed Candice's hair and pulled her down. Reportedly, Bravo cameras were filming the incident, and it would be shown in the upcoming fifth season.
After the brawl, Candice sought the court permission and filed a complaint against fellow RHCP stars. The physical fight has led the District Court of Montogomery Country in Maryland to charge Samuels with second-degree assault. According to the reports, Samuels is set to appear in the court ground on the 23rd of December 2019.
Some of RHCP co-stars are not happy with the altercation between Candice and Monique, and reportedly, they want Monique to get fired. The Instagram page of The Black Socialites posted that few of her castmates wants to boot the Bravo star out of the show.
Monique and Candice had become good friends during the third season of the show but went sour during the fourth season.
How Much Net Worth Has Monique Amassed?
The business entrepreneur is an established reality star after getting an appearance in the show, RHOP. The actor, who owns four lavish houses across the country and enjoys a stupendous revenue. She has amassed a decent net worth $4 million.
Monique's Short Bio And Family:
According to the wiki sources, the RHOP star was born as Monique Cox in Pleasantville, New Jersey, in October 1983 and celebrated her birthday on 6th October, which makes her age 36. She was born in a family with two other siblings.
Except for these, information about their parents is pretty much under the surface of the media. Monique belongs to Afro-American ethnicity and is American. Standing at a suitable height, this diva maintains herself like a goddess, and her perfect curves are the proof of her strict fitness regime.