Animal's eyes probably have the endowment to speak a great language. Meanwhile, the feeling to survive is visible in those innocent creatures. And Herpetology degree holder Siouxsie Gillett is one of such women who bequeathed her interest in protecting the lives of animals.
Siouxsie is popularly recognized as the Snake City's reality star. She alongside her man Simon Keys has been working to save the rare reptiles, rescue them, and take them to their home. Though she has to face death-threatening situations during her job, her passion has always spurred her.
Siouxsie Gillett's Partner; Together For Five Years!
If you guys have watched the show Snake City, then you guys probably might be familiar with her boyfriend, Simon Keys, the professional snake catchers. Siouxsie's love life with her longtime beau has overwhelmed her thousands of viewers and well-wishers. The coordination and attachment among the couple have made the things go buttery smooth, but most prominently, both of them are involved in the same business which automatically has brought comfort in their relationship.
Read More: Buddy Valastro Wife, Kids, Salary, Net Worth
Back in 2013, Siouxsie Gillett met her man Simon for the first time when the couple joined UK's venomous snake community. After then, the pair fell for each other and started dating. Siouxsie and her lover even worked at the reptile store. Later, on 7 November 2014, her soon-to-be husband Simon aired the National Geography's Snake City. Since then, the glimpse of the blossoming love between the couple became visible in the TV show.
Siouxsie and her partner are probably not like the ordinary love-duo who relishes their relationship with romantic dates and exotic vacations. The twosome utilizes their time catching and rescuing reptiles together. In an interview with The Sun Magazine, she jokingly said that catching snakes together is something like going to date. She described,
 "When most couples have meals out and go to the cinema during their honeymoon period, we were out catching deadly snakes together - which is quite the norm for us,"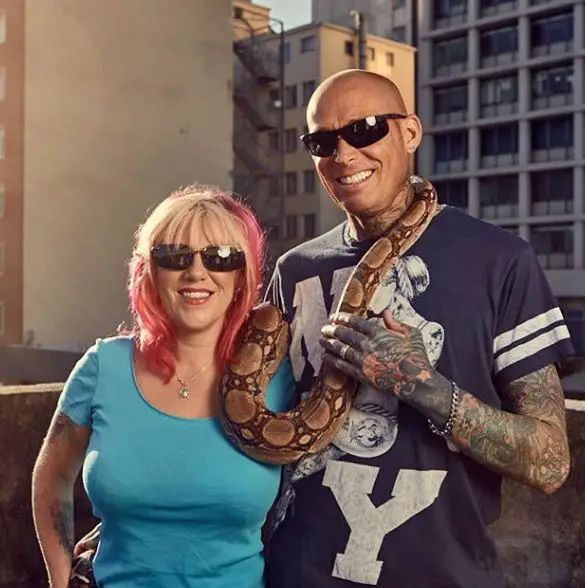 Siouxsie and her sweetheart go outing on their holiday and enjoys the festive break (Photo: Instagram)
Siouxsie probably enjoys her professional life as well as personal life due to the presence of such a wonderful and supportive partner. She indeed is a lucky woman who gets to spend her professional and personal life with her man.
Siouxsie has been in a relationship with Simon for five years, but they are yet to get married. The two has not gushed about their plan to start a family. Before Simion, she was in a longtime relationship with a zoologist, Mark Amey. Around the year 2000, the pair started dating, but later they split from each other.
Explore More Interesting Topics: K. D. Aubert Married, Husband, Boyfriend, Dating, Ethnicity, Now
Net Worth & Earnings As Snake Catcher
Siouxsie Gillett, 44, has been mustering the net worth as being the herpetologist and professional snake catcher. She alongside her boyfriend Simons has been accumulating the revenue from their show, Snake City, which was first aired 7 November 2014. In the show, they get paid for clearing the reptiles from people's house. As per The Sun Magazine, her company charges only £15 per call-out. 
Raised in urban England, Siouxsie's career took the U-turn after she discovered her interest in animals and reptiles. She served as the zookeeper during the beginning of her career. She even spent her years caring and handling of amphibians, reptiles.
See Also: Lucy Cork Wiki, Age, Birthday, Height, Boyfriend, Engaged, Parents
Siouxsie Gillett's Wiki; Date Of Birth?
Siouxsie Gillett was born on 20 October 1974. She grew up in an urban England alongside her family, as per the wiki. She is a few inches shorter than her boyfriend, Simon Keys while comparing their height.