Solo Lucci is an American rapper most notable for his single hit Whip It. Considered to be a master of lyrics, Lucci managed to stamp his name in the rap industry with his hard work and determination. 
Over the years, Lucci has released quite several songs which have helped establish his name as a top-notch rapper. His songs Sins of the Father and Wrist with Chris Brown are some of his best works.
Baby Mama & Affair With Girlfriend?
Solo Lucci's relationship has managed to get him in the spotlight. In due time, Lucci had his fair share of controversies linked to his name.
Lucci's first controversy came while he was in a five-year-long relationship with his baby mom, Sara Scott. Their relationship seemed to go through without any issue. But that all changed when it was discovered that Solo was in an affair with Alexis Sky.
Lucci first met Alexis on the fourth season of Love & Hip Hop Hollywood. At first, it seemed to be a professional relationship, but eventually, they turned into an affair. The PDA news between the couple was not taken lightly by his girlfriend, Sara, at the time.
The controversy caused to end his longterm relationship with Sara, and Solo took no time in moving with Alexis Skyy. However, he could not make things work with Alexis, and the pair seemingly parted ways with one another.
But yet again, Solo found himself in the limelight after it was revealed that his ex-girlfriend, Alexis Sky, had given birth to a daughter, Alaiya Grace. Although Alexis claimed Fetty Wap (who has a son named Aydin Maxwell) to be a baby father, many have speculated that the father is indeed Lucci.
Even Lucci himself has come forth to claim the baby. But after a paternity test was taken, it was revealed that the father was indeed Fetty Wap.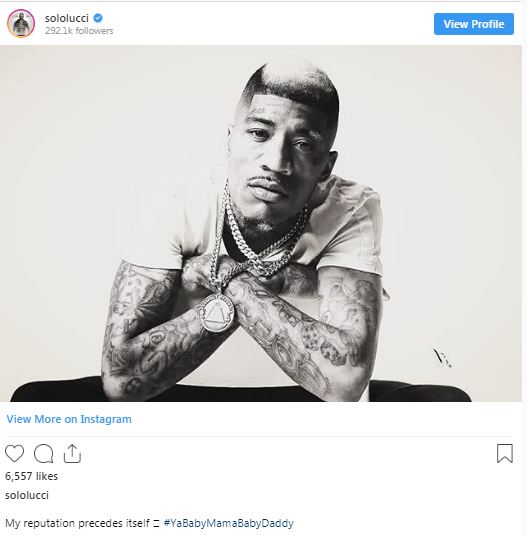 Solo Lucci claims to be the father of Alaiya Grace. (Photo: heavy.com)
Although paternity test showed that Solo was not a father of Alaiya, he has a boy named, Sir Honor, whom he shares with his ex-girlfriend, Sara.
Net Worth
Solo Lucci is an American rapper whose claim to fame began after the release of his single Whip It. He then went on to release several other singles as well as mixtapes. He also went into the entertainment industry becoming a part of the reality TV show Love & Hip Hop Hollywood in 2017.
Some of Lucci's work include Cash Money, Ma Migo, Alien, and Special. He released a mixtape called the Recipe in 2019 that managed to be a success. As of now, with his rapping career, Solo has managed to accumulate the estimated net worth of $2 million.
Wiki & Bio, Family
Solo Lucci, whose real name is Michael, was born in 1986. The 33 years old prominent rapper celebrates his birthday every year on the 14th of May. He holds American nationality and has a tall height of 1.85 m (6 feet 1 inch).
Interesting: Tionne Watkins Net Worth, Husband, Son, Daughter
Solo got raised by a single mother whom he considers as one of the strongest women in his life. He defines that his family is passionate about living life to the fullest.