American songwriter and record producer Vincent Herbert has contributed a lot behind the scenes of the music industry. He has produced and composed songs like Sexy Versus, Something on the Inside, The One/Love and War, and Too Little Too Late. He is a founder of Streamline Records, an imprint that operates under Interscope Records.
Besides being a record producer, Vincent is a familiar face of WE TV reality series Tamar & Vince that premiered in September 2012. In the reality series, he marked his appearance alongside his then-wife Tamar Braxton.
Tamar Braxton Filed Divorce Following Alleged Cheating!
Vincent Herbert and American singer Tamar Braxton met each other in 2003 through Tamar's sister Toni. The duo tied a knot in 2008 and welcomed their son named Logan Vincent Herbert in 2013.
When they appeared on the series like Braxton Family Values and Tamar & Vince, their whirlwind of romance started to gain a bitter taste that directed the sparks of their divorce. But at that time, his then-wife Tamar confirmed that their relationship was sailing smoothly.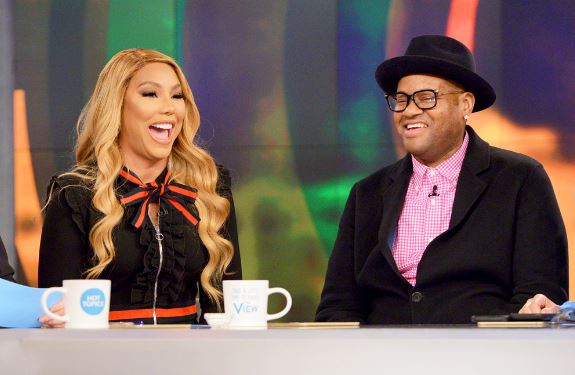 Vincent Herbert and his then-wife, Tamar Braxton, on American talk show 'The View' (Photo: ABC)
However, in October 2017, Tamar filed for divorce after nine years of married life with Vincent. Moreover, during Christmas in December 2017, he got arrested for 'spouse abuse.' His ex-wife Tamar also accused him of cheating on her and allegedly impregnating another woman.
Though Vincent denied all the accusations on a talk show, Tamar appeared on The View in February 2018 and explained the reason for their divorce and said:
I have a regular marriage, and regular marriages, like everybody else, things happen. And in my marriage, it was just to a point where I felt divorce was the only option that I had left. Although we're in extensive counseling, and that is much needed and it still will always be. I definitely filed for divorce. That's not a lie.
She also uttered that allegedly getting another woman pregnant was not her reason to file for divorce. She further told the cause of their estranged relationship and said that they were together every single day and became attached at the hip which 'proved to be too much.'
Don't Miss: Harry Potter Actor Domhnall Gleeson Married, Girlfriend, Dating, Father, Net Worth Details
Although they are no longer in a relationship, the duo clarified that they would continue to work together and nourish their son Logan.
While their divorce is yet to get finalized, in March 2019, Tamar appeared in The Wendy Williams Show and explained the details of her ongoing divorce with Vincent. The American singer said that the paperwork in Los Angeles takes forever and they haven't been able to live together for two years now.
The R&B singer talked with E!Online in early-April 2019 and affirmed that she is struggling with her divorce from Vincent. Tamar explained that she part her way out from her husband and best friend. She respects Vincent who had let to live her lifestyle according to her choice.
The ex-wife of the American singer also revealed that she got a new hunk in her life who is Nigerian. Though she remained careful not to spill the beans regarding the details of her new boyfriend, Tamar proudly gushed his characteristics and said that he is a chocolate and like snacks.
But according to Hollywoodlife, Tamar has already broken up her relationship with her new beau and is currently relishing her single life.  As per a source, in the since-deleted Instagram stories, she wrote 'TRUST No ONE' hinting that she and her Nigerian boyfriend had parted their way out.   
Tamar's New Boyfriend 
Vincent Herbert's ex-wife, Tamar Braxton, disclosed about her new boyfriend at the red carpet event during WE TV show's premiere party. David accompanied her as a date on the event. Tamar also did not miss portraying her love life with David via Instagram photo where she wrote: "Whew chile."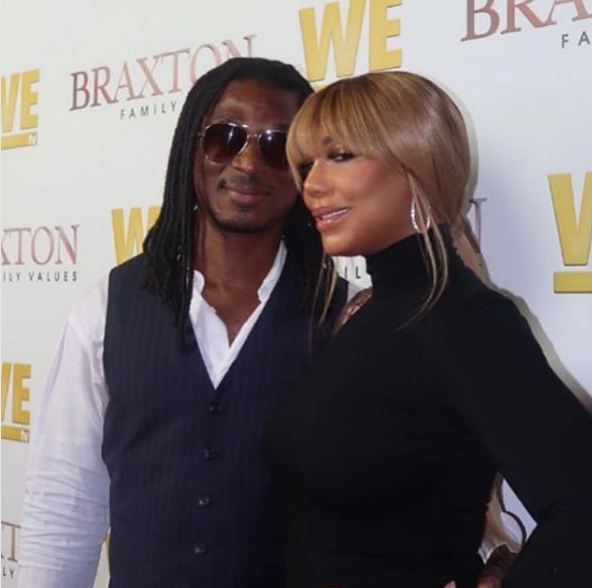 Tamar Braxton with her recent boyfriend, David Adefeso (Photo: Instagram) 
David is the graduate of Harvard Business School whom Tamar relates as a great guy from a great family. Also, she states that she is having the best part of her life and mentioned that she wants to have children with him. 
David, who is a Nigerian Native, accompanied Tamar during the promotion of Braxton Family Values. The couple was featured on the show as well. Tamar, who shares a child, Logan with her ex-husband Vincent Herbert, plans for her wedding with David soon. However, her divorce with Vincent is yet to be finalized.
How Much is Vincent Herbert's Net Worth?
Vincent, age 45, accumulates the net worth of $3 million from his career as an American songwriter and record producer. He is a founder of Streamline Records and has worked with several musical artists like Aaliyah, Destiny's Child, Toni Braxton, Tatyana Ali, Destinee & Paris, and more. He is the composer of songs like Between Us, Voices, Kiss the Sky, and Defected Presents for the Love of House, Vol. 1.
Discover More: LeeAnne Locken Wiki, Age, Married, Husband, Net Worth
Born on 27 January 1983, Vincent is a native of Newark, New Jersey. The record producer completed his primary education from Cambridge Christian School and later pursued his career as a songwriter. He also co-stars with his ex-wife Tamar Braxton in their reality series Tamar & Vince. He helped musical artist Tamar and worked as an executive producer on her second album Love and War. 
Got Sued For Financial Issues
Vincent Herbert has been facing the lawsuit for eviction and allegedly writing bad cheques as his financial issues have been mounted in March 2019. The court documents admit that he got sued by a company called NK Real Estate Investments for his Los Angeles home of 3430 square feet area with three bedrooms, five bathrooms. The mansion includes art gym, Pilates and Yoga Studio, library and many other sophisticated services along with private wine storage. 
As reported, Vincent was to pay $37,000 per month which he did not pay in February for which he got the three-day notice to pay rent or quit. NK Real Investment also sued him for $38,850 along with other costs. 
Similarly, a woman named Dakota Sal accused him of writing a couple of cheques with the sum totaling $10,000 in February. As per the statement of Dakota, both of the cheques bounced, and the account too was closed. 
Vincent's Parents And Weight Loss
Vincent was a teenager when he lost both of his parents. Following the death of his mother at the age of 13, the record producer lost his father. Moreover, after some few years, his brother also had a sad demise. In an interview with TheUrbanDaily in October 2012, Vincent described the tragic moment of his life and said:
Losing my mom at 13, losing my dad a couple of years later. And then burying my brother a few years later. You just really realize what life really means.
Talking about his weight loss, the American songwriter dropped a massive 100 lbs during early 2017. He had medical problems due to weight and underwent a couple of surgeries that help him to lose weight. Back in 2012, he got hospitalized after suffering seven blot clots. It took him 40 days to recover from his health scare.